9 months and landslide victims still in tents
Though nine months have elapsed since they were left homeless by landslides, the people of Walapane and Hanguranketha are still living in tents without even the minimum of basic facilities.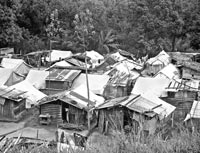 The temporary shelters
Moreover, the approaching north-east monsoon which is bound to affect these areas has raised more fears among these people who are facing the threat of disease and even poverty in some cases.
The landslides caused by torrential rainfall in mid January this year left thousands homeless . The Walapane and Hanguranketha areas in the Nuwara Eliya district were some of the worst affected. In addition to being homeless these people who have lost their livelihood, mainly farming are facing poverty. About 1700 families including those affected by landslides and those who live in areas identified as landslide prone were to be relocated. However the moves appear to be unsuccessful as these people are still languishing in camps.
Meanwhile Nuwara Eliya district land utilization officer, C. Seneviratne giving the official version said they are facing difficulties in trying to obtain land for those displaced. Giving an example he said a plot of land that had been identified by some officials for relocation of the affected people was later ruled by another group of officials as being unsuitable for cultivation.