School admissions: Blackboard screams confusion confounded
The crisis and confusion over Grade One admissions – subject of an unprecedented controversy involving the government, the Supreme Court and thousands of people – appear to be continuing despite a final Supreme Court order and a government circular.
According to school authorities and parents, the controversy and the solution proposed appear to raise more questions than provide answers. They said the new guidelines relating to the residence rule could create a lot of problems while children of past pupils are likely to have a major advantage over children who qualify under the residence rule.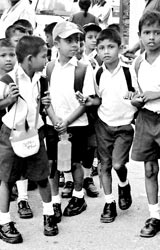 To be or not to be, who will gain admission... there were complaints of an unjust or unbalanced process.
But even among past pupils there were complaints of an unjust or unbalanced process. Some past pupils point out the child of a past pupil who had studied only upto Grade 5 would get the maximum of 10 marks that would be given to the child of a pupil who had studied upto the A/L.
Children of labourers who do not come under professional category will also lose five points. A mother who is raising a child whose father had died also would lose five points. They say the marking relating to the number of children is also unfair as those who have a brother or sister studying in the same school would have a better chance than others.
The school authorities and parents say that whole crisis arose and the 2006 circular was cancelled following allegations that a principal had sought or taken a bribe for admissions. They ask what guarantee there is to prevent bribery or other irregularities by teachers who will now be on the interview boards.
Education Minister Susil Premajayantha himself appears to be confused. He said any possible imbalance between various categories such as children who qualify under the residence rule or past pupil category would be seen only when the admission lists were finalized.
To clarify matters he said the Education Ministry had called a meeting of provincial education directors on Tuesday and the selection panels would be finalized before the closing date for applications. He said parents of children who were not selected or not called for interviews will have the right to seek redress from courts within 30 days.
Meanwhile, Royal College Principal U. Gunasekara who is also the president of the National School Principals' Union said they had not been officially informed of who would be in the selection panel and therefore the principals union had not taken any official decision on the issue. On August 31, the principals' union had written to the Minister of Education saying the principals wished to stay out the school admission committee in conformity with the earlier Supreme Court ruling. But the final court ruling said principals could be included in the admissions committees.
"We have not been informed officially. What we know is what we read in newspapers. So, we have not yet taken any decision on taking part in Grade 1 admissions," Mr. Gunasekera said. He said the principals had collected all the applications and would hand them over to a responsible person like the chairman of the admissions committee.