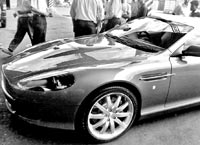 Aston Martin is one of the most famous names in the motor industry being popularised as the classic sports car used by the world's most famous secret agent -James Bond 007- commencing in the 1960s. In the latest Bond movie "CASINO ROYALE" Aston Martin unveiled the DBS model.
The DB 9 (coupe) the model that was imported into Sri Lanka has a maximum power with an acceleration 0- 100 km (62 mph) in 4.9 seconds and a maximum speed 300 km/h (186 mph)and its starting price is around £109,750. The DB9 engine is 6.0-litre V12.
According to their web site Aston Martins are hand-built cars, made to order. The DB9 is the most thoroughly tested and engineered car in Aston Martin's history. This car is also one of the most technically sophisticated cars in the world.