The revered 'Sal Tree' and the real Sal Tree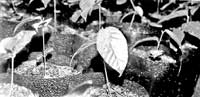 Section of the seedlings germinated at the National Botanical Gardens at Peradeniya
The " Sal " tree commonly grown in Sri Lanka is not the variety of " Sal " trees on which Queen Maya, the mother of Lord Buddha had held onto when the Buddha was born while she was wending her way through a forest of ' Sal Trees. Queen Maya is believed to have held a blossoming Sal tree when the Buddha was born.
Since then the ' Sal Tree ' had been revered by most people in Sri Lanka and most Buddhist temples in the country planted these trees, thinking that it was ' Sal '; but it was not so. The so-called ' Sal tree 'in Sri Lanka, is in reality the 'Cannon Ball Tree' and had its origin in Guyana. It was introduced to the Botanical Gardens in 1881 and from here it spread around the country.
The Director General of the Department of National Botanic Gardens Dr D.S.A. Wijesundera said that this confusion needed to be corrected. He said the Minister of Irrigation and Water Management had taken the initiative to rectify this anomalous situation. After contacting the Sri Lankan Ambassador in Nepal Sumith Nakandala, he had obtained a kg of seeds which had been germinated at the Botanical Gardens at Peradeniya.
Dr. Wijesundera said that some of the seeds had germinated on the way to Sri Lanka and added that if the seeds had not germinated within seven days, their life span would be over. The ' Sal Tree ' is said to be a handsome tree providing very high quality timber quite unlike the Cannon Ball tree. Its botanical name is 'diperocarpaceae'. It is also referred to as ' salwa', 'sakhu','shal' and also 'kander' in Asian countries.
This tree is native to Burma, Assam, Bengal and Nepal, lives up to a period of 100 years, lt reaches a height of around 35 metres and has a girth of around 2 to 3 metres.

Dr.D.S.A. Wijesundera
Like the Canon Ball tree, the Sal Tree is erect and cylindrical and is one of the reasons for its being mistaken for the other. The germination of seeds brought down from Thailand have been entrusted to the National Botanical Gardens at Peradeniya The Gardens too have a long and proud history. According to its Director, the Gardens were first established in 1371, originally it used as a pleasure garden by King Wickramabahu III.
In 1780 King Kirthi Sri Rajasinghe declared Peradeniya as a Royal Garden. A Botanical garden was established at Peliyagoda by Eudelin de Jonville, a Frenchmen in the service of the Govenor Frederick North in1810. An informally named " Kew Gardens" was established in Slave Island by Joseph Banks.