The old man and the sea
Nedumaran theatrics turn into a political issue
Fact file
Tamil Nadu State- poverty levels
The estimates of poverty made by the Union Planning Commission in 1999- 2000 show that 21.12% of the Tamil Nadu State's population hovers below the poverty line. Seven districts, Vellore, Tiruvannamalai, Cuddalore, Salem, Dindigul, Toothukudi and Kanniyakumari have the highest poverty levels in the State.
In Tamil Nadu, around 46.6% of children below five years are under-weight. States like Kerala, Haryana and even Rajasthan are doing better in child-nutrition than Tamil Nadu.
(Source: Tamil Nadu Human Development Report; Government of Tamil Nadu UNDP; 2003)
'Tamil Eelam' supporter P. Nedumaran's attempt to carry food and medicine supplies as 'humanitarian relief' to Tamils in the Jaffna peninsula last Wednesday was thwarted by the Tamil Nadu administration amidst scenes of high drama, which began as a farce but took a more serious note in the next few days.
After his protest was stalled by an administration that adopted a simple method of denying him any boats to carry out his threatened protest, Nedumaran began an indefinite fast that went on for three days, before he called it off after extracting an assurance from Tamil Nadu Chief Minister Muthuvel Karunanidhi that the latter would take up with the Central government the issue of sending relief items to Tamils in Sri Lanka.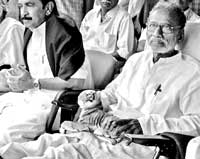 Cuddling a Tiger soft toy Nedumaran launches a fast
Nedumaran, who had in 1984 jumped into the sea threatening to 'swim' to the rescue of suffering Tamils across the Palk Strait, expected to be arrested as soon as he stepped into the streets of Nagapattinam town, but the police, apparently on instructions from the DMK government of M. Karunanidhi, ignored him and his 300-odd supporters for a long while.
The police had quietly given instructions to fishermen in the tsunami-hit town, which has a big fishing jetty, not to spare any boats for the Tamil nationalists' adventure. Nedumaran found to his chagrin that he had a stock of medicines, said to be worth Rs. 10 million and collected over a period of seven months, but no boats to ferry them to northern Sri Lanka. He had planned to hand over the relief items to the International Committee of the Red Cross.
He also felt humiliated as the police did not arrest him but were mere spectators to the scenes. After a hurried consultation with his associates, most of them well-known supporters of the LTTE, carrying pictures of Velupillai Pirabhakaran and shouting slogans hailing the Tamil Tigers, he decided on a 'fast unto death'. As he sat in a prominent place in the town on an indefinite fast, police had no choice but to arrest him and his supporters. The 327 men arrested were not remanded but released after a few hours.
Nedumaran returned to Chennai, about 400 km away, and immediately started on a fast on a piece of private property. Police initially had a brush with him as they tried to disrupt his protest, but with several political leaders questioning the government's right to enter private property to stop his protest, the fast was allowed to go on. By this time, other pro-LTTE parties like the Marumalarchi Dravida Munnetra Kazhagam (MDMK) of Vaiko (V. Gopalsamy), Dalit Panthers and Pattali Makkal Katchi (PMK) began making a beeline to Nedumaran, hailing his protest in the cause of 'Eelam' Tamils.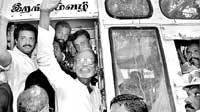 Waving to supporters
Even parties that are ideologically opposed to Nedumaran, such as the Bharatiya Janata Party, a proponent of Hindu nationalism that decries sub-nationalism that Nedumaran stands for, and the two main Communist parties, which denounce the idea of Tamil separatism in Sri Lanka, appealed to him to give up his fast because of his frail health condition. The Tamil Nadu State Secretary of the CPI (Marxist), which considers the LTTE a fascist force, made a surprising appeal to the Union government to allow humanitarian aid to be sent to the Tamils affected by the conflict in Sri Lanka.
On Saturday, Karunanidhi expressed anguish over Nedumaran continuing his fast despite his appeal and sent word through PMK founder S. Ramadoss that he would personally take up the matter with the Centre and ensure that humanitarian aid reached Sri Lankan Tamils. Nedumaran accepted the Chief Minister's assurance and called off his fast.
It is not clear what the government of India can do to ensure that the medicines and dry rations reaches Sri Lanka, in the absence of any request from the island neighbour. Sri Lanka, in fact, has released details of food and medicine supplies sent to the Jaffna peninsula since the closure of the A-9 highway in August 2006 and conveyed that there is no need for any external assistance.
Nedumaran has somehow managed to convert what seemed an amusing attempt to cross the international maritime boundary into a political issue that now has the attention of major parties in Tamil Nadu.