It was not a white van without number plates that he saw in the rear-view mirror but a blue Pajero. They too were troubled times, and though it was 20 years ago, the memories are vivid as ever…….not only of the abduction, the severe torture and the trauma that the end was nigh but also the tiny glimpses of humanity in the midst of the horror which gradually made him think that all was not lost.
Those touches of humanity are the very lure for this now respected psychiatrist who has established himself in England and globe-trots to all parts of the world as an eminent speaker, to keep coming back to his motherland.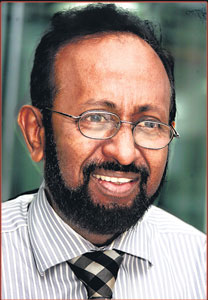 Dr. Athula Sumathipala
"Not only do I come to support mental health care in Sri Lanka and share my expertise but I also come as an ambassador of peace because there is a lot of good in this country," says Dr. Athula Sumathipala just before leaving for South India last week to sign a Memorandum of Understanding with the M.G.R. Ramachandra University to carry out joint genetic research. This week he is due to go to Sichuan Province in China to help the university there set up mental health services after the disaster, based on his groundbreaking research on medically unexplained symptoms, now a "frontline recommendation" of the WHO for post-disaster work.
So much achieved but the events of July 19, 1988, are etched in Dr. Sumathipala's memory like they happened yesterday.
A young GP, 32, attached to the Ward Place Pvt. Hospital, he was on his way home after work, as customary in his car in the evening when the Pajero knocked him from the rear. Thinking it was an accident he was about to get down when he realized that the Pajero was sans a number plate. Instinctively aware of danger, knowing the happenings of the times, he decided to drive into the Welikada Police Station in Rajagiriya which was close by.
"Suddenly, a Lancer was parallel to my car on my side and a man in the front passenger seat was pointing a pistol at me. I was just about five yards from the police station. I tried to turn the car but went onto the pavement and the engine stopped. Immediately, the guy with the pistol got out, put his hand through my open window and pulled out the car key," says Dr. Sumathipala.
Everything happened quickly thereafter. Men in civvies from the Pajero roughly dragged him out, manacled, blindfolded him and put him into the vehicle. His only hope was that people had seen this brazen abduction in daylight, particularly the Traffic Policeman at that busy junction.
His hopes were shattered when he heard the men discussing, with one saying: "Traffic malli honda support ekak dunna." (The traffic brother gave good support.) It was the end of the road for him, he knew. Scared he was but there was also the feeling that it was not happening to him. It was an unreal situation, "it was not me". Now in hindsight armed with knowledge on mental health he calls that phenomena "de-realization and de-personalization".
His life flashed before him like a video film – he remembered clearly his father saying that one day he would be a world renowned doctor, with it coming the thought that this was the end of the dream; going to medical school and the day he met his future wife at a very young age; and the days his two daughters were born.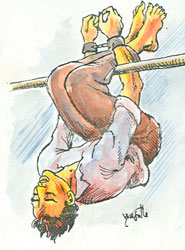 The "Dhamma Chakra" torture
He realized the world would rotate without him but five people would have to make do – his two daughters who were four and two, his wife and his parents. He was on the floor of the Pajero, with two people seated atop of him, trying to keep track of where he was going.
After some time the vehicle stopped and he was pushed into some place and his hands freed. Much later he was to learn that it was a torture chamber in Gampaha. He slowly lifted the blindfold and finding that he was alone had only one urgent thought.
He had a slip of paper with the name and address of a potential bridegroom from Tangalle for his second sister. He was to have checked about him from the then Regional Director of Education, a friend of his from the same area. That name and address were also in his pocket. "I immediately took the paper, chewed it and swallowed it with some difficulty," he says, as he feared what the repercussions on them would be especially since his friend was an active trade unionist. He had been planning to write to him to check about the potential groom.
The torture began soon after and Dr. Sumathipala changes his posture to depict the most cruel form which was the "Dhamma Chakra" where the victim is told to bend, tied up, then hung up and rotated, with the captors mercilessly beating him up.
"I was a young doctor from a middle class background. I had seen people dying but never undergone such cruelty. The torture left me sweating severely with my heartbeat racing," he recalls of this unimaginable agony.
However, human nature is such that even in the face of such cruelty, survival instincts are prevalent. "People face extremely difficult circumstances and live," he says, explaining that they see a meaning in life.
Two days before his abduction he had read an article on world-famous Nelson Mandela who while in detention had been offered the chance of seeing the person he loved most, his daughter, on her birthday if he changed his political stance. But for Mandela there had been no compromise.
The torturers were intent on finding out the whereabouts of then JVP Leader Rohana Wijeweera, for Dr. Sumathipala had been his physician during the time he contested the presidential election in 1982. He had also closely associated with other Politburo members such as Somawansa Amerasinghe, and he did agree with their basic ideology. He concedes that he had been a student activist while in campus but stresses that he never-ever had links with the armed activists.
"Yes, I was angry with the authorities for proscribing them as Naxalites, using them as scapegoats for the 1983 July riots," he says, explaining that in 1983 he too was arrested along with four other doctors, a lecturer and lawyer Prins Gunasekera and kept on the 4th floor of the CID for six months.
By 1989, however, Dr. Sumathipala had lost touch with the top members of the JVP. "I didn't know where Wijeweera was," he says. The beatings continued but amidst it all, some form of humanity came through, mainly from the lower-level "guards", who began hiding the poles and bars so that the "seniors" could not lay hands on them.
On the first night he was given pieces of paper to sleep on, with the captors arguing among themselves whether it was the right thing to do by a doctor and one finally bringing him a bed. Dr. Sumathipala recalls with emotion, the day a guard burst into the room jubilantly, saying, "Nona nadu daala, den maranna be." ("Your wife has filed a case, so they won't be able to kill you.")
August 1, 1988 comes to mind and he smiles. He had casually mentioned that if he were at home he would have had kiribath for breakfast. The very next day, one of the "guards" had quietly come into his room and pulled out two pieces of kiribath from his pocket.
Meanwhile, the campaign for his release set in motion by his family gathered momentum as doctors and others, both in Sri Lanka and abroad supported his cause. His father, D.K. Sumathipala, meticulously made entries in his diary every single day before going to bed, from the very first day that he went missing to the time of his release, he says his words tinged with love.
Allowed to see his wife after awhile, he had also been transferred to the Sapugaskanda Police Station. The first night there, a boy brought his dinner in a thahadu plate and shoved it under the cell door and Dr. Sumathipala in anger asked him whether he was a dog to be treated like that.
"A tough-looking guy who was around then asked me what the problem was and I told him. The food was taken away and half-an-hour later sent back in two nice plates along with a brand-new mug," he says.
Ironically, though the government of the day was UNP, the UNP branch in Angoda where Dr. Sumathipala was living had sent a petition calling for his release. The rest is history – more petitions, the court case and his release in April 1989, nine months after his abduction, incarceration and torture.
Later while working in the Emergency Unit of the Sri Jayewardenepura Hospital a little girl and an adult had walked in. On seeing him, the adult had walked out along with the girl. It was one of his worst torturers.
Dr. Sumathipala had immediately sent a message for the girl to be brought back and given her the best attention, directing her to the relevant doctors. "Even if the torturer came for treatment, I as a doctor would never have stopped short of giving him of my best," he says.
Currently, Locum Consultant South West London and St. George's NHS Trust, Kingston Hospital; Hon. Research Associate, Section of Epidemiology, Institute of Psychiatry, King's College and Hon Director, Institute for Research and Development, Sri Lanka, he says, "People derive strength from adversity. Unlike many others I had earned an extra-innings and I am playing neat and clean."
"I've been there, but there is no rage, only a simple message for any government and all politicians," says Dr. Sumathipala urging peace, not just peace, but a dignified peace. There is no place for violent politics, he adds.