Ratna Sivaratnam – "Roti" to his friends – passed away on Friday, July 18, 2008 and, in keeping with his wishes, was cremated with Hindu rites at a private funeral the very next day.
"Roti" was an outstanding personality who made his mark in several areas. However, I believe he will be most remembered for his long and exceptionally successful career at Aitken Spence. His career there is legendary. He moved up the ladder with ease, and in a very acceptable manner, without treading on the toes of others. His stint as chairman and chief executive officer of the blue-chip company is widely recognised, and acknowledged as one of the major contributions to the firm's success.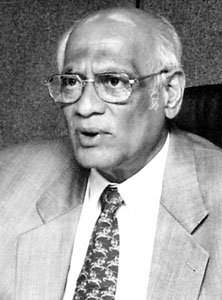 He was largely responsible for taking Aitken Spence into tourism. He helped the firm become one of the dominant players in the tourism business in double-quick time. His initiative to go into power generation and hotels in the Maldives is perhaps the reason Aitken Spence share prices continue to perform well. He spent his entire working career at Aitken Spence, and even after retirement, continued to be associated with the firm. He was a non-executive director of the company at the time of his demise. The present chairman Harry Jayawardene publicly acknowledged Roti's exceptional service to the company at a large gathering at the BMICH.
After his retirement as executive chairman and CEO of Aitken Spence, he sat on several boards as a non-executive director, and was chairman of the Export Development Board (EDB) for a couple of years. His commitment, leadership and achievements in this role are still recounted by his associates at the EDB. The then minister in charge, Professor G. L. Pieris, acknowledged this, again at another large gathering at the BMICH. Praise came his way on a regular basis, but it sat lightly on Roti's broad shoulders.
Roti was humble, charming, generous, and a great friend to many. He was honest to a fault, and was respected for this. His commitment, efficiency and leadership qualities were unquestionable. His support for his friends was hard to match.
On a personal note, he played a role in my own career, which I began as a planter before joining John Keells. He went out of his way to do likewise for many others. Many of his friends, like me, have been close to him for more than half a century, and we thoroughly enjoyed his company.
I once asked him how he came to be nicknamed "Roti". He said that his class master at Royal College once asked the students to announce what each had had for breakfast that morning. This was in the late '40s, and most of the students said "bacon and eggs" or mentioned other typical western breakfast items. When it was Ratna's turn to answer, he unhesitatingly said "roti" – and the nickname "Roti" stuck to him ever after.
The batch of students Roti belonged to at Royal is reputed to be among the very best produced by the school, and he was proud to be one of them. He certainly contributed to this reputation with the success he achieved in several areas.
At Royal, Roti was an outstanding and towering figure, looked up to by all – Prefect, Captain of Rugby and Badminton, Regimental Sergeant Major, etc. It was only last year that we celebrated 50 years of rugby under his captaincy. In 1957, he led his team to break the spell of repeated wins by Trinity, who were running circles around us.
For seven years the results of the Bradby Shield matches were a foregone conclusion, but Geoff Weinman, the coach, Roti the captain, and Ralph Wickremaratne the vice-captain, decided it was time to put an end to these successive defeats. They succeeded, even though we lost the Bradby by a whisker. That was on July 19, 1957. Coincidentally, Roti was cremated in Colombo on July 19, 2008.
It is acknowledged that it was Roti's leadership that moved Royal back into being in contention for the Bradby. The next year, under Dudley Fernando, with Roti still in the team, the Bradby was brought back to Reid Avenue, after a lapse of seven years.
Roti was a sportsman par excellence. In rugby, he would surely have gone on to play in the then All-Ceylon team if he had not suffered a knee injury, which kept him out of rugby but took him into tennis. Although he started late, he made his mark in this game too through constant practice at the Otters sports club, where he earned yet another nickname, "Rotters", among his gang of "sundowners".
I remember, when he took on the mantle of chairman and CEO of Aitken Spence, he said, in response to a question from a senior journalist, that if he had any leadership qualities, it was mainly on account of his having been Regimental Sergeant Major (RSM) of the Ceylon Cadet Corps. It was after a lapse of time that a Royalist was chosen to head the Ceylon Cadet Corps, and I remember how proud we were to present arms on his command to a visiting dignitary.
Roti and I happened to head two of the country's biggest tourism companies. We were competitors, with no quarter asked and none given. Nevertheless, we were the closest of friends, and that was an enigma to our respective assistants – but that was Roti. Compete, yes, but not at the cost of a long and close friendship.
Life was not completely rosy for him. He and his wife Meropi never got over the passing away of their older son, Romesh, a chartered accountant based in Melbourne, who succumbed to cancer at the age of 26.
Roti's demise leaves a void, especially for his wife, who was steadfastly by his side throughout his long illness, and his son, Dinesh, a cardiologist who has made his mark in his field, in Melbourne, Australia. Roti was very proud of him and his achievements. His immediate family, his extended family and his numerous friends will miss him in no small measure.
Meropi and Dinesh, our deepest sympathies. If it is any consolation, there are numerous friends of Roti's, who, like me, join you in your grief. He was a great guy, and we will remember him until the final whistle is blown on the rest of us.
By Ken Balendra
---
Ratna was blessed with the common touch
Ratna Sivaratnam, affectionately known as "Roti", braved the vicissitudes of his recent illness and sadly succumbed before the Biblical "three score and ten".
Roti's father was a doctor, and his older brothers Bala (Forbes & Walker) & Wigna (Liptons) predeceased him. He captained the Royal College rugby team in 1957, but lost to Trinity by a whisker because of Wilhelm Balthasar, who robbed Roti of his cherished dream. He became a Regimental Quarter Master Sergeant of the Royal Cadet Battalion.
Roti continued to play for Royal for another year, under Dudley Fernando, and in 1958 helped the school beat Trinity, after eight years. He joined Aitken Spence as a cargo boat surveyor, after marrying his childhood sweetheart, Meropi. He and Lorenz Pereira, who played under Roti, married two sisters and were thick chums.
He played for the CR & FC vs CH & FC with Geoff Weiman as flankers, but a knee injury prevented him from continuing club rugby. Later, after doing pioneering work for Aitken Spence Hotels, he was promoted to the Aitken Spence board, under Chari De Silva.
Roti and his best pal Ken Balendra became the two most powerful heads of the travel trade in Sri Lanka, heading the respective travel divisions of Aitken Spence and John Keells, and later becoming chairmen of their respective organisations.
His close pals were Ken Bala, Ralph W, Lorenz Pereira, Dudley Fernando, Rajah Pothuhera and Godwin Daniel. It is fair to say that Ratna "moved with kings and queens alike without losing the common touch".
To his beloved wife Meropi and son, and to Ratna's favourite and only employer, Aitken Spence & Co and his beloved staff, who adored him, my deepest sympathies. There will NEVER be another Mr. Sivaratnam.
May the turf lie gently on him".
By Mithila Gunaratna New Rochelle, New York