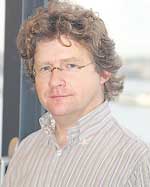 Dr Michiel Scheffer
By Dilshani Samaraweera
Sri Lanka's garment industry is warned against impacts of a global fibre supply shortfall.
A professor of fashion and textile management at the Saxion University, Netherlands, Dr Michiel Scheffer, says global fibre production is falling short of demand. This 'fibre gab' is already pushing up prices of fibre. Garment manufacturers are expected to be affected because of the impact on fabric prices.
Garment manufacturing countries like Sri Lanka that are dependent on imported fabrics, are expected to feel the impacts of the fibre gap over the coming years, unless fabric supplies are secured.
"About 50 million metric tonnes of fibre are produced globally per year. But the demand is higher. So there is a fibre gap. Basically because the supply is below the demand. The gap is currently around 3% but this is widening because demand is increasing," said Dr Scheffer. Dr Scheffer was in Colombo last week to speak at a garment industry workshop organised by the Joint Apparel Association Forum and the Sri Lanka Apparel Marketers Alumni.
Prices of both natural and man made fibre have already increased. "Over the last year, cotton prices increased by around 10 percent and the price of polyester, the main man-made fibre, increased by about 20 percent. Prices started increasing from about 2006 - 2007," said Dr Scheffer.
The fibre gap is expected to have a domino effect along the global apparel manufacturing chain. The price increase in fibre will be passed on, first to yarn, and then to fabrics. The impact on Sri Lankan garment producers would be higher production costs.
"The general trend is, if prices of fibre increases by 20 percent, yarn and fabric prices can increase from seven percent to 10 percent. So cost of manufacturing garments will also increase," said Dr Scheffer.
The widening fibre gap is attributed to increased demand by developing countries like China and India, and also a supply reduction. With economic growth, people in large developing countries like India and China are buying more clothing, pushing up demand for fibre.
"On average, a person in the EU or the US would buy about 30 kgs of clothing per year. In comparison, the average Chinese would buy only about 3 kgs of clothing per year. But now, people in India and China are consuming more. So the demand is increasing," said Dr Scheffer.
Meanwhile, the supply is getting squeezed because more land is being allocated to produce essential food items instead of commercial commodities like cotton. The trend of increasing petroleum prices is also contributing towards increasing the prices of man-made fibre. Although ready made garment exports are the country's biggest manufactured export, Sri Lanka is still heavily import dependent for fabric for garment manufacturing..