Rare meetings with Germaine Greer and Edna O' Brien, the chance to hear Thomas Keneally read from his novels, including the Booker Prize-winning Schindler's Ark, all these once-in-a-lifetime experiences await us at the Galle Literary Festival- set to take place from January 28 to February 1.
This time too, the festival will focus on the opportunity to interact with inspiring writers and enjoy four days of discussion and debate in the World Heritage City of Galle. In the context of the present global financial crisis, the organizers of the Festival have had to take a decision to run a more concentrated event this time, to ensure an experience that will be stimulating and enjoyable for all. In this spirit, the organizers have also pledged to maintain 2008 ticket prices despite rising costs.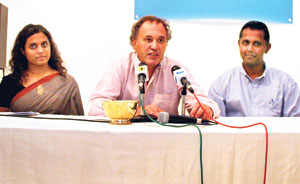 The organisers holding a news conference
Other international writers coming to Galle for the Festival include Michael Morpurgo, Moses Isegawa, Colin Thubron, Pico Iyer and leading journalists M.J. Akbar and Tarun Tejpal.
The Festival will open on the grounds of the Martin Wickremesinghe Museum, paying tribute to one of Sri Lanka's most celebrated writers, whilst hearing from new voices in Sri Lankan English writing. These newer poets and novelists will be joined by distinguished writers Yasmine Gooneratne, Anne Ranasinghe and winner of the 2008 Gratiaen Prize, Vivimarie VanderPoorten.
"The concept of a literary event of this nature," explains the Festival Founder Geoffrey Dobbs, "was taken from a book fair which was held three years ago. It has been observed that there is a great level of interest in Sri Lankan English writing; and our goal is to further that interest."
One major focus of the festival this year- as explained by Sunila Galappaththi, Programme Director, is that of showcasing the talent of emerging writers as well as the established ones, all in a bid to facilitate an interesting and inspiring exchange of ideas.
A full programme for the festival, as well as ticket prices for tours and events, is published on the official website- www.galleliteraryfestival.com. Box offices and online sale of tickets will begin on January 5.

Meet the GLF authors
Germaine Greer
Widely regarded as one of the most influential feminist voices of the later 20th century, Australian-born Germaine Greer is a writer, academic, journalist and scholar of modern English literature. Greer's ideas have created controversy ever since her ground-breaking book 'The Female Eunuch' became an international best-seller in 1970 making her a household name overnight.
She is also the author of many other books including 'Sex and Destiny: The Politics of Human Fertility' (1984), 'The Change: Women, Ageing and Menopause' (1991) and 'Shakespeare's Wife' (2007).
Greer is currently Professor Emeritus of English Literature and Comparative Studies at the University of Warwick.
Romesh Gunesekera
Sri Lankan born Romesh Gunesekera's first book 'Reef' was shortlisted for the 1994 Booker Prize and since then he has written many other successful books 'The Sandglass', 'Heaven's Edge' and most recently 'The Match'. His fiction has been translated into more than ten languages and his books are studied in school and university courses.
Gunesekera is an Associate Tutor on the graduate writing programme of Goldsmiths College, University of London and has run workhops worldwide, his workshop in Greece being listed in the top ten activities for 2008 by The Sunday Times in London.
He was elected a Fellow of the Royal Society of Literature in 2004 and this year was awarded the Jura Writers' Retreat by the Scottish Book Trust.