Sri Lanka is to launch its first satellite, a Low-Earth Orbit (LEO) type, this year, an official said yesterday.
President Mahinda Rajapaksa has decided to name the satellite after space prophet Sir Arthur C. Clarke, Telecommunication Regulatory Commission Director General Priyantha Kariyapperuma said
A second satellite, a geostationary type, would follow the Arthur C. Clarke LEO, he said.
The TRC chief said these satellites would bring about a huge foreign exchange saving as Sri Lanka was now dependent on satellites of other countries for broadcasting, telecommunications and even defence-related information.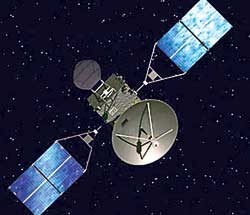 A low-earth-orbit satellite
"The satellites will be used to develop our communications sector. We are talking to a number of satellite manufacturers but we have not finalised plans yet," Mr Kariyapperuma said."We can use the LEO for imagery and disaster management by collaborating with LEO satellite clusters of other countries. The satellite will cost around US$ 20 million.
A geostationary satellite will also be launched, but this will take over two years. The 'geo' can be used for broadcasting, communications and high speed Internet. A 'geo' satellite will cost more US$ 100 million," he said.
The LEO satellite is also seen as essential to monitor Sri Lanka's territorial seas after expansion of the Exclusive Economic Zone.
"Our Exclusive Economic Zone will probably expand this year from 200 nautical miles to about 800 nautical miles. The most efficient and cost effective way to monitor such a large expanse of ocean will be to use the LEO satellite," Mr. Kariyapperuma said.
The government is exploring different financing mechanisms, including public-private partnerships and foreign assistance, to put the satellites in orbit.
At present, neighbouring India has about 11 satellites in service, and Pakistan also has its own satellites, but most other countries in South Asia do not have their own satellites.