Choosing an undergraduate programme can be a tedious task at times. There are many areas to consider - like the subjects or university for instance. But, if you plan to study in India, here's something you might want to consider.
Presidency College, located in Bangalore and recognized by and affiliated to Bangalore University, India, offers a range of courses in the business, commerce and science fields.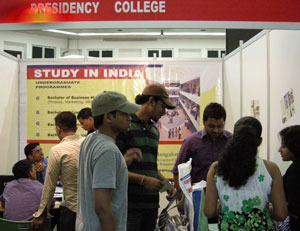 The Presidency College stall at the ED-EX exhibition held recently. Pic by Athula Dvapriya
Established in 2000 and currently boasting of about 2000 students, the College also offers foundation programmes, guest lectures, industry exposure and placements as well as foreign study tours.
Among the undergraduate programmes offered by Presidency College are Bachelor of Business Management, Bachelor of Computer Applications, Bachelor of Commerce and Bachelor of Science in Bio-Technology, said the country representative of Presidency College, Afzal Ansar.
The College also offers a Masters programme in Business Administration, he added. Explaining the programmes further, he said that the course in Business Management includes finance, marketing and human resource management. Presidency College also has an international partnership programme with the University of Wales, Swansea School of Business and Economics.
"The undergraduate courses last for three years. Accommodation facilities can be arranged upon requirement," Mr. Ansar said. He adds that registration for admission to all courses begins this month and the classes are scheduled to start in July/August every year.
Presidency College is equipped with four state of the art computer labs and students have extensive and free access to the internet. The Bio-tech labs at the College are of a high standard, said Mr. Ansar, adding that the labs are completely geared to handle all requirements of the biotechnology programmes. In fact, according to the Indian publication, Bio Spectrum (Volume 5 Issue 1) of January 2007 the Bio-tech department at Presidency College was ranked 14th overall in India.
"We also focus on innovative methodology, individual attention and careful grooming thereby giving students ample opportunity to excel and rise above mediocrity," he said.