"How about recommending a resort that's not been turned into a boutique hotel with upmarket prices?" a friend asked me recently. She felt that in my enthusiasm to report on glamorous, renovated properties I had lost sight of the kind of retreats that Sri Lankans and regular visitors adore.
Which brings me to Amor Villa. Although it has been open to guests for more than 10 years, it has recently been taken over by a young Sri Lankan who is keen to welcome both locals and tourists to enjoy this old bungalow by the beach. It is located close to the 123km post on the road from Galle to Talpe, just after Unawatuna.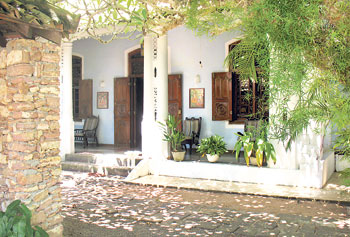 The front verandah behind an old kabook wall
While neighbouring properties have been gentrified by foreigners, Amor Villa retains its original, century-old lines with only basic renovation during the past decade. Large wooden gates are swung open eagerly when the car horn is sounded announcing the arrival of visitors and there is ample parking in the forecourt. An old wall of kabook bricks partially conceals the bungalow's traditional verandah frontage of white painted, twinned columns complemented by a fretwork frieze.
The white cement floors bordered in red and black are worn, creating an authentic period feeling; the furniture is antique and well-used, adding a cosy rather than a fashionable atmosphere. On one side of the entrance lounge is the office; the kitchen is opposite. Other lounges are for relaxing, dining or watching television. The verandah on the western side has tables for dining, while the sunset verandah faces a coconut grove and, beyond, the sea.
The master bedroom is on the ground floor and opens on to this verandah, with its exclusive, dedicated dining and sitting area. The room itself is simply furnished with a four-poster bed, a genuine antique cradle at its foot, and a rattan-upholstered day bed. Although there is a modern air-conditioning unit, a side atrium has been added to let breeze flow through the suite to temper the beachside heat. The bathroom has a glass skylight adding an outdoor appearance as well as sunshine.
The western verandah doubles as the guest restaurant
From an interior parlour, an ingeniously-fitted old wooden staircase climbs to the first floor. This has three bedrooms, each with bathroom en suite, hot water and air-conditioning. The wooden floors have been coated with white cement and their underside forms the wooden ceiling of the rooms below.
The décor is simple, even whimsical; there is none of the pretension of more ambitious properties. Ornaments cram corners and foxed, 19th century prints of Italian and nautical scenes hang on the walls, side by side with Buddhist art. There is a sense of tradition, but also of fun, about the place and this makes it homely, emphasised by the charm of the host Arthur Indrajith Devasurendra and his helpful staff.
Although the villa is fronted by the beach and has access to it, this is not an area for sea bathing. However, the beachside lawn beyond the palm trees is perfect for picnics, with a thatch-roofed, open-sided shelter for informal dining. There is always a cook on hand to prepare food with a Sri Lankan accent or hearty "bites" for socialising. Guests can bring in their own drinks and no corkage is charged.
Amor Villa, with its four guest rooms, verandah and parlours can be rented in its entirety for a family, or by the individual room. In addition, along one side of the garden, there is a modern, utilitarian annexe with a further seven rooms, suitable for accommodating friends for a party. It's a great place for a lazy holiday retreat. Bed & breakfast prices for Sri Lankan residents are old fashioned, in keeping with the style of the villa and its modest but charming ambience.
(Amor Villa, 430 Matara Road, Dalawella, Unawatuna; www.amorvilla.com; tel: 091 4933087)