Hulftsdorp has known and will know many a good and competent lawyer; however, the 'Greats', namely, those who have that indefinable quality, be it `intellectual daring', 'extraordinary skill' in cross-examination or the presentation of a case or any other, that raises him to a special plane over and above those who are merely 'competent' or 'good', are few and far between. In my career of over two score years at the Bar, I have come across but eight who to my mind occupied those dizzy heights - H V Perera QC, E G Wikramanayake QC, C Thiagalingam QC, G E Chitty QC, G G Ponnambalam QC, Dr Colvin R De Silva, S Nadesan QC and H L De Silva PC. HL was the last of the 'Greats', and with his demise it is unlikely that Hulftsdorp will ever be privileged to see a 'Great' again.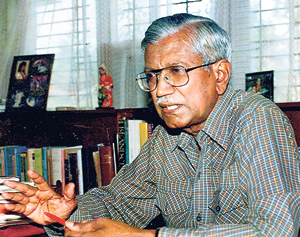 H L De Silva
Having had the great privilege of knowing HL and enjoying his friendship for many years, I never ceased to be amazed by his mastery of the law, his wide general knowledge, the extent of his reading, his meticulous preparation and attention to detail, the grammatical perfection and precision of his language, and his masterly presentation of a case. These will, forever remain as cherished memories.
HL's forensic triumphs and the notable cases in which he appeared are legion; but the two that will always stand out in my memory are the 'De-Merger Case' and the 'P-TOMS Case' where HL surpassed even his 'brilliant best', because I believe that in those two cases, though on record HL appeared only for his client Wimal Weerawansa, he was, in fact, appearing for the country, his fellow citizens and future generations to save them all from disaster.
Today, when one sees mounting evidence of the unbelievably massive array of arms, explosives, state of the art military equipment acquired by the LTTE and the vast quantities of food, fuel etc. provided by the government for the people of the North which these terrorists had robbed, one shudders to think what more the LTTE would have acquired and how much carnage they would have caused had the 'P-TOMS' MOU been implemented and the LTTE allowed to collect millions of dollars of aid given by foreign donors for the relief of the victims of the Tsunami.
Of all HL's multitude of forensic triumphs, his success in securing an interim order which effectively prevented the LTTE from getting their hands on aid donated for the purpose of the relief of human beings and the reconstruction of property, to use for the purpose of the 'wholesale' murder of human beings and the destruction of property must rank as his finest.
The extent of the service he rendered to humanity, our country and our people by this forensic feat is truly incalculable. Over and above his brilliance at the Bar, the very greatest facet of HL's character was his limitless patriotism. Just as much as HL, a devout Methodist, did not wear his religion on his sleeve, so also did he not wear his patriotism on his sleeve. His love for his country and its people was deep seated within him and transcended all other considerations: this resulted in HL serving his country and its people without fuss, fanfare, publicity or even a shadowy hint of a thought of reward, to an extent that is, to my mind greater than the service rendered to the country by any other member of the legal profession in contemporary times.
HL's death follows close upon the heels of the death of his good friend and colleague Elanga Devapriya Wikramanayake, another illustrious member of the Bar, whose love for his country and its people was no second to that of HL.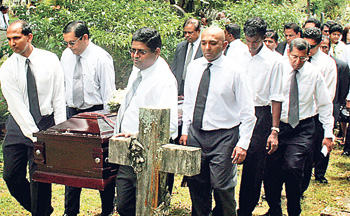 Lawyers and family members carrying the coffin of senior lawyer H.L. de Silva at the funeral held at Kanatte yesterday
Though these two veritable giants were not in active practice in the last few years, they were always there whenever any advice was required in any matter affecting the fate of our country, and they always had the time and the patience to give us their sober and invaluable advice and guidance upon request. Now they are both gone and we, who remain and depended so much on their advice and guidance are left forlorn.
HL will be most missed by his wife Manel, his two daughters and three grandchildren to whom he was devoted. Our hearts go out to them, but they must necessarily know that they are not alone in their grief. HL was not a mere individual: he was a national figure and his death, a national tragedy. There is no one who knew him or knew of him who will not mourn his death.
However, no purpose would be served by mere mourning and 'breast beating'. We who are left behind and shared those lofty patriotic ideals for the achievement of which he strived, must gird our loins and continue his struggle for good governance and the preservation of the sovereignty, and territorial integrity of our country, and the preservation of the unitary character of its Constitution - for if we do not, we let down this great patriot who has breathed his last.