The President's Office has directed the Ministry of Trade and Consumer Affairs to hold a full-scale inquiry into alleged corruption and other rackets at the Dambulla Economic Centre (DEC) where a vegetable mafia backed by politicians is reported to be manipulating prices at the expense of consumers and farmers, a senior official said yesterday.
The presidential order came after the Sunday Times in its late city edition lead story last week highlighted the rackets carried out by a trade mafia at the DEC.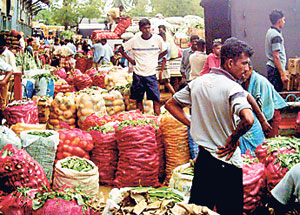 The Dambulla Economic Centre under a cloud
Ministry Secretary Lalith R. de Silva said they would probe charges that this vegetable mafia was involved in rackets such as price fixing, hoarding and creating artificial shortages. He said some 140 traders were refusing to budge from the DEC though the 10-year lease for their shops had expired on April 01. "At least half of them are alleged to have sublet their shops to outsiders for higher rents," Mr. de Silva said.
The Ministry was also probing allegations that this vegetable mafia was being backed by some politicians, he said. The secretary said farmers were badly affected by the low prices offered for their produce by these traders who collaborated and fixed the prices. These traders were also protesting over the recent opening of a storage facility where the farmers could stock their produce until the market was favourable, he said.
Recently, some politicians in the region are alleged to have demanded Rs. 150,000 from each trader if they wished to continue at the economic centre. It is alleged that this sum demanded by the politicians was only the initial payment with more money to follow.
Meanwhile Dambulla Economic Centre Manager Christy Wijeratne said prices of some vegetables had been brought to levels which were fair to both the farmers and the consumers. This change came after the media exposure of the rackets at the economic centre.
Meanwhile, the authorities are planning to set up an Economic Trade Centre at Omanthai in Vavuniya to market food produce in the Northern and Eastern provinces, Trade Minister Bandula Gunawardene said yesterday.
The centre to be set up on a 20 acre land would border both the A9 highway and the Colombo-Jaffna rail road to facilitate the transport of goods by train, he said.