A 28 year-old female schoolteacher from Kotmale has become one of the latest victims of the rapidly increasing number of pornography racketeers who upload pornographic material onto web sites without the consent or knowledge of their victims.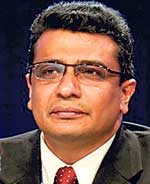 Telecommunication Regulatory Authority (TRC) Director General Priyantha Kariyapperuma
In this case, the woman's businessman boyfriend is alleged to have used a camera phone to film the couple engaged in oral sex at remote spots in tea estates which was later uploaded onto a pornographic site, which was detected by the police as the government began last week to block sites, with the aim of making them less accessible to minors.
Police who raided a private residence on a tip off were able to seize at least 36 CDs containing pornographic material along with five expensive camera phones, a computer and other related equipment, Inspector (IP) Bandara Dewethgedera, told the Sunday Times.
Investigators later found out that the suspect had duped at least three other women on earlier occasions, he said. The suspect who hails from the city was described as an average businessman with a fair knowledge in computer technology. He befriended all his victims with the promise of early marriage, police said.
The Kotmale case is the just the tip of the iceberg with authorities probing into about 14 porn sites on the Internet featuring locals, both adults and children filmed at exotic places around the country.
Telecommunication Regulatory Authority (TRC) Director General Priyantha Kariyapperuma met with Internet Service Providers (ISPs) last week and asked them to assist in blocking the porn sites. He told them the TRC was working with the Attorney General's Department and the Police to trace the origins of the porn content and take legal action.
With the announcement of the ban, that authorities say was prompted by complaints received by the Police, 12 sites were located and blocked immediately, while measures were being taken to identify other such sites, Mr. Kariyapperuma said.
A senior officer with the Women's and Child's Bureau said that during the first four months of this year, the police had busted some makeshift porn studios operating within plush guest houses and travel inns, mainly in outstation towns such as Kurunegala, Bandaragama and Balapitiya. Operators of these makeshift studios were not only turning out pornographic material on CDs but were also acting as supply agents for Internet sites overseas, the officer said.
The raids followed after people in the porn movies were identified and later tracked down following complaints by the public, especially the concerned parents. The suspects later led investigators to the guest houses also known as production houses, the officer said.
Authorities believe they can crackdown on the racket in a bigger way if the pictures of those in porn films are made public so that they could be traced and they could in turn lead authorities to the chief operators. However, the country's laws would have to be changed, if the authorities were to publicise these pictures, the officer said.
Investigators say many of the people taking part in the films had done so willingly in return for large sums of money, although in some cases there would have been intimidation bordering on blackmail, police said.
The police have also called on parents and members of the public to share any information they may have on the local pornographic industry. Apart from child pornography, a bigger issue that has to be urgently tackled is adult material that is freely available on the internet with easy access to minors, says Jagath Wallawatte, Chairman of the Child Protection Authority (CPA).
"At present we have identified some 15 to 20 adult porn sites and blocking them is an uphill task, because one could reach the site using proxy channels," he said. He said parents, teachers and community leaders should play a bigger role in educating and advising adolescents on the dangers of such material, in whatever form.
"When there is a crackdown on the internet, it will automatically give rise to other forms of material such as CDs, videos and movies which are freely available in the black market. The only effective method to combat this problem would be the involvement of elders, especially parents and teachers," Mr. Wallawatte said.
"The issue is like a doubled-edged sword, where technology is needed for a child's education on one hand and on the other it can be abused. So parents are duty bound to strictly monitor the activities of their siblings whenever time permits," he said.However, he also said it is quite natural for adolescents to be tempted to flirt with such material and although it should not be encouraged as such, the issue has to be tackled in an intelligent manner, aimed at discouraging minors from dipping into pornography.
Meanwhile, Mr. Kariyapperuma said, they were closely monitoring the Internet as many porn web sites have propped up with an increasing number of children among the surfers.
"We have already taken several measures to combat this issue and the most effective among them is the blocking of suspected sites since children have easy access to the internet either in their homes or at these so-called 'surf cafes'. This decision was taken after the police confirmed that many porn web sites with local content were doing the rounds and with easy access to children," Mr. Kariyapperuma said.
"We have to identify the sites and block them on a case-by-case basis. It is a lengthy process. There are thousands of such sites. We have to monitor these sites and use special software to block them," he said.
The TRC will also send some technical experts to countries such as Singapore, Malaysia, the UAE, and Qatar – countries that have successfully managed to block porn sites and control access to children.
"For a long time the country was distracted by a war and now that it is over, other vices in the country that harm the younger generation in particular need to be clamped down on," Mr. Kariyapperuma stressed.