Some Basnayaka Nilames have accused the Dalada Maligawa's Diyawadana Nilame, Nilanga Dela Bandara, of asking them to fund President Mahinda Rajapaksa's election campaign.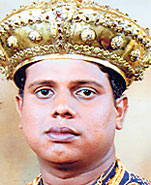 Nilanga Dela Bandara
The Basnayaka Nilames have complained that the Diyawadana Nilame had asked them to provide Rs. 50,000 each for the election campaign after he himself promised Rs. 5 million.
They claimed they were summoned to the official residence of the Diyawadana Nilame and told to support President Rajapaksa. The Basnayaka Nilames in a complaint to Transparency International which closely follows cases of corruption said that it was a violation of the election laws to use public property or funds for any party's election campaign.
The Diyawadana Nilame denied the allegations saying they had a meeting, but it was to discuss a land issue. "I don't have money to offer for any election campaign," he said.