It started out as a family venture and grew to include friends and professionals. Following the end of the war in 2009, a small group banded together to provide relief in terms of milk food, other supplies and moral support to those in the former war-torn areas. The Unity Mission was born and a group of professionals extended their support to reach out to those in the North.
From May to September 2009, they held regular medical camps with the help of the Sri Lanka Navy. Thirty doctors accompanied the team and around 1300 people in Kayts benefited. The team went back in September 2009 and working with the Sri Lanka Army, not only set up a medical camp but also worked with children in the Mannar area.
It was here that the suggestion was made that such programmes be held in Colombo. Thus the National Christian Council and the Sri Lanka Mahabodhi Society linked up to organize an event known as the 'Ekamuthu Oray Makkal' Unity Camp. With the support of the respective provincial education authorities, the Governor of the Northern Province, the Sri Lanka Army and the Sri Lanka Navy, the 'Ekamuthu-Oray Makkal' Unity Camp was held with 500 children between the ages of 14 to 19 from 16 schools in the North and East coming to Colombo.
Curiosity mounted as the children who lived in the North travelled away from the usual surroundings to visit the capital city, develop friendships and be introduced to the hustle and bustle of the metropolitan city of Colombo.
The event was both educational and fun-filled with motivational sessions and integration programmes. Leading schools- Ladies' College, Bishops College, Methodist College, Wesley College, the Methodist Centre at Athurugiriya, NCCSL centre at Athurugiriya, Mahabodhi Society premises, Maradana and St. Margaret's Home, Colombo 3 threw open their doors to accommodate the children.
"The main aim was to bring together youth from the north, the south, Colombo and the central hills, and to inspire them to unite to create a better and united Sri Lanka," said co-coordinator of the Unity Mission team, Bertal Pinto Jayawardena. Mr. Jayawardena went on to say that it was a small project to unite individuals and families from across the island.
"The event hopes to create an atmosphere for children of different ethnicities and religions to appreciate and get to know each other," said Rev. Stanley Nelson from the Christian Reformed Church who is also a representative of the National Christian Council Inter Faith Unit.
The children were encouraged to mix and mingle and build friendships. Trips were made to the Colombo Museum, Zoo, Excel World and Snow World. The programme also included sports events, an art and craft workshop, a camp fire and a sing-a-long session. Music and art were employed as mediums through which children from different parts of the island could reach out to each other irrespective of ethnic and religious variances.
A unity concert was held on December 28 with each school presenting an item. The Unity concert proved to be a voyage of discovery as hidden talent blossomed for all to see and the children amazed the audience with their versatility and their ability to reach beyond ethnic differences, Mr. Pinto Jayewardena said.
Children from the north singing Sinhala Baila was indeed a touching and encouraging sight to behold.
The children were taken on a tour around the city of Colombo by night and day. Mr. Pinto Jayawardena added that "The fact that Colombo was their city and Sri Lanka their motherland was emphasized."
The trip to Snow City was enjoyed thoroughly as the children danced and frolicked in 'snow'.
"Art is a therapy and to bring them out of the trauma" was the main idea of the poster programme, said Abhishek Mikael Gunaratnam from the Australian College of Business and Technology (ACBT), who was a volunteer for the programme. The major aim was to "create a difference and bring about a change within them to convince them we are a new generation," he said.
"I have made a lot of friends," Zinthah Nawaz from Kaathankudy Central College enthused. Nawaz, who sat for his G.C.E OLs this year said he found Colombo people very warm and friendly. It would be beneficial to hold such programmes on a regular basis, he said.
The group from the Kaathankudy Central College consisting of 30 children enacted a drama at the Unity Concert held on the second day of camp. "We are very happy with the programme," said three girls who attended the camp from Kayts. Lakshani Melkian, Mary Nishani Patrick and Niluxi Mariyaghasan agreed that this programme proved to be an enjoyable and learning experience.
The three girls who have just completed their O'Ls were also part of the poster workshop at the Art and Craft Workshop. Their posters were based on the theme- Love not Hate.
"It was a new experience for them as well as for us," said Asangi Wickramaratne from Ladies' College. Though mistakes occurred when translating they learnt that, "speech is not the only way of communicating" she added while Serena Poobalan, also from Ladies' said she is already "looking forward to the event that will be organized next year."
The organizers are grateful to all the sponsors, especially various individuals who lent a helping hand irrespective of ethnicity and faith, and the continued support of the armed forces. The Unity Mission is hoping to continue their efforts in 2011 too concentrating on areas such as personal development, leadership development and confidence building.
All about sea shells
Years of hard and meticulous work have gone into the extensive book, 'Shells of the Sri Lanka Seashore' including some mangrove and brackish-water forms, by Dr. Malik Fernando. The book was launched at a simple ceremony at the Ministry of Environment last Wednesday.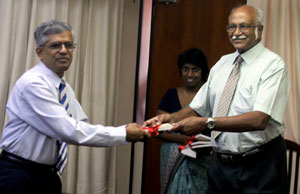 Picture shows Dr. Fernando presenting the 'Shells of the Sri Lanka Seashore' to Environment Minister Anura Priyadhrshana Yapa.
A unique and commendable feature of the book is that many sections are in all three languages, English, Sinhala and Tamil, making it a handy guide for all Sri Lankans. The book includes colour plates, with shells being photographed at different angles making it easy for the user to identify the different seashells which otherwise may look similar.
Molluscs – snails and clams – are just one group that Dr. Fernando, a medical doctor, has studied, making his own collections while diving and beach-combing.
Compiling the book in his own time and with his own resources, Dr. Fernando concedes that identifying the specimens, without access to collections in foreign institutions, was a difficult task However, that having not deterred him, Dr. Fernando is set on not only putting out a book on freshwater molluscs but the "bigger job" of marine molluscs of which he already has a collection of about 500.
Must books for every home
Two important books, 'Towards Healthy Living' in English and 'Sexually transmitted infections, sexuality and society' in Sinhala written by Dr. Shantha Hettiarachchi have been published recently.
Providing simple and practical guidelines for a happy life, 'Towards Healthy Living' is published by Godage Publishers. According to media consultant Edwin Ariyadasa this is the kind of book not only every home but also every institution should have as a ready reference. Common health topics including HIV/AIDS and sexually transmitted infections, illegal abortions, drug abuse, alcohol, tobacco smoking, stress, non-communicable diseases such as diabetes mellitus, medically unexplained symptoms, vitamins and food supplements, drug consumption, sleep, flu, cervical cancer, food and water-borne diseases, thalassaemia and leprosy are discussed in this book.
Meanwhile, 'Sexually transmitted infections, sexuality and society' published by Wijesuriya Publishers deals extensively with problems faced by people while also discussing the available solutions.
Violin Masterclass
Leo Phillips, an ex-concertmaster of the London Philharmonic, Hallé Orchestra and Chamber Orchestra of Europe and leader of the Nash Ensemble (1996-2000), will be in Sri Lanka to conduct a master class hosted by the Chamber Music Society of Colombo (CMSC).
This unique opportunity to interact with a professional violinist is open to serious students of the string family of instruments, of all ages. The focus will be on performing skills including technique, interpretation and style. Interested non-players are invited to observe the Master Class. Those who wish to participate can call the CMSC number - (011) 2508008 and leave a message. The master class will be held on the Saturday, January 8, at 3.30 p.m. at the Nelung Arts Centre, 81, Hyde Park Corner, Colombo 2. The event is free of charge.
Exhibition by first batch of Apt Art Academy
The first batch to pass out from the Apt Art Academy will be holding an exhibition of their drawings, paintings, sculptures and designs on January 8 and 9 at the Art Gallery. The academy's one year diploma consists of drawing, painting composition, colour study, sculpture, graphic arts and design.
The convocation ceremony of the diploma holders will be held on January 9 at 2.30 p.m. at the John de Silva memorial hall.
Ajahn Brahm at Royal College on January 9
Ajahn Brahmavamso, the world renowned meditation teacher will be in Sri Lanka this month and will deliver Dhamma talks and hold meditation retreats during his ten-day stay. His visit coincides with the inauguration of the Sambuddhatva Jayanthi commemorating the 2600th anniversary of the Enlightenment of the Buddha.
Ajahn Brahmavamso will deliver a talk at Navarangahala (Royal College) at 9 a.m. on Sunday, January 9 on the theme 'Respect - Who, How and Why'. Admission is free. He will conduct an eight-day meditation retreat at the Bandarawela Tourist Resort for members of the clergy and laymen for which participants have already been selected.
He returns to Colombo for a full day meditation programme at the BMICH on Wednesday, January 19- Duruthu Full Moon Poya day. Those interested can obtain free passes from the Narada Centre at Sarana Road or from the Dharmavahini Foundation at Kohuwala Road, Nugegoda.
Ajahn Brahmavamso is now a regular visitor to Sri Lanka and his visits are eagerly looked forward to by Buddhists as well as non-Buddhists who find his Dhamma presentations most interesting and educational.
Sri Lanka's business community was highly taken up by his keynote address at the recent Business Forum held in Colombo in connection with the 60th anniversary of the World Fellowship of Buddhists.