A rather long walk up a narrow, winding road leads drama buffs and aspiring dramatists to Colombo's newest centre for performing arts. "The long walk is part of the experience," jokes its founder Vinodh Senadeera. "Having completed the walk, my students will not have to do warm up exercises before lessons begin!"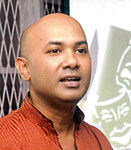 Vinodh Senadeera. Pix by Saman Kariyawasam
Opened on January 14, Stage Door promises to do exactly what its name suggests- to open doors to a life, or even a career in the performing arts. Almost every foot of wall space is covered with posters from past productions- tributes to Vinodh's experience. A well equipped music room and reading room await the students who will make music, sing, dance, act and write at Stage Door.
"I have dreamt of my own school for performing arts, for around fifteen years," explains Vinodh, "recalling a question which was asked of him fifteen years ago for an article in a newspaper. "When I was asked where I wanted to go with my love for drama, my answer was to have my own school. And that statement was published as the headline of the article."
The sessions conducted at Stage Door promise to allow children and adults to expand on their creativity and talent while learning all technical aspects of the trade- from writing, acting, movement, song and music. "The focus here," elaborates Vinodh, "is to stimulate the imagination while developing self confidence, language and cooperative working skills. Movement sessions will enhance stage performance, focusing more on free style dance. Singing sessions will explore the potential of voice and discovering vocal expression."
In addition to regular sessions and coaching for exams Stage Door also offers performance opportunities to its students, in the two live performances the institute hopes to present annually.
With the objective of providing the highest standards of instruction, the teaching staff of Stage Door consists of professionals and specialized guest tutors including Shannon Jacob- the Teacher-in-Charge of music who has worked as an accompanist and director for many musicals- Stay Tunes, Voices in Harmony In Concert, In the Spotlight,Spellbound, Canto Perpetua, The Music's Always There, Nickelby and Gaudete among others.
While most of the sessions will be conducted on Saturdays, students may contact the office for private classes during the week. Stage Door is located at No. 20, Taxila Place, Kirulapone, Colombo 6.
For further details on sessions, log on to www.stage-door.info or email info@stage-door.info.