A woman diabetic patient died after an overdose of insulin which a government hospital had asked her to administer with a syringe purchased from a private pharmacy.
It has transpired that the woman, who is illiterate, did not know the exact quantity to inject. She lay in a coma at the Intensive Care Unit of Mahiyangana hospital for about a month before she died. The overdose, doctors said, had caused hypoglycaemia or the condition that occurs when the blood sugar (glucose) is too low.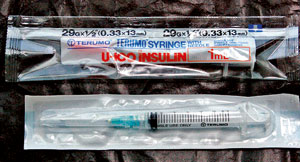 An insulin syringe (top) and a commonly used syringe (above)
Uva Province Health Director, Dr. Nilamani Hewageegana has submitted a report to the Health Ministry, following an inquiry into the death of the 38-year-old woman on March 17. The inquiry has revealed that the woman, a mother of three, had been given insulin at the diabetic clinic of Mahiyangana hospital and told to purchase a syringe and inject herself.
Mahiyagana Hospital Medical Officer Dr. Y. Upasena said that due to a shortage of certain medicinal drugs and equipment including syringes, patients are directed to purchase these from pharmacies.
"The hospital provides the patients with insulin and instructs them on how to administer it. The woman was found unconscious the morning after she had administered insulin before retiring for the night. She was treated at the Intensive Care Unit (ICU) for a month, for complications arising from insulin overdose, but she did not recover," he said.
Dr. Nilamani Hewgeegana said, "The prescription issued by a physician to the patient had mentioned the correct dose, it is the pharmacy that had given a large volume syringe," she said. Dr. Prasad Katulanda, Consultant Diabetologist and Senior Lecturer- Clinical Science, Medical Faculty of Colombo University, said that two million Sri Lankans suffer from diabetes and 10.3% of adults (above the age of 20) are victims of this disease.
Dr. Katulanda said that insulin is measured in 'units', and the 100 unit (U-100) in a 1 millilitre (ml) syringe with a small needle is commonly used by diabetic patients. The dose varies as low as two units of insulin to 60 or more units of insulin and administered once or several times a day.
"Patients are clearly instructed on the insulin unit they should inject, and it is important to be cautious when purchasing a syringe as the dose may change when using a large volume syringe. As insulin lowers blood glucose levels, an overdose will result in hypoglycaemia (low blood sugar)," he said adding that an intake of some sweet substance could control early symptoms of hypoglycaemia.
Symptoms of Insulin overdose (hypoglycaemia)
Trembling
Sweating
Dizziness or light-headedness
Nervousness or irritability
Behaviour and mood changes
Headache
Weakness
Numbness or tingling around the mouth
Pale skin
Confusion
Extreme hunger

Extreme symptoms
Loss of consciousness
Seizures
Coma
Death