Visitors to Sigiriya are reportedly causing environmental problems. Deeman Ananda, President of the Protect Sigiriya Movement said visitors were the worst culprits. They carelessly strew waste all over.
Ananda urged heavy fines and deployment of more staff from the Cultural Triangle to police the area along with the other authorities.
He also said a large number of touts and so-called guides were known to pester visitors and this practice should be stopped. Ananda added police were helpless to crack down on the guides, as they enjoyed patronage of regional politicians.
Recently a top international official had visited the area with the aim of promoting the site, but was not happy at what he saw.
Dr. Taleb Rifai Secretary General of the United Nations (UN) World Tourism Organisation was in Sigiriya this week for a brief tour. Unfortunately he will not be impressed with what he saw Ananda said.
The famed mirror wall at the site is covered with bird droppings while the frescoes are losing their glitter.
A heap of empty plastic bottles, containers and a neglected toilet make the place an eye sore.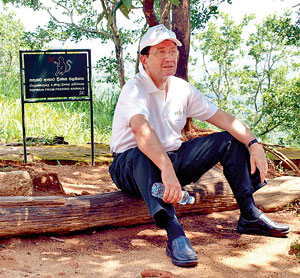 Dr. Rafi will not carry away a favourable impression of his visit to Sigiriya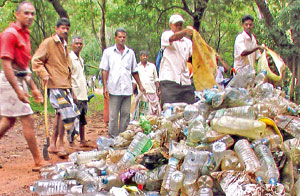 Civic consciousness is completly absent. Plastic bottles, containers and other refuse dumped by careless visitors