Domesticated dogs and cats, especially in towns have quite a number of options when it comes to animal hospitals, but there are no hospitals for treating wild animals, especially in the biodiversity rich southern province. Filling this void, an animal hospital was opened on Friday at Hiyare, Galle.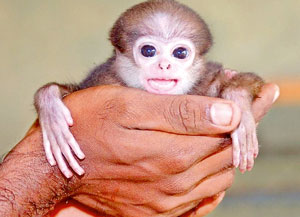 A rescued purple-faced baby monkey
The hospital consists of an operating theatre and other facilities to treat wild animals. It was built by the Wildlife Conservation Society of Galle (WCSG) with aid from the Nation's Trust Bank. The hospital will function in collaboration with the Department of Wildlife Conservation (DWC).
"This animal hospital is the first of its kind in Sri Lanka and has facilities even to treat a full grown leopard," said Madhura De Silva –President of WCSG. Many animals in the wild get injured and die because of the lack of `proper and timely treatment. This hospital will give hope to these animals/ Two voluntary veterinary surgeons will be on call.
The hospital is also another step forward for the Animal Rescue Programme initiated in 2008 by the WCSG and DWC with the support of the Nations Trust Bank. This was a pioneering programme initiated by a local research organization with assistance from the private sector.
There are many wild animals who become victims when they enter human settlements. Some of the common cases include electrocuted eagles and monkeys, deer who are attacked by domesticated dogs, leopards and others that get entangled in traps and animals that are hit by vehicles. All these animals can now be given relief in this hospital, Mr. De Silva said.
Members of WCSG have also set up a good communication network with the local community to reach any animals in distress as quickly as possible. As a result of this network crocodiles and snakes lurking in human settlements have been removed on many occassions. Pythons that were found with egg clutches have been taken to safety and the eggs artificially hatched and the new born released to the wild.
An electrocuted bird being attended to
Hiyare has also become a rehabilitation centre for wild animals kept as pets in households. The purple-faced leaf monkeys, deer, hare, wild birds and giant squirrel are among those kept as pets.
Once they are rescued from captivity they cannot be released into the wilds immediately as their survival instincts have been blunted during captivity.
This is when the WCSG members step in to rehabilitate them to regain their hunting and survival skills. The team rehabilitates them in their model 600 acre rainforest in Hiyare.
Orphaned baby animals too are sometimes rescued and sent to Hiyare. They are the hardest to look after, said Mr. De Silva. "We are careful not to get too close to the little ones because if they get used to human touch it becomes difficult to rehabilitate and release them to the wild," said Mr De Silva. The wildlife enthusiasts sometimes use dummy bird models to treat baby chicks.
Chuty Brown learns tricks of the wilds
'Chuty Boy' is a brown fish owl rehabilitated by the WCSG. This owl was reared from the time it was a chick and had not got the chance to learn basic survival techniques. The Hiyare team's first task was to train 'Chuty Boy' how to hunt.
As a first step the team gradually stopped feeding it by hand and they varied its food from fish to beetles, moths and geckos to garden lizards. As the process of familiarization with the wild began, 'Chuti Boy' was encouraged to react to moving creatures such as rubber frogs, lizards, snakes that were placed close to it to stimulate its curiosity. After a month of such indoor activities, the owl was taken out.
When outdoors, small sprats were placed in a large basin of water and the owl was placed close to it. This prompted it to jump into the basin of water and feed on the sprats. After two weeks the owl got accustomed to water. By the third week it was taken to the bank of the nearby reservoir and shown fish swimming in the water. This excited the bird but it was wary of getting into the water.
During the fourth week, it was encouraged to catch its own food while it was taken in a boat in the reservoir. Finally by the fifth week, the owl was feeding on lizards, frogs and an assortment of other insects.
However while being rehabilitated, the owl met with a mishap. It was taken to a local veterinary surgeon, who could not help due to lack of facilities and ultimately it had to be taken all the way to the Peradeniya Veterinary Faculty to undergo a two hour surgery. Henceforth animals in need of such care will not have to travel so far , as the hospital in Hiyare will fill that need.