Sri Lanka has refused to accept an invitation from South Africa's ruling African National Congress (ANC) to attend today's centenary celebrations attended by some 40 heads of state or government. The reason -- a delegation from the London-based Global Tamil Forum (GTF) also has been invited for the same event. Giving it official status and placing it on par with a government delegation, an External Affairs Ministry source said yesterday was not acceptable. Otherwise External Affairs MinisterG.L. Peiris was to represent Sri Lanka at the event.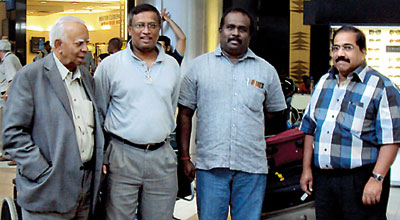 A four member TNA delegation arrived in South Africa to take part in the centenary celebrations of the ruling African National Congress. TNA leader, R. Sampanthan, M.A. Sumanthiran, Selvam Adaikalanathan and Suresh Premachandran soon after their arrival.
Already in South Africa for the centenary celebrations is a GTF delegation led by its President, Rev. Dr. S.J. Emmanuel. Also taking part in the same event is a four member delegation from the Tamil National Alliance (TNA) comprising Rajavarothayam Sampanthan (leader), M.A. Sumanthiran, Selvam Adaikalanathan and Suresh Premachandran. Both the TNA and GTF were also to hold talks on the sidelines of the centenary event.
The TNA move has angered President Mahinda Rajapaksa. He told his ministers during last Wednesday's weekly Cabinet meeting that the TNA was resorting to delaying tactics without engaging the government to work out a political package. He said the TNA had not nominated its representatives for a Parliamentary Select Committee and this was causing considerable difficulty. The government's dialogue with the TNA is to be a priority subject when Indian External Affairs Minister S.M. Krishna visits Colombo on January 16.
The ANC centenary celebrations will begin at the founding place of the Congress 100 years ago in Waalhoek in Bloemfontein. It will be held at the Free State Auditorium where President Jacob Zuma will make a centenary statement at a ceremony to be attended by 120,000 participants.