Naomi Watts will play Princess Diana in a new film about the final two years of her life. The Oscar-nominated star will portray the late princess in the biopic Caught In Flight which focuses on the final two years of her life.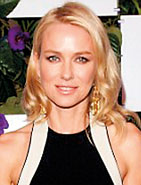 Naomi Watts, pictured here at a red carpet event in Sydney last week, will play Princess Diana.
Her romance with heart surgeon Hasnat Khan and Dodi Fayed will be featured in the film as well as her role in campaigning against landmines. British-born Watts, 43, beat American actress Jessica Chastain, star of The Help, to the coveted part of the people's princess.
Keira Knightley was also said to be in the running to play the Princess in the movie being made by Eccosse Films. Watts said: 'It is such an honour to be able to play this iconic role - Princess Diana was loved across the world, and I look forward to rising to the challenge of playing her on screen.'
Oscar-nominated German director Oliver Hirschbiegel will helm the movie when it begins production in the UK next year. Hirscbiegel, best known for the film Downfall about the last days of Hitler, said: 'I am delighted to have such a truly exceptional actress who embodies the warmth, humanity and empathy of such a global icon as Princess Diana.'
The movie is based on a screenplay by The Libertine playwright Stephen Jeffreys. The film will show how the princess finally found true personal happiness and achieved success as an international campaigner and humanitarian, according to Ecosse films.
Watts, who is filming drama The Grandmothers with Robin Wright in Australia, is best known for her role in King Kong. She recently starred in J Edgar with Leonardo DiCaprio about the life of FBI chief J Edgar Hoover.
Although born in Kent, Watts moved to Australia with her family when she was 14 years old.
© Daily Mail, London