It was one of the biggest moments of her career and all eyes were on Madonna as she performed her halftime show at the Super Bowl. But her spectacular live show, which received rave reviews from critics, was marred by rapper M.I.A swearing on camera - and for the first time Madonna has spoken out about the incident labeling it 'negative' and 'such a teenager thing to do'.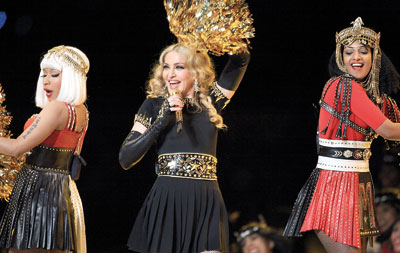 Massive gig: Madonna, seen with Nicki Minaj and M.I.A., has spoken out about M.I.A's rude gesture during the Super Bowl show AFP
The 53-year-old called in to speak with Ryan Seacrest on his Kiss FM radio show this morning and she gave her thoughts on the events and said she didn't even know it had happened until after she left the area.
She said: 'I was really surprised. I didn't know anything about it. I mean I wasn't happy about it. I understand it's punk rock and everything, but to me there was such a feeling of love and good energy, and positivity it just seemed negative.'
Madonna added: 'It's one of those things it's such a teenager…irrelevant thing to do…there was such a feeling of love and unity there what was the point? It was just out of place.' British rapper M.I.A alias Maya Arulprakasam, whose parents are from Sri Lanka, is said to be blaming 'nerves' and 'adrenaline' for her controversial rude gesture during a performance at the Super Bowl this week.
The singer - best known for the hit song Paper Planes - flipped her middle finger and swore into the camera during her rap solo as over 100 million fans around the world watched the performance.
While all eyes were on Madonna for a scandalous moment, the broadcasters were caught by surprise by the 36-year-old and scrambled to obscure the gesture in time.
With one foot up on the podium, the 36-year-old rapped: 'I don't give a s***' and pulled the rude gesture during a live performance of Madonna's new song, Give Me All Your Luvin, alongside the pop queen and fellow rapper Nicki Minaj.
The screen briefly went blurred in what seemed like a late attempt to cut out the camera shot and Madonna, who at this point was lying on her back behind the rapper, appeared blissfully unaware of the controversial move.
The NFL, which produces the show, and the broadcaster, NBC, both apologised immediately but blamed each other for the incident. Brian McCarthy, the league's vice president of communications, said: 'There was a failure in NBC's delay system.'
'The obscene gesture in the performance was completely inappropriate, very disappointing, and we apologize to our fans.'And NBC's spokesperson countered: 'The NFL hired the talent and produced the half-time show. 'Our system was late to obscure the inappropriate gesture and we apologize to our viewers.'
© Daily Mail, London