---
Reunited and it feels so good
For Free Ekanayake, now 19, this is his first visit to Sri Lanka since the hijacking. This could, he says, be a turning point in his life, a search to rediscover his Sri Lankan roots. Shelani de Silva reports
It was an emotional reun ion. Sixteen years ago Sepala Ekanayake had made international headlines when he hijacked an Italian aircraft with over 300 passengers, all for the love of his four year old son. Last week, those agonising moments must have been very much in his mind, when after years of separation, his son Free stepped on Lankan soil at the Katunayake International Airport last Saturday.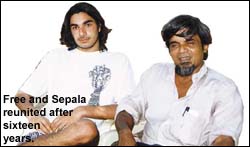 For Free Ekanayake, now 19, this is his first visit to Sri Lanka since the hijacking. This could, he says, be a turning point in his life, a search to rediscover his Sri Lankan roots.
After four days here, the friendly youngster claimed he loved Sri Lanka and said he would cherish every moment spent with his 'Thatha,' 'Amma,' 'Nangi,' and 'Malli,' during his month long vacation at his father's home in Talangama.
A first year Computer Science student at University, Free said that although he longed to see his father for many years, emotionally he had not been prepared to face the experience.
"I was not ready. But a few months ago I did some soul searching and the need to meet my father was great. It was a kind of spiritual need in me. I did not suffer much in not having a father all these years, but I did think of him a lot."
Though he was only four years old when his father hijacked the aircraft, he does have some vague memories of the incident.
"I remember my father insisting that he would free the passengers only when he hears my voice, then a few passengers leaving the flight. The memories are not clear at all, and I never knew what exactly took place. But I recall the place, that my mother and I were taken to. I remember especially the beaches where I used to play with other children," he said.
Free stressed that growing up with a single parent had not affected him greatly as his mother had filled both roles. She had told him the entire story once he was old enough to understand.
"She did not hide anything from me. The incident was related step by step. I questioned and reasoned it out in my own time. It was not easy but I knew I had to come to terms with it," he said. The journey from Italy to Sri Lanka had been agonisingly long, especially as he was anxious to meet his father. "I did not want to think about how we would meet, I concentrated on the landscape. I did not even think how I was going to recognise my father since I had not seen him for years. I ignored the butterflies in my stomach." But once he stepped down from the plane Free had immediately spotted his father." You could call it instinct. Our eyes met and I only remember the tight embrace," he said.
Free's decision to visit Sri Lanka had caused much anxiety to his mother. "The incident may have happened 16 years ago, but it is still fresh in her mind. She was troubled, we had long talks about it. Finally she realised that it is my right to see my father. She was okay when I left," he said.
Back home in Italy Free's past has no bearing on his life. "Sixteen years is a long time, it is history now. Just a few close friends know the whole story. It does not affect our friendship. But it is difficult for me to justify my father's actions to them. It is only the three of us who really know the importance of the whole incident," he said.
Sepala who had kept in touch with his son through letters says that seeing his son was great but he cannot understand the media attention. "It's no different from any other parent whose child is abroad. An incident may have taken place but we were in touch, so it is not anything new."
Father and son may have been separated for years but they have a certain affinity. "Our physical habits are similar. In fact we get on very well," said Free. Asked to pose for yet another picture, they shared a joke in Italian.
Sepala had kept Free informed on his life, of his subsequent marriage to a Sri Lankan teacher and the birth of his daughter and son.
But it was more difficult says Sepala's wife, explaining to their two young children that they had an elder brother in Italy. Free has adapted well to life in Lanka, eating rice and curry with his fingers. "I love Sri Lankan food.' He also wants to learn Sinhala. And does he plan to settle down in Sri Lanka, after he completes his education?
"Perhaps, you never know," he says.
---
The Hijack
The hijack drama be- gan on June 30, 1982 when Sepala desperate to be reunited with his Italian wife Anna and son, having been refused a visa to return to Italy after being there many years, boarded an Alitalia aircraft at New Delhi. The flight was on its way from Rome to Tokyo when Sepala demanded that the plane be landed at Bangkok and his wife and son be brought there. He also demanded a ransom of 300,000 US $.
Sepala's demands were met but returning to Sri Lanka, he was arrested and faced trial, after Parliament brought in new legislation. Anna and Free, went back to Italy. After five years in prison, Sepala was released in 1987.
---
More Plus * When bankers put on Caesar * Can the Titanic be sunk?
Front Page| News/Comment| Editorial/Opinion| Business| Sports | Mirror Magazine