Not the sea or stars but food!
By Chamintha Thilakarathna
Galle Face is back in action. Ok, the Green is far from green and the authorities are still fighting a losing battle with litter. But the ice cream vans that everyone remembers have been replaced with stalls lit with gas lanterns. The smell of chicken and other fried foods is unmistakable. Come evening, Galle Face becomes a mini food street.
The stretch of beach directly opposite hotel Taj Samudra has been divided into several sections according to the number of stalls available. But guests are not restricted to choosing their own stall for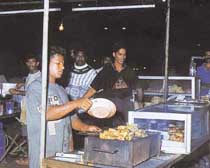 dining. One can sit anywhere under the stars. Of course, there are some people who enjoy a good singsong with friends but if that is not your idea of fun you can definitely shift to another place.
But the main attraction is neither the sea nor the stars..it's the food. The food can be explained in one word as just fantastic. The choice is wide as well. Be it prawns, cuttle fish, chicken, pork, beef or simply a vegetarian dish that you want, they have it. Be it naan, koththu, strings, chips, or delicious prawn vades or gram, the option is yours.
My favourite was the prawn vades. Quite delectable. The tandoori chicken and naan with the spicy cuttle fish curry was equally tasty. One needn't worry about beverages for the stall owners are prepared with whatever chilled or hot beverage you may desire. Even mineral water.
One of the most fascinating things about the place is that the stalls work together without interference from anyone. Interestingly, they are run by those who were gram and pineapple sellers before Galle Face was taken over for various projects.
The famous 'Nana's' is a good example. "I started with a small gram store in Galle Face earning about Rs100 per day. When I had saved up a little I decided to put up this stall which I named 'Nana's' as it was my nickname. People told me that there were places like this in other countries and I thought why not have one in our own land," said K.M.S.Fowzie (Mohideen) the owner of the stall. Similarly the Rauf Nana is a stall inspired by another.
According to many, the place has become one of the most popular hang outs for families, friends and couples in recent times. The cool breeze and the lantern light added to the glow of the moon and stars does add a touch of romance to the whole atmosphere.
Mr.Lalendra who had arrived with his wife and little daughter at the newly discovered diners where take-aways are also possible said, "I am satisfied. It's a nice place to come with your family and the food is good."
Sharmila Perera who had arrived with her fiancé for a meal said that it offers a different atmosphere from the usual candle lit dinners. "This is not formal and you are free and can come in anything you want even in Hawaiians," the twenty two year old from Moratuwa said.
Kids too are assured of fun of their own. Even if they have no fancy for the food, they can enjoy flying a kite or even a ten rupee pony ride.
One could even go a little crazy and take off your shoes and go paddle in the sea or take a walk on the beach. Parking is not a problem either. There is ample space. And, no one is going to ask you to leave before you want to.
---
Lebanese fare in Sri Lanka
By Nilika de Silva
The proprietor of Le Pacha, the Lebanese Restaurant, newly opened in Colombo, is a man who has had wide experience with restaurants having worked in different parts of the world.
Samir H. Fares commenced his professional life as a restaurateur in his motherland Lebanon. He then went on to Oklahoma, USA where he had his own restaurant for three years before once again crossing the Atlantic to settle down in France. There too he worked for years in Paris before he came to Sri Lanka to set up Le Pacha Lebanese Resto, a resturant offering Lebanese food and a unique cultural experience.
Mr. Fares has had close encounters with bombs not only in his native Lebanon but also even in Sri Lanka where he narrowly escaped the bomb in the Galadari car park in October last year. He speaks humorously of how an Irish coffee saved his life.
Le Pacha is a restaurant with a very unique flavour. The restaurateur takes pride in the fact that it was he who planned out even the most minute detail in the interior decor. The dance floor provides diners with the opportunity to dance their cares away to a selection of the most exotic music. "I put on French, English, Italian and Lebanse music, because if it is always Lebanese it would be boring for my clients," said Mr Fares.
Fares comments that it is unusual that there is no place in Colombo where foreigners on short term visits can see authentic Sri Lankan dance, and he plans to create this opportunity at his restaurant, of seeing the indigenous dance form during their visit.
In the nights Le Pacha offers its clients a buffet whereas during the day time it is open for a la carte dining. Describing his clientle Fares,says, "when they first walk into Le Pacha they have no idea what is Lebanese."
---
Quest for novelty
Sleek and well-groomed in his immaculate verti and colourful shawl, Renford drinks gallons of coffee and talks to Dilrukshi Handunnetti about the novelty in his art of futuristic furniture
Listening to Renford Caldera is an exhilarating experience in itself. The stark unpalatable truths gush out as he slices conventionality and standard approaches to shreds. Sleek and well-groomed in his immaculate verti and colourful shawl, Renford drinks gallons of coffee, smokes incessantly in between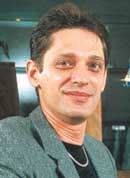 words, and offers no excuse for the threatening price-tags.
Quite apart from his brutish forthrightness which could give an unsettling feeling in the pit of your stomach- his furniture in equal measure has the same mind boggling effect.
His backyard is converted into a flurry of activity by ten energetic but untutored boys who turn out the most extra ordinary furniture in vibrant pinks, blues and yellows, so it is not easy for one to meander one's way through. I gingerly occupied 'Zeus,' a chair made entirely out of mesh and then settled in comfortably as my fears subsided. "They don't bite' admonishes the creator, indicating his elegant throne-like chairs, metal chairs in all hues, a swing type chair created with bicycle chains and a sofa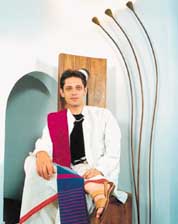 made with a bus floor board!
He gives free rein to his creative instincts as designs and colours are liberally experimented with, adding a definite streak of adventure to the monumental task of actually turning out futuristic furniture.
Youths all untrained and unskilled learn the art of contemporary furniture making by trial and error method; a costly way to train one's staff but something which is enormously satisfying to Renford who by his own admission, designed and fabricated furniture by trial and error.
With candid honesty he admits that it was circumstances which compelled the Chief Steward of the national carrier Air Lanka to originate his collection of contemporary furniture. The origin of his creative past time was the break up of his marriage culminating in the loss of all the furniture he had at home, and instead of buying afresh he made his own and went on to share his skill with like- minded others.
No, it was not as if Renford Caldera knew and decided what suited the homes and budgets of the upper middle class people. His was a quest for novelty. "I was thoroughly bored looking at identical pieces of furniture all over the country and feeling as if they were churned out from some hell-hole where creativity and individuality were taboo. I refused to accept the drudgery of living with the same furniture generation after generation."
Juggling a time consuming airline career with an exhausting vocation leaves Renford drained. In an obvious attempt at time management, he designs in each spare moment, passionately seeking and striving to be different.
Yes, people are appreciative of novelty and an end to mediocrity, he beams, or else, he would have become a monumental disaster. And everything under the sun is fodder for his creative mind- from the
magnificence of the sun rays filtering through to the gestures of a religious leader like the Buddha, displayed by a lovely granite piece by Renford depicting Buddha's gesture of 'mercy.'
The design stage takes more time for Renford. After that, it is a simplistic exercise of fabricating the mentally visualized 'art.' He loves working with wrought iron and metal, and occasionally dabbles with wood. Recently Renford turned adventurous with material, and started creating granite kitchens- including the traditional 'miris gala' and the kothala himbutu pounding machine.
According to Renford, our present requirements are different from that of the previous generation. There are no servants and few full time house wives able to dedicate their time and energy to the singular task of cleaning and polishing houses.
"The accent therefore should fall on easy to clean surfaces with minimum methods of cleaning. I do not create messy dust gathering items. No glitterati and chandeliers. This is why I prefer to co-ordinate the whole thing to fill someone else's living room with the distinct stamp of Renford Caldera" he explains.
In Renford's array of contemporary furniture, there is always a piece which appeals to the aesthetic sense, some rather masculine and some exceedingly elegant and feminine. The difference according to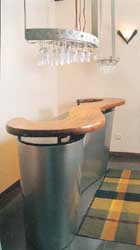 Renford is that it was necessary to please each person's individual preference.
Why the outrageous choice of material, I query and he offers a simple contemporary truth. The world is faced with depleting forest cover and a possible timber crisis. People talk of eco-friendly theories and still want mahogany and teak furniture at home, and this duplicity itself is annoying to him.
And as we inspect piece by piece, the shocking reality is that Renford Caldera does not believe in conventional colour combinations either. His sofa is draped in a bright blue with colourful cushions liberally strewn across while the drapes are in handlooms, a shade lighter.
And no antiques for the young designer who passionately loves working with metal. If he is contracted to do the entire interior, he makes purchases according to the individual requirements and purchases what he does not create.
"It is quite scary to be a creator" says Renford reflectively. It is only occasionally that a client hands his house over to designer and allows free rein to his creativity. Many have pieces they refuse to part with , in addition to having set ideas about certain items."
And here, he steps back recognizing the necessity for occupants of a house to feel comfortable there than feel like living inside an art gallery. Instead of forcing his creativity on them, he conciliatory, accommodates individual preferences.
What's more, the designing can be done in stages to suit the individual's budget and could be completed stage by stage. Similarly, main pieces could be obtained first and the accessories to follow later. "It doe not threaten the customer as he can purchase according to the cash he has in hand," explains Renford.
Despite his dislike of working with wood, he indicated a recently decorated house with a dining table and six chairs, all made out of mara, a timber that has not yet gained much commercial momentum. The back of the chair was given a 'takaran effect' with a simple design with metal adorning the back. And to compete the look, Renford provided a glass top to the table and accentuated it with blue stained glass used as a modern chandelier of sorts. Mind boggling indeed.
Years ago when Renford was starting out there was an exclusivity to his works, but it is no longer a concept he is comfortable with. To the 36- year old designer, first it was necessary to work on a cost recovery basis. But with the growth of his industry at home, Renford wants to do away with 'special tags.'
"I think it was isolating and uninspiring to look at your cash account and work. Each piece at one point of time was an individual expression, but some are being mass produced and are available at Barefoot."
Renford's designs and fabrication techniques are no longer jealously guarded secrets. There were clients who could pay for the designing and fabricating process entirely, while there were a majority who could only afford to buy an individual piece, and Renford believes in remaining accessible to both sections of the people.
In an attempt to make available his works to the majority of art loving people, his works are now available at the Barefoot Gallery.
Admitting that all of his designs were not original, Renford adds that his works have a strong German influence. "All these things, designs and fabrications have been tried out by others years ago. Sometimes we are unaware. What I do is present the old in a novel manner, suitable to present day requirements and classic in its style," says he looking forward to creating futuristic furniture in the next millennium.