---
Back on the road
"Country Road take me home........." A tribute to John Denver and to the children who are constantly abused, is being organised by the Country Music Foundation (CMF).
Remember Country Road? After a three year break CMF is back on the road again.
Country Road ran continuously for seven years from 1988 to 1994 and featured Sri Lanka's top country artistes and folk singers and a host of foreign artistes. This year's show the eighth in the series of annual concerts is to raise - like the past, is to raise funds for children.
The CMF in association with UNICEF, has been raising funds for children's rights and needs, and promoting country and western music in Sri Lanka.
The concerts in which all the proceeds go for UNICEF projects, have raised more than Rs.750,000 and the money has been spent well.
This year's theme is 'Child Abuse' and UNICEF is hard at work trying its best to bring a brighter future to young children who are constantly abused by family and relatives.
The show is also significant since it is a dedicated to country singer John Denver who died in a plane crash earlier this year. Denver's song 'Country Road' was the inspiration for this show way back in 1988.
Country Road will be held on Sunday October 18 and will feature the Cosmic Rays, Flame, Mariazelle, Anton (Goonetilleke) and Friends, Deva De Silva and Red Sands with Rohan on pedal steel guitar.
Arun Dias Bandaranaike, Sri Lanka's ever popular presenter will host the show yet again.
So all you evergreens and even youngsters who are interested in country music don't miss the comeback show. It's going to be a thriller. You won't regret the evening. That's a guarantee. Your presence can help many lives too.
---
Tracy Holsinger, actress and broadcaster shares her secrets
'My favourite things'
By Wathsala Mendis
Tracy Anne Holsinger is DJ at Sun FM, hosts "Breakfast Drive" on weekdays and "Now" on Friday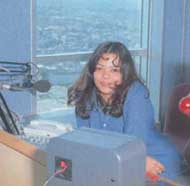 nights. Here she tells the Mirror Magazine about her little known likes and loves.
Movie
Gosh, Star Wars! That's my favourite movie of all time. All three parts. First time I saw it I was about 10. After I saw it, I just went around years imagining I was Luke Sky Walker. I was obsessed with him. Nothing can match it, really. It's the perfect adventure.
Time of day
Is it bedtime? No ooo!
Actually, sunrise. It's beautiful especially when you see it from up here. I'm usually sitting in my studio by then and it's just amazing. You can see the whole sky changing in the space of about 10 minutes. I just love it.
Smell
Ah, the smell of freshly-baked pastries! After I finish my programme, I go to the Deli Market to have breakfast and the smell of these pastries really makes me hungry.
TV Programme
I watch CNN and Sky News a lot. I watch them in the mornings. Only news? How boring!
See, I've got to go to bed by about 8 o'clock in the evening. So before then there aren't really any good TV programmes. When I was living in London, I used to love this comedy called 'Absolutely Fabulous". I really, really enjoyed it. We should try and get it down here. It was really very good.
Memory
My younger sister used to have this huge cot. And we all used to jump on it and have rock concerts. We used to pretend to be ABBA. One day we jumped up and down so much that it broke. We were all scolded and my sister cried because she loved that cot.
Place
I really like Horton Plains and also South America. It's a place which offers the perfect sort of adventure. I'm obsessed by the Incas and the Mayas.
I've been to many countries but I'm quite happy here. (Home is where the heart is, they say!)
Colour
At the moment it's green. No, it's always been green. Green and orange.
Possession
My books. All my books.
How many books? Oh, God. Loads. Loads and loads of books. That's the one thing I couldn't possibly part with.
Meal
String hoppers with "sudu hodi", "pol sambol" and "mus" curry. Ahem, but we call it "kiri hodi", right? "Kiri hodi, sudu hodi.... samething."
Fantasy
A little island all by itself with just me, my dog, a book and a phone. (She wouldn't mind the love of her life being transported there once a week, though!)
Movie star
Johnny Depp. Apart from being good-looking, he's the kind of person who doesn't compromise his integrity for acting in commercial films. He goes for out-of-the-ordinary movies.
Sportsman
Steve Macmanman of Liverpool Football Team. He's wonderful and quick. When he's on form, no one can get the ball from him. Besides, he's a very down-to-earth person.
---
Eye on nature
'Young Eye on Nature 98' an exhibition of environmental photography produced by the Young Zoologists Association of Sri Lanka will be held for the 8th consecutive year.
This annual exhibition will be open to the public from Thursday September 8 to Saturday 10 September from 9.30 a.m. to 6.00 p.m. daily and will have on display over 100 photographs on loan from about 20 members. The exhibition is sponsored by The British Council.
The YZA of Sri Lanka was founded in 1972 by Lyn De Alwis, the world renowned academic and nature lover, who was then Director of the Department of National Zoological Gardens.
It is a non-governmental, non-profit oriented, voluntary youth organization. The major portion of its membership is composed of school children and undergraduates; the rest being graduates, professionals and nature lovers from all walks of life.
Today, celebrating its silver jubilee, YZA has nearly one hundred school branches all over the country. In addition it has started setting up branch associations outside schools, covering the whole island. The annual membership of the mother association is close on one thousand.
YZA runs educational programmes every Sunday for its members. Every member participates in one of the main study groups (mammals, reptiles, aquatic life, birds and flora). Those who successfully complete one of the above courses can then join the Advanced Ecology Group where they obtain knowledge and field experience in applied sciences and various aspects of ecology.
YZA also conducts classes on photography and painting related to nature and wild life. At the end of every course, which usually lasts one year, examinations are held and certificates are awarded.
In addition to all these activities, YZA has three publications, 'Panivudaya' a quarterly newsletter, ''Sri Lanka Naturalist' journal of ecology and nature published quarterly and 'Titmuwa', an annual journal with articles of educational value.
The 1998 exhibition will be declared open by the Minister of Tourism and Aviation, Mr. Dharmasiri Senanayke.
---
More Mirror Magazine * Lebanese fare in Sri Lanka
Front Page| News/Comment| Editorial/Opinion| Business| Plus |Sports