Shattered dreams behind Lion Air mystery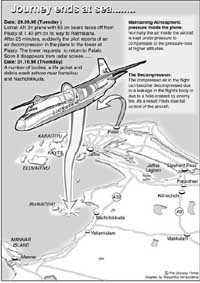 Was the Lion Air Passenger aircraft shot down, did it crash due to a technical fault or did a bomb explode on board?
The family members of those who were feared killed in mysterious Tuesday's air disaster were eventually told on Friday that bodies of the victims were surfacing. But they still don't know how it happened.
Was it a case of an LTTE warning taken lightly? Or was the aircraft mistakenly hit by a missile on the basis it was a military aircraft? These are the questions being asked by all but the mystery deepens with no answers.
The first signs of an LTTE threat to Lion Air — the main operator of Colombo-Jaffna flights — came last month when a letter purported to be sent by an LTTE front organisation was delivered to the airline office at Stanley road Jaffna.
The letter from 'Tamil Eelam Administrative Service' said they had warned the AirLine earlier for carrying military personnel and if it continued to ignore the warning, it would be attacked after September 14.
The airline rejected the warning, claiming that the letter had been sent by a business rival.
The Sunday Times 'Air Investigation Desk' learns that Lion Air on its own tried to verify the authenticity of the letter, but could not.
The airline office in Jaffna was closed four days before the plane was attacked after another warning was given to it.
Lion Air's Managing Director Paddy Mendis, a former commander of the Sri lanka Air Force, confirmed that a threatening letter had been received and the SLAF was informed about it. In response, the Air Force provided a new route which considered to be safe.
"We have been operating for the past two years without any hindrance until recently. We did not have threats," he said.
Air Vice Marshal Mendis admitted that Lion Air in some instances transported wounded soldiers in its cargo flights, but not in the normal passenger flights.
On the day of the incident also, the airline had carried wounded soldiers because of the unusually high number of casualties. from the Kilinochchi battle.
Whatever happened, it has cast a cloud over Lion Air which was one of the most popular transport mode for civilians to and from Jaffna.
The airline which started off with one office at Bambalapitiya two years ago had opened up six offices to cater to the increasing demand.
In the absence of a main land route to the north and the ship service taking considerably long time, the airline was the best choice for passengers, particularly for those who visit Sri Lanka from abroad for a short period.
One of them was Kandiah Sivalingam who had planned to visit Jaffna and return on that fateful day. "But defence Ministry clearance was delayed and I cancelled my trip," he said.
Immediately after Tuesday's disappearnce of the Russian-built Antonov 24, the Defence Ministry ordered that all private Colombo-Jaffna flights be stopped until further notice.
With the cancellation of the flights more than 3000 persons are reported to have been stranded in Jaffna and Colombo.
A spokesman for Monara AirLines, the second biggest operator of Colombo-Jaffna flights, said at least 600 of its passengers were stranded.
Monara operates two flights a day from Colombo to Jaffna and two flights from Jaffna to Colombo.
Among those stranded are several persons who work abroad and had to fly back overseas before a particular date.
The cancellation of flights is also affecting the transportation of urgent medicines for patients in the north while farmers who send perishable items from the north also have been seriously affected.
Meanwhile for the families of the 48 passengers on board the ill-fated aircraft, it was a case of waiting in hope amidst a scenario of increasing hopelessness. By Thursday night, the nightmare was confirmed.
No white flags were seen at the houses of those family members. No oil lamps, sympathy banners or flowers. Only tears.
The three-day delay in finding the bodies provided little consolation to family members who are trying to come to terms with what has happened or what they believe has happened.
"Dear Nayagi, ................Come to colombo soon. I miss you and want to see you. I am not feeling well either.............from, your husband, Subramanium," read the last line of the letter from Subramaniam to Dharmanayagi Sivapragasm (69). It prompted her to takeLion Air flight 602 to Colombo. It was her first flight — and her last.
"Periyamma," as Ms. Subramaniam was known by her family was to celebrate her 70th birthday on October 17. "I went to see her off when she last left for Jaffna. She went by ship from Trincomalee." But when he heard the news on Tuesday night, he knew the "the chapter was over".
The couple had been married for 47 years and to Subramanium she was like his right hand.
"We hoped to celebrate our golden wedding anniversary," he wept knowing that now only silver tears were left.
Devambihai Balasubramanium looks out of the window regularly as he waits for her daughter Vanaji to return. But from Tuesday, it was a long wait in tears, tension and trauma till finally the window was closed with the news that she woud never see her daughter again.
Vanaji, a final year student of the Ramanathan Fine Arts Academy of the Jaffna University had gone to Jaffna the week before to complete her final exam.
Twenty days before the tragedy struck Nimalan Santhirathas (31) was entering a new life with his bride in Thalaidi, Jaffna. When he came back to Colombo he was to make arrangements for them to fly to Italy. But now the bride wears mournig white, left with only dreams that did not come true.
Shattered seventeen year-old Thilakeshwari Nallathamby, is still trying to come to terms with the loss of her father but with little success. She has not taken any meals since she heard of the tragedy.
To her brother Jeyakumar back on holiday, his visit could not have been a sadder one.
'Selvarani' was looking forward to making her first trip to Colombo, the city she had only heard of when she boarded flight 602 together with her friend Arummanni. Daughter of a fishing family in Mannar, Selvarani (24) was a first year student at Jaffna University.
The AN-24 plane on flight 602 captained by Russian pilot Matochko Anatoli went missing exactly ten minutes after take off from Palali airport on Tuesday. The Russian crew consisted of Lysaivanov Siarhei (co-pilot), Kozlov Sergei (navigator) and Anapryienka Siarhei (flight engineer). The two Lion Air cabin crew were Dharshini Gunasekera (chief stewardess) and Chrishan Nelson (steward) and Vijitha (labourer).
Colleagues at the Wellawatta Lion Air office could not have been more shocked to hear that their friends were among the disappeared. However, crisis management operation began immediately. A crisis centre was opened at Bambalapitiya to provide information and other assistance to relatives or friends. The phones did not stop ringing.
Naomi Perera, Manager Marketing and Promotions of Lion Air said a team of experts from the Antonov company in Kiev, Ukraine would be flying in for a full probe.
The Lion Air management together with Sri Lanka Air Force and Navy is still conducting extensive search operations in the Northern region.
Although Lion Air claims it sent telegrams to families of victims, some family members say they were not promptly informed. They complained that until they inquired from officials about the incident no news was available apart from that in the media.
The 17 female and 30 male passengers on board the flight ranged in age from 18 to 89. Many of them were working or studying in Colombo. The Sunday Times also came across a number of addresses and persons who were unknown in those neighbourhoods.
One such case was at Vivekananda Hill Colombo 13 where three passengers Ragunathan, Senthivelu and Mrs. Manoranjthan were not from the area according to residents.
---
Doctors worked round the clock, people flocked to donate blood
Their finest hour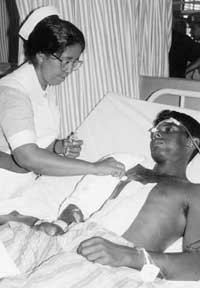 A nurse attending to the injuries of a wounded soldier
While one bloody battle raged on the northern front another battle was taking place in hospitals where doctors and other staff worked with commitment for days, while families of wounded soldiers went through a nightmare and anguish.
The horror of the war also brought out the best in some human beings, with ordinary people flocking to donate blood while others helped wounded soldiers to write letters and fed them.
Early on Monday hospitals in Colombo received urgent messages telling them to get the wards ready to treat soldiers wounded in the battle of Kilinochchi.
On Tuesday the hundreds of wounded soldiers were air- lifted to the Ratmalana airport, from where screaming ambulances rushed them to the Kalubowila, Ragama, Sri Jayawardenepura and Colombo General Hospital. All day and all night the sirens blared across the city, signalling the death and destruction taking place in one part of the country while the other was blissfully indifferent.
Due to the suddenness of the emergency, many ordinary patients had to be sent out to make room for the soldiers.
By Friday 280 beds were occupied by soldiers at the Kalubowila hospital, 290 at the national hospital, 180 at the Sri Jaywardenepura and 130 beds at Ragama. Army Welfare Units were seen distributing pillows and other linen to all hospitals.
Doctors and nurses were working round the clock from Tuesday. We spoke to a number of doctors and nurses who were working on their days off or beyond duty hours to cope with the situation.
Hospital officials said all medical staff had volunteered for the extra work and there was no need for regulations cancelling leave.
The Colombo Blood Bank had sufficient stocks-some 2000 pints , but people flocked there offering blood to save the soldiers.
Blood Bank director R.M Bindusara told The Sunday Times the bank had adequate stocks and did not have to make urgent appeals this time because of programmes carried out to educate the public on the need to donate blood not only during a military operation but at all times. She praised the ordinary people who from the time they first heard of the attack had come to offer blood.
"We set up 20 extra mobile units for the donors. Generally we have about 100 donors a month but in the past few days we had much more," she said.
Public concern was evident specially among the soldiers' families who having come to visit them on many occasions first went to the Blood Bank and then came to see the soldiers.
Some relatives went to donate blood even though they missed the chance going into the wards at visiting hours.
The Ragama hospital had a volunteer service headed by Ven Thurivila Wimaladarma Thero who together with around 150 youth helped the soldiers. He told The Sunday Times the youth volunteers were helping the wounded soldiers to write letters, talking to them, feeding and even taking them to the toilet.
Most of the Hospitals cancelled routine operations from Tuesday to give full time to the wounded soldiers.
Kalubowila Hospital Director W G Gunewardene told The Sunday Times that they put off routine operations from Tuesday and carried out 15 major operations besides minor ones on soldiers. He said they did not discharge any civilians but only moved them out from certain wards to accommodate the emergency cases of soldiers.
The Sri Lanka National Hospital which is fully equipped with modern operating theatres got the most number of casualties.
Director .Hector Weerasinghe said some 500 doctors on the staff had thrown their full weight behind the emergency operations. He said other routine operations were put off till the emergency cases were handled.
At the Ragama and Sri Jayawardenepura hospitals routine operations were not put off.
Officials said other patients were given the normal treatment, though the medical staff came under intense pressure with the admission of scores of soldiers.
While relatives and friends were visiting their loved ones at the Kalubowila hospital on Thursday morning Twenty four year old Corporal K L Seneratne was eagerly waiting for his mother to come from Elpitiya.
Soldier Seneratne unlike the other soldiers had found a past time, he was carving an ornamental fish from used saline bottles. With his left hand operated he was using his right hand to carve and balance the ornament. Proudly he showed us the finished product and said he was up all night working on the fish.
"I tried to sleep but everytime I closed my eyes I thought of my family. There is only my mother and sister and my brother at home and they have not come to see me so far. And I kept having nightmares of the attack. So I started on this,''he said.
The attack is very much on his mind so much so that he insisted we give him a paper and pen and he sketched out the route of the attack and gave us a detailed description of the area.
Private Athula Ponnamperuma explaining the battle said the attack began around 1.45 a.m. and continued till the following day.
Corporal H. M. Karunathilake who was attached to the Kilinochchi camp said that on September 26 his platoon had heard gunshots around 1.50 am ."In about ten minutes the front platoon was attacked and the enemy was coming towards us. The strength of our platoon was small compared to the LTTE. But we continued to fight and the battle went on till 12.30 pm.We did not get any support .By that time there were about 1000 LTTE cadres firing at us.
Then we were informed that the Paranthan area was also surrounded. We had no choice but move towards the enemy positions. It is here that we lost most of our soldiers," he said.
It had been only a few days back that the soldiers had got their quota of cigarettes for three months.They had also got their salaries, but all was lost.
Corporal Indrasena who was attached to the Kilinochchi camp said once they were surrounded the LTTE had sent a message asking the soldiers to surrender because the area was surrounded.
''We decided that it was better to die than surrender. About 1000 soldiers ran towards the enemy,"he said.
The families of these soldiers suffer in silence. Most of them travelling from far off places were seen rushing into the wards or anxiously going through the injured list hoping that their loved ones were not in a serious condition.
60 year old W K Premawathie from Kalutara whose youngest son was injured in the attack was trying to feed him soup. Putting up a brave face she said, "when I first got the news I feared the worst."
"I had nightmares of my son being brought back in a coffin. It was only after I came here and saw him alive that my nightmare ended."
It was a nightmare not only for Premawathie. Thousands of mothers and fathers, wives and children of soldiers went through the same agony.
---
House of mercy for families in anguish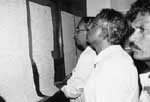 Worried relatives going through the hospital list of the wounded in action
Hundreds of family members who visited hospitals to see wounded soldiers are to be provided shelter by the All Ceylon Buddhist Congress and the National Movement against Terrorism.
Jagathseela Kulathilake of the ACBC told The Sunday Times they could accommodate around 300 people with the Social Services Department providing meals.
Kamal Deshapriya from the NMT said that from Wednesday they had been visiting hospitals providing the families with refreshments and other needs.
"When we spoke to some relatives in hospitals, we came to know that some had spent the night at Galle Face green and some others at the Pettah bus stand.
We will not only provide shelter but also set up a hotline to help family members trace their wounded loved ones," he said.
---