Let us remember

Gamani Jayasuriya became the President of The Maha Bodhi Society of Sri Lanka founded in 1891 by the late Anagarika Dharmapala. Mr. Jayasuriya referred to the Maha Bodhi Society as a national asset and that it was the duty of Buddhists to protect it and foster its ideals.
Mr. Jayasuriya was also the President of the Vidyadhara Sabha begun by the Hewavitharana family in 1873 and the Anagarika Dharmapala Trust which was created on the great nationalist's last visit to the island in 1931.
In addition to these, Mr. Jayasuriya was the Chairman of the D.S. Senanayake Commemorative Committee even towards the latter days of his life despite his failing health Mr. Jayasuriya kept his interest in all these activities.
Many of the Institutions initiated by the late Anagarika had become inactive and inoperative after his death. The Ven. Hammalave Saddhatissa, the chief incumbent of the London Buddhist Vihare had this to say:
"The London Buddhist Vihare had to be closed down for some time because the Management of the Trust was not functioning. We made an urgent appeal to the Maha Bodhi Society of Sri Lanka and its President Gamani Jayasuriya to lend a helping hand. Despite some members of the Society showing opposition to the takeover, Mr. Jayasuriya extended his full co-operation.
The Sunday Times, once quoted Gamani Jayasuriya saying "We need today an age that would begin another Dharmapala, F.R Senanayake era."
He was not a racist but believed in one country one nation.
Gamani can be described as a true son of Anagarika - one who was committed to carry out his ideals.
He came into politics through Dudley whose motto in politics was, "never betray country even for kingship." He brushed shoulders with patriots such as Iriyagolla. But when he found that those whom he associated with in his political life did not have the desired qualities, he quit politics reminiscent of Dudley who quit politics decently.
In this time of national calamity we should take it upon ourselves to remember and practice the policies of the Anagarika and Gamani Jayasuriya.
Extracts from the Anagarika commemorative speech on The Influence of The Anagarika in the life and times of Gamani Jayasuriya. by Prof. S.B. Hettiarachchi
---
Sir Edward Jayetilleke KC
After his education at Royal College he wanted to do medicine but was persuaded by his father's life long friend Thomas Sampayo (later Justice Sir Thomas Sampayo) to do law. He bowed reluctantly to the parental wish. His success at the entrance examination was an indication of his aptitude for law. Within a month he sat the law entrance exam switching from science to arts subjects and passed second to the young man who was later to become Justice Canekeratne. He passed the intermediate examination winning the scholarship and then the final coming out first. He later passed out as a Barrister at Law of Gray's Inn. At 21 he started practicing at the Court of Request.
He took silk in 1938 with Sir Arthur Wijewardena, H.V. Perera and N..E. Weerasooriya. He was a leader of the unofficial Bar and later Solicitor General, Attorney General, Puisne Judge and Chief Justice. He was perhaps one of the few Sri Lankans on the Supreme Court Bench with an active period of service in the Army. Infact he married in uniform and it is said that he appeared at the Bar in the uniform of a Lieutenant.
EGP as he was fondly referred to by his friends was one of those who resented the colonial practice of appointing old men from foreign countries to the position of Chief Justice. He cared little of the trappings of office but was a staunch defender of the independence of the judiciary. He was a strictly non-political, simple, humane man. His judgments cover several bound volumes but he chiefly remembered for his human qualities of head and heart. When he was Chief Justice the then Prime Minister D.S. Senanayake while horse riding one morning had visited him and told him that he wished to appoint him President of the Senate and in due course to succeeded Lord Soulbury as Governor General. However, fate had other plans and within a few days the Prime Minister fell off the same horse and died shortly afterwards.
Sir Edward came from a well- known legal family. His father was a lawyer and so were his brothers and son. His son-in-law, the late Winston Wickramasinghe was a leading lawyer in Kegalle. His grandson Rohan Jayetilleke was one time Deputy Solicitor General and another grandson Harsha Jayatilleke is a lawyer, presently in Canada.
As a grandparent we remember him as a simple, forthright, plain spoken, good nature person. He was a stalwart not only in physical appearance but also in all other respects. He used to reminisce to us his grandchildren as to his decision to get married. He proudly told us, "I went, I saw and I conquered". This is in the context of meeting my grandmother Grace, daughter of the well-known philanthropist Fred Abeysundere of Galle.
It is important for me to mention that my grandfather was strictly non-political even in his retirement. However,
he was a great patriot at heart and was deeply committed to the cause of inter communal harmony and national unity. He did his best to influence his friend S.J.V. Chelvanayakam QC to enter into negotiations with the Sinhala political leadership. Sadly his initiatives failed due to extremists on both sides of the divide. Had he succeeded our country would not be in turmoil today.
Alastair Wickramasinghe
---
Sports Medicine Association sets new milestone
The course director was Prof. Rohan Jayasekera (Faculty of Medicine, Colombo). The course and its contents were prepared by Ex-Co of the SLSMA, a feather in his cap for President, Dr. Thurairaja, a former versatile sportsman.
By Bernie Wijesekera
The Sri Lanka Sports Medicine Association created a new milestone in the annals of sports medicine in the country in organising the FIMS approved course to be staged in the region by the national body.
According to Dr. Thurairaja, the President of the SLSMA, a maestro himself when it came to the know- how of sports medicine in the country the education commission of the FIMS has given its blessings to conduct this course, with its own teaching faculty.
The course became a reality due to the dedicated efforts and the commitment of the SLSMA to provide more professional skills by way of medical service to the local sportsmen and sportswomen, thereby upgrading its standards of the team physicians.
Dr. 'Thurai' adds as a result of much planning and preparation it went on to make this course a reality. In the end this course will give the local sportsmen and women a chance to reach greater heights at international competitions.
In the end the doctors, who have chosen Sports Medicine as a career discipline and to get better experience, whilst making a great sacrifice of their time to make this even an educational experience for the local doctors, participated in this first course staged here, Dr. Thurairaja added.
The teaching faculty included mainly the leading Sri Lankan consultant lecturers, in addition to the three lecturers from abroad namely Prof. K.M. Chan (Hong Kong), President of the AFSM, and Vice-President of FIMS, Dr. Wahid Al Kharusi (Oman) and Dr. Siri Kannangara consultant in Sports Medicine from Sydney, Australia (consultant for the Aussie Olympic team), delivered lectures and conducted workshops.
There were 38 doctors, who were certified as team physicians on completion of this course. The course also had MCQ test paper. Two doctors from Oman also followed the course.
It was a fantastic experience for the local doctors. There were four course manuals and technical handouts.
The course material was considered - the best educational material by the foreign lecturers and was to be recommended as the guideline for future courses.
The course director was Prof. Rohan Jayasekera (Faculty of Medicine, Colombo). The entire course and its contents were prepared by Ex-Co of the SLSMA, a feather in his cap for its President, Dr. Thurairaja, a former versatile sportsman from Royal and the Army.
It was held at the Jaic Hilton Tower, Conference Room. The Minister of Sports S.B. Dissanayake, congratulated the SLSMA for this first venture to be held here and gave his fullest support.
Dissanayake lauded the SLSMA for their dedicated efforts to take sports medicine to the physicians, who in turn has helped immensely for our youth be it men or women to make a great impact in the international scene and do proud to the country.
It will not stop here but will be continued with their professional skills for the future betterment, he added.
The President of the N.O.C., Hemasiri Fernando, also gave its fullest support for the SLMA.
Without sports medicine, its doubly difficult to improve sports in Sri Lanka. Dr. R.M.K. Ratnayake, Secretary, Ministry of Sports and Youth Affairs was the chief guest at the opening ceremony, while Dr. J.B. Peries, President of the Post Graduate Institute of Medicine, was the chief guest at the award of certificates ceremony.
List of doctors, FIMS certified as Team Physicians:
Drs. Prabath Ratnayake, J.B. Walallawala, Michael Silva, Srimani Gunatillake, Ajith Malalasekara, Vajira H.W. Dissanayake, C.P.K.S. Rajapakse Hewa, N.D. Jayasuriya, R.G.T. Kumara, H. Ellepola, S.D.C. de Silva, M.H.M. Sulaiman, H.J.S. de Zoysa, S.W.S. Somaweera, A.D.B. Hettiarachchi, J.B.C. Wijesinghe, Rukshan Karunaratne, Sarath Senadheera, W.D.M. Gunasekera, A.H. Cader, M.M. Abdul Samy, Roshan Jayalath, Mrs. Shamika Algama, S.R. Kanathigoda, A.D.N. Jayalath, Masoud Ali Airiyami, Abdulla Hamoud Al-Harthe (Oman), K.D.C.S. Jayawardena, Mrs. M.M. Dissanayake, K. Sri Ranjan, V. Thivagar, U.P.S.P. Siriwardena, Harsha Dissanayake, D. Atukorala, K.D.P. Perera, S.A. Gulasingham, Mrs. L. Jayasekara and, T.P. Gunawardena.
Sri Lankan consultant lecturers who addressed the FIMS course.
---
Antonian shuttlers bag six titles
Schools shuttle champions St. Anthony's College, Kandy established a new schools record, while clinching All Island under 14 'A' Division Team Championship for the sixth consecutive year and also complete its 21st 'A' Division Team Championship title since August, 1993.
Antonians are the undisputed school shuttle champions. They kept their supremacy through this year by winning Under 19 team championship for the fourth consecutive year, Under 16 team championships for the third consecutive year and National School Games for the 2nd successive year. They over-powered the strong Dharmasoka College, Ambalangoda 3-1 in the finals.
The unbeaten Antonians once again proved their mettle with superb team work.
The Antonians started off well with crushing victories over Mahanama College, Colombo 'B' Team 3-0, and Royal College, Colombo 'B' Team 3-0 in the group matches. They followed it up with a 3-0 rout over Ananda College, Colombo in the quarter finals. In the semi-finals, Antonians thrashed out the S.Thomas' College, Bandarawela 3-0. These victories gave the Antonians the confidence they required to triumph over the well balanced Dharmasoka College 3-1 in the finals.
Antonians had a poor start by losing the opening single. D. C. Liyanage lost to Thimira Gihan 4-15, 5-15 then reliable Devaka Ekanayake played the best match at the tournament with some anxious moments.
He won his first game without any problem and lost his confidence competely in the second game, and lost it surprisingly. But in the third game he came with his usual style to beat his opponent Anusha Lakshman 15-5, 3-15, 1-13 in a hectic three setter. Then the inform Under 15 junior national champion Amila Wijesekara kept his morale boosting style by beating Hasitha Chanaka 15-8, 15-5.
Since 1993 the Antonian shuttlers have won 21 'A' Division Team Championships including four hat-tricks and kept their magical unbeaten record. With this fine victory Antonian shuttlers have completed a double hat-trick and three record breaking hat-tricks.
They are:
The All Island Inter-school Under 14 team title for 6 consecutive years - 1993, 1994, 1995, 1996, 1997 and 1998; All Island Junior National overall Champions for 4 consecutive years - 1994, 1995, 1996 and 1997; All Island Interschool Under 19 team title for 4 consecutive years - 1995, 1996, 1997 and 1998 (New Sri Lanka Schools Badminton Record); All Island Interschool Under 16 team title for 3 consecutive years 1996, 1997 and 1998; National School Games Champions 1997 and 1998.
---
Murali sets sight on 300 Test wickets
By Marlon Fernandopulle
Sixteen years after being elevated to Test cricket Sri Lanka have played just 87 Tests at an average of less than five a year. If that statistics is of concern, then the fact that the World Champions have to wait for 11 more months to play their next Test is disturbing and sometimes frustrating.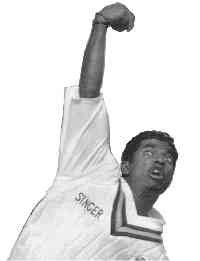 Nevertheless Sri Lanka's gifted off spinner Muttiah Muralitharan has set his sights on reaching 300 Test wickets and is determined to join that elite band of cricketers.
"It' s a wonderful company to be in. Especially when you know that there are only a few cricketers who have reached the milestone, and only one off spinner in that small group," said Muttiah Muralitharan when The Sunday Times caught up with the spin wizard at a practice session with his club Tamil Union at the Oval.
But with no Test cricket for Sri Lanka for the next eleven months you will have a long wait ? "Yes , it's a sad situation that we have a long wait before our next Test, but after August next year we expect to play over twenty six Tests in the next two years which should help me to reach 300 wickets", said a confident Muralitharan who single handedly destroyed England with a record breaking 16 wicket haul last month.
When asked whether records and milestones were in his mind when he made his debut six years ago against Australia, the 26-year-old Muralitharan grinned and said,"I was only eager to take my first Test wicket and thereafter I thought taking 50 wickets for Sri Lanka will be a great honour for me and my country. From there on I only kept performing and the wickets kept coming."
The off spinner was full of praise for his former coach Bruce Yardley. "I learned quite a lot from Bruce. He helped me to use the crease very effectively against the batsmen", said Murali who still has the same action and angular run up which he developed during his school days.
A prodigious turner of the ball Muralitharan will turn the ball on a tarmac or on glass as stated by his captain Arjuna Ranatunga. True to his word the spinner has proved that whether it's a dusty sub continent wicket or a bouncy Capetown track, he has the extraordinary capability of turning the ball a good 45 degrees. Soon after being trounced by 10 wickets at the Fosters Oval, England Captain Alec Stewart acknowledge Murali's feat saying, "He is very difficult to play because he spins it so much more than anyone I have seen, which is why it is very hard to get on top of the guy."
After 42 Tests, Muralitharan has 203 wickets two more than Shane Warne who had 201 wickets at the end of the same number of Tests. Incidentally Murali's last 10 Tests has brought him 71 wickets. While his first 100 wickets took 27 Tests, the off spinner took just 15 Tests for his next 100 victims, which also helped him to be the highest wicket taker this year claiming 68 wickets - ahead of Allan Donald who has 66 wickets this year.
In his 42 Tests Murali has bowled 2173 overs at an average of close to 50 overs per game. However during his phenomenal performance at the Fosters Oval he sent down a record breaking 114 overs. "I am quite used to a long bowl, but I must say that it is tiring at times. Anyway It's my duty to bowl and do the job when the captain makes the request."
Asked whether he was concerned about the lack of quality spinners to support him Murali replied promptly saying: "I don't think there is a lack of quality spinners. Our spinners are good .They should be encouraged to keep there end up. However you should not expect them to perform like me as I am very unorthodox."
In the same breath the spinner expressed disappointment with the development of the game here."It is not only spinners but in the near future Sri Lanka will find it extremely difficult to find suitable replacements for their talented seniors, if we do not have a Cricket Academy. An academy is of paramount importance if Sri Lanka wants to maintain their current status in the game and be a force to be reckoned with in the future. If this is not done, Sri Lanka Cricket will be back to square one",warned Murali.
Having fullfilled one of his childhood ambitions of representing his country, Murali is now eagerly awaiting to make his debut in the English county season."It has been another ambition in my cricket career and I am so happy that I will be playing fot the best English county, Lancashire next year". He expects to represent the county in about eight four day games and an equal number of one day games .But the spinner re-emphasized the point that all these games will be after the World Cup, and will not effect Sri Lanka's bid to defend the title in England next summer.
---
When the froth and fizz of England summer went flat
By Hemantha Warnakulasuriya
Alan Lee, Cricket Correspondent of The Times of London states, 'All too soon the froth and fizz of England cricketing summer went flat. Three weeks after the dizzy joys of Headingly, they were overwhelmed by Muttiah Muralitharan, a phenomenon to whom cricket's bowling records are now open house.
Muralitharan, The confectioner's son from Kandy, completed match figures of 16 for 220, the fifth best in Test cricket, as England's variable resistance was ended with half an hour in hand.
The uniquely wristy off-spinner took nine for 65 in the second innings and only a run out deprived him of the chance to join Jim Laker as the one man with all ten. Bewitched, bothered and bewildered, England tottered into Muralitharan's web with alarming compliance until complete indignation was averted by a stubborn stand of 53 between the ninth wicket pair. They twisted and turned, Muralitharan was there, switching ends, changing angles waiting in ambush. England batted as poorly against Muralitharan as ever they have done against the similarly freakish gifts of Shane Warne. However, this was no more an occasion on which to condemn glibly England's cricket than it was to question Muralitharan's action as David Lloyd has so unwisely done.
Michael Henderson in The Times, London states, "In 41 Tests he has a brantub full of wickets. 187 in 41 matches, 52 of them this year. For a man so young it is an astonishing achievement which defies the time honoured view that fine spinners require steady maturing, like fine wine. It takes some believing that if he takes seven wickets in this Test Murali will become the second highest wicket taker among the tribe of finger spinners. Lance Gibbs the West Indian, is way out head, with 309 from 79 tests".
John Etheridge of The Sun wrote "Spin King Muttiah Muralitharan produced one of the great bowling performances in Test history. Simple as that. As for Murali's action this is the situation. He was born with a 11 degree kink at his right elbow and his brothers have the same defect and cannot straighten his arm. Which suggests that he is physically incapable of chucking, because a delivery is only illegal if a bent arm is straightened on release. So for David Lloyd to insinuate anything different reeks of sour grapes. He has made ill-judged comments before and will receive a reprimand from Lords.
John Etheridge writing in The Sun, "He is the world's most controversial bowler. And now England know all about his bow of tricks. Some say Muttiah Muralitharan is a chucker. Others claim as a double-jointed genius with spell-binding skill. But, whatever the legality of his action, he destroyed England by dismissing five of their top six batsmen in his final six overs. Muralitharan prompted another England collapse and helped Sri Lanka win the Emirates Triangular Tournament at Lords. His figures of 5 for 34 were the best in a one-day international at the home of cricket.
Allan Fraser writing to the Daily Mail, "Cricket may be a game of mind numbling statistics but is also a game of tremendous human endeavour and stirring emotion. The astounding bowling figures of Muttiah Muralitharan told one story but the sight of the Sri Lankan genius and doubted and maligned as a 'chucker' for much of his career - asking ever so politely from Umpire David Shepherd, as a small boy would seek a sweetie, related a more warming tale. This was not only his greatest day but a day which produced one of the finest bowling exhibitions ever seen in the history of the sport.
Those present - and a sunny holiday tempted a crowd bigger than the usual scattering and will have relished his achievement much more than they lamented another England fiasco. His nine for 65 from 54.2 overs which reduced the England second innings to rubble and prompted an embarrassing 10-wicket defeat, was also the seventh best in a single Test innings.
Take that, David Lloyd, who so shamefully and whiningly resurrected doubts about the off-spinner's action at a time England were going down the pan.
If England coach Lloyd's intention had been to spur Muralitharan to heroic deeds by way of retaliation, it worked. If his idea had been to divert the Sri Lankan from the task in hand, it failed. From the moment Muralitharan induced a faltering prod from Steve James into the safe keeping of silly mid-off, he teased and tormented the English batsmen with his severe spin and variation in flight.
Colin Bateman, Cricket Correspondent of The Express wrote.
" Muttiah Muralitharan who came close to quitting the game in shame three years ago when he was called for throwing, put his name in the record books yesterday with a 5-34 performance.
They were the best bowling figures in one-day internationals at Lords and left England floundering in the final of the Emirates Triangular Tournament won in some style by Sri Lanka. Muralitharan is one of that rare breed of match-winning spinners that now adorn world cricket. On his day he is every bit destructive as Shane Warne, Mustaq Ahamed, Saqlain Mushtaq and Anil Kumble.
---
Soccer officials
Three Sri Lankans have been nominated to officiate at the 9th Asian Football Cup Winners Cup first round matches against Mahendra Police Club and New Radiant SC Maldives in the first and second legs in the Madives on October 5.
They have been picked by the Asian Football Confederation. The three picked are Sunil Senaweera as referee and Sunil Jayaweera and G. C. Dasapriya as linesmen.
P.P Lakshman of India will be the match commissioner.
---
Vicious finger points at Sri Lanka cricket
From Travine Rodrigo in Melbourne, Australia
The furore surrounding the Pakistani involvement in match fixing has opened up a can of worms in the cricket world about the suspicious goings on in the sub-continent.
And caught up in the web of vicious finger pointing appears to be Sri Lanka's cricketers who were not on the list of those exonerated by cricket pundits in Australia.
In a highly rated current affairs programme televised around Australia on the Nine Network, former Australian Test greats Richie Benaud and Tim May understandably showed no remorse for those who were exposed, underlining that the game of cricket had no place for cheats.
Benaud in particular appeared livid at the blatant desecration of the 'gentleman's game' telling show host Ray Martin he had no feeling for the offenders despite their high profile. And rightly so.
But it was his comments later, that made me sit bolt upright when he pointed out that countries like Australia, England, South Africa, New Zealand and the West Indies have never been known to be on the take. He therefore cast deliberate aspersions on countries such as India, Sri Lanka, and Zimbabwe who have not been openly linked to any of the scandalous revelations that have emerged from Pakistan.
Benaud's assessment was unfair to say the least especially coming from a man of his stature as a respected cricket commentator in Australia.
His comments could have a damaging effect on the performances of the teams he chose to put under a cloud. It could also mean that Sri Lanka's performances in Australia later this year will be under intense scrutiny by the Australian public due to his irresponsible outburst.
'True, the Pakistani inquiry board delivered a bombshell that rocked the cricketing world when they exposed three of their leading cricketers as those masterminding a money- spinning racket outside their playing purse. But the ramifications could be far worse for those in the sub-continent particularly at a stage when they dominate the game's super-powers Australia and England in no uncertain terms. It certainly gives bad losers a chance to destroy the credibility of cricket in the sub-continent thereby creating a situation where the game is the ultimate loser.
While not condoning the indelible slur cast on the game by the Pakistanis, Australia and the other "untouchables" must be careful not to create a rift that would take the game into an ugly confrontation whenever they play teams from the sub-continent. This would surely degenerate the game to the level of soccer and other such sport where fans will be overcome by their emotions. It could be a dangerous trend indeed.
Ideally, countries such as Australia and England must be careful not to sit in judgement of others, rather, they must move quickly to diffuse the situation and help restore a climate conducive to the game's enjoyment.
I totally endorse Keith Stackpole's views in his column in the Sunday Herald Sun when he suggested that the entire Pakistan team be banned after the forthcoming Australian tour there? until the air has been cleared.
England coach David Lloyd's show of poor sportsmanship after his team was comprehensively thrashed by the Sri Lankans was also badly timed in the current climate. Such outbursts can only achieve a widening of differences between playing countries in an era of volatility.
A calming factor is a definite pre-requsite by all at this stage and the summer of 98 in Australia featuring England and Sri Lanka may be the platform it requires to rescue the game from flashpoint.
---
Australian cricket gear for Sri Pangnananda
By Rangi Akbar
Royle Barthelot, cricket coach at Raddoluwa Maha Vidyalaya (now known as Sri Pangnanda College, Kotu-goda) is now a member of the Australian Cricket Coaches Association.
During a recent visit to Australia, Royle had taken the trouble to be a member of this association in order to better his knowledge of the game so as to serve Sri Pangnananda better.
Whilst in Australia he had teamed up with his old school chum from St. Aloysius College Galle, Harold Solomons, who now owns the biggest cricket shop 'down under'.
Solomons had donated much needed cricket gear for Sri Pangnananda. This cricket equipment is now being used by the cricketers of this school.
Royle is a Life Member of the St. Aloysius College Old Boys Association and took up cricket coaching at Sri Pangnananda in 1986.
Royle has also followed a cricket course for coaches organised by the Board of Control for Cricket in Sri Lanka and was awarded a Coaching Award Certificate.
For a long time Royle was curator of the Health Grounds at Castle Street, Borella and the Bloomfield Cricket and Athletic Club in Reid Avenue, where he did an excellent job.
Royle was accompanied by his wife June to Australia. June usually helps out with all the cricket correspondence and during their visit June had taken the trouble to collect used clothes as well to be distributed amongst the needy in Sri Lanka.
---

Running Reflections
Mihnah to go from strength to strength
By Ismail Khan
Sri Lankan followers of the form book had a great day Thursday last when no less than six favourites won at Goodwood in a card of seven events the only outsider romping home in the second race - the Scats Handicap where 12/1 chance Bay Of Delight had things his own way. And the horses to follow from the running on this day would mostly be winners themselves who could run to advantage again.
In the opener at Goodwood M. Channon's Danegold ridden by crack Australian rider D. Byrne had the 16-horse field in knotches as he sprinted away in the last furlong to beat Pertemps Mission by six long looking lengths with the others strung away right behind. The way this 6 year old won speaks volumes for his trainer who had really persevered to send him spick and span for this £5000 added Ucello Handicap over a gruelling two miles. Of the others to be noted in this race apart from the winner Danegold is Herbshan Dancer who was set alight a little too late and finished a good third.
E. Dunlop's Bay Of Delight ridden by J. Quinn after his poor 14th of 15 to Kass Alhawa at Beverley on 29/8 all of a sudden cropped up to win by two lengths from Great News at 12/1. Now this 3 year old had run poorly all along except once when runner-up. And all of a sudden he jumps out of the box to hammer 19 thoroughbreds over a fast run seven furlongs. An explanation was called for and given but did it satisfy the average punters. I doubt it.
Outsiders are the spice in horseracing but this kind of in and out running should be inquired into as it is good money of the punter that is going down the drain whether it is the punter from England, or Timbuktu. The horse to be followed from this event is Great News the runner-up who came on late on the fighting line and had a bad draw to contend with.
The next race the Classified Stakes over a mile went as expected to M. Tregoning trained Mihnah 13/8 who benefiting from the good second to Hujoom at this same centre on 11/9 ran in glorious fashion to outpoint No Extras who came in with raking strides in the final furlong. The horse to follow is Mihnah herself with a watchful eye on No Extras.
The Charlton Hunt Supreme Stakes worth a smacking £36,000 added went to Jimmy Gosden trained Decorated Hero who sent some hefty bets down the drain when saddled last time out at Goodwood's Festival meet in August when 4th of 9 to Muhtathir. On Thursday he looked well and ready for the fray in the paddock and ran as expected to beat off Berayism and Bold Fact closer home. Frankie Dettori who rode the winner said later Decorated Hero ran well enough to merit attention for the big meet at Baden Baden, Germany late next month. The horse to follow: the winner himself and also the runner-up who had only to reproduce this form to win a decent race anywhere.
D. Elsworth's Deadly Nightshade won the EBF Farmers Day Novice event almost on the trot and the other event a Nursery Handicap went to M. Bell's Hoh No. One to follow from this event is Miss Rimex who ran well enough to call for a good bet next run.
Saeed Bin Suroor's 3 year old Nasaayem won the final race on the card at 3/1 sending the punters home in a good frame of mind. Follow Nasaayem for further success.
---
Commonwealth Games, a big boost for Asia
By Haritha Perera
Commonwealth Games dates back to 1930 in Hamilton, Canada as the British Empire Games has constantly provided an environment conducive to the fostering of close and friendly ties between all nations of the Commonwealth, in addition to presenting numerous opportunities for individuals to attain their own personal sporting goals, the Friendly Games has grown in strength and character over the years.
Ever since Malaysia won the right to host the last Commonwealth Games of this century in 1992, the machinery that was put in place appears to have been in excellent working order throughout the various periods of planning and execution.
Kuala Lumpur, the vibrant capital city of Malaysia has the ambience of a garden city within an urban setting, amidst the delightful contrasts of modern cosmopolitan sophistication and nostalgic old world charm. Towering modern skyscrapers such as, the imposing Petronas Twin Towers and the Menara Kuala Lumpur Telecommunication Tower form a spectacular backdrop for gracious colonial edifices and pre-war buildings. The relative harmony that prevails in a multi-racial society is quite evident, although Bhumiputhras enjoy many privileges.
Malaysia is also home to the largest bloom in the world the famous Rafflesia. That the Bunga Raya - or the Hibiscus being the Games Logo or Wira being the Games Mascot was very selective. Kuala Lumpur Commonwealth Arts and Cultural Festival featured a variety of artistes with their indigenous acts in song and dance. The Flora Fest - which was a display of nature's best housing over 15,000 species of evergreens, flowering plants and herbs was followed by Malaysia Fest - to tell the Commonwealth and the world what Malaysia really is.
Kuala Lumpur '98 - the XVIth Commonwealth Games from September 11 to 21 was the main attraction of the year of "Sports and Recreation'' for Malaysia in 1998. It was destined to set the stage for the fulfilment of Malaysia's aspirations to be a major international sporting venue in the region. The Mines Resort City - promoted as the Seven Wonders of Malaysia is the venue for the World Cup of Golf in 1999. The venue owned by His Excellency, the Sultan of Brunei at Bukit Kiara is an excellent facility for Polo and Equestrian competitions, although not too far away from the City Centre.
The prospect of seeing some of the world's tallest buildings, the oldest rain forests on earth, some of the most colourful marine life on the planet and the largest underground cave in the world, Malaysia attracts the global traveller. The newly opened Kuala Lumpur International Airport at Sepang about 70 kilometres from the Kuala Lumpur City Centre is the Airport in the forest. Considered Asia's largest, its simple outlook would easily stand out from the state-of-the-art technology and facilities. The well maintained road network is supplemented by the recently commissioned Light Rail Train - which is comfortable and reliable. The busy city hub is well served by this overhead Star LRT. Fully computerised like the KTM Commuter which runs on the national rail network - Star LRT was the direct link to the National Sports Complex at Bukit Jalil and the adjoining Games Village at Sri Petaling.
Some of the top sports personalities gave the Games a miss. But it was difficult to dampen the spirit of the spectacular sporting extravaganza. ''Naadi 98'' - the veins of the games - consisting of some 20,000 volunteers from all walks of life, co-ordinating to keep the first ever Commonwealth Games to be hosted in Asia spritely and lively was an example to be seen and experienced. With a passion to be accommodating and a desire to be excellent, the success of them with a sense of national pride is now part of Kuala Lumpur 98 - XVI Commonwealth Games proud history.
Sixtynine countries took part in competition in 15 disciplines. Over 6000 athletes and officials gathered to 26 venues, some of them new while others were upgraded to the highest international standards. But, Cricket - which was a team sport introduced for the first time together with Seven's Rugby, Hockey and Netball did not sparkle. Without the cream of the stars and spectators for an event of this magnitude, some improvements to infrastructure to meet minimum standards were lacking. Still as the first occasion it was held, the conducting of it was good and was supplemented by television coverages involving some of the best in the field.
SUKOM Ninety Eight Berhad, the organisers of the Games had done a truly commendable job. Despite the various constraints faced, mainly due to the economic crisis experienced by the country, the Government of Malaysia got behind the drive to successfully host the event. "Malaysia Boleh'' - meaning ''Malaysia can do it'' - became the motto and rallying call. The National Sports Council of Malaysia had contracted an army of foreign nationals as instructors, coaches, advisors and administrators.
Prabath Ferdinand, the former National Footballer who is now a Sports Officer attached to the Ministry of Sports and assists as Curator of the R. Premadasa International Cricket Stadium, Khettarama was contracted for a one-year period to overlook the maintenance of the eight cricket venues. He was a source of inspiration and assistance to this writer during his stay in Malaysia. Malaysia's unexpected and rich haul of medals could be attributed to them and many other aspects including irresistible incentives.
Being a centre for Multi Media packages Radio Television Malaysia worked in association with Nine Network of Australia, New Zealand Television and South Africa Broadcasting Corporation. Various other production companies together with "Astro'' the pay television of Malaysia were also involved. Mr. D.B. Nihalsinghe, who needs no introduction here played a major role in that set-up. 12 live feeds to satellite from various games venues were co-ordinated from the International Broadcasting Centre at Angsakpuri. An estimated 500 million viewers, in over 120 countries, in over 60 different languages all around the world would have witnessed the Games at the blink of an eye says Telecom Malaysia, the official Telecommunications Provider to the Games. The Sri Lanka Rupavahini Corporation also enjoyed Host Broadcaster status to fulfil its obligation as the National Television.
The Mint Hotel functioned as the Main Press Centre. About 300 Television Monitors linked to the main data base of the Games were made available to the visiting media personalities. Many other Games related information was also available with Information Technology Super Highways constantly kept busy. The systems experienced difficulties but were quickly and effectively put in order. The Sri Lanka Broadcasting Corporation and the cream of the nation's print media also covered the Games using the facilities at the MPC and other sub-centres for media at various games venues.
The meticulously planned, precisely timed and well executed opening ceremony hinted at the untiring efforts of the nation.
Although strict security and extensive travelling caused a little bit of inconvenience to a select few the majority who went to Kuala Lumpur enjoyed the warmth of the hosts. The last games of this millennium scored many firsts. Manchester 2002 would be hard pressed to match this effort. But, we expect the mother of the Commonwealth to be different and accommodating when it comes to her turn to be the willing host.
For Sriyani Kulawansa and Sugath Tillekeratne, the only medal winners for small Sri Lanka who sent their biggest ever contingent for a sports gathering overseas, this would be cherished for ever. The Ministry of Sports will no doubt evaluate the results, made possible due to the assistance of GSM Dialog - the team sponsor. But, can Sri Lanka do better? Yes! She can.
*Haritha Perera's trip to the XVI Commonwealth Games was made possible with assistance from N-Car Travels and Tours and Aitken Spence Group.
---
Windsurfing at Bolgoda
Aqua Pearl Villa Bolgoda will be the venue for the Third race of Old Spice "White Water" Windsurfing Championships on October 11 (Sunday) on the banks of Bolgoda.
This is the first time a national level windsurf race is being held at Bolgoda which is only 45 minutes drive from Colombo and ideal for water sport activities.
The course for the race will be a "M" shape course with a distance of 1 1/2 - 2 Km and 3 rounds per race. There will be two races for the day with the first race commencing at 12.30 p.m. Around 30 competitors are due to take part and the results will be taken for ranking of windsurfers.
Boardsailing & Windsurf Club is pleased to be associated with Old Spice and look forward to their support and patronage in the future.
The Boardsailing & Windsurf Club has been holding regular races since 1996, and this year too has conducted two races upto now and the third being this race and the 4th race will be held in December in Mount Lavinia.
The club has given a tremendous boost to Windsurfing by bringing 20 Olympic One Design Boards for training and conducting of races and has done something constructive in the windsurfing arena in Sri Lanka.
Through the affiliation to International Mistral Class Organization (IMCO) the BWC has gained access for local winsurfers to take part in overseas races and Sri Lanka has been invited to take part in all the international events of the race calender on IMCO and ISAF which is the International Sailing Federation.
Windsurfers taking part in races had been given training on the new rules governing windsurfing for 97/2000 and our windsurfers are now technically competent to take part in any overseas event.
In keeping with the Sports Ministry laws governing clubs and associations a new set of office bearers were appointed at the recently conducted AGM of the BWC with Mr. Thushal Gunawardena being appointed as President, Mr. Hans Svendsen as Vice President, Secretary Mr. Julian Bolling and Treasurer Mr. Bennny Fernando. The committee comprises of Mr. Lalin Fernando, Mr. N.H. Sankasiri, Mr. Shehan Aponso and Mr. Lalin Jirasinghe.
---
Past meets Present at Yoonus Trophy
An exhibition rugby football match between the Zahira Old Boys and Present Boys, who were this year's President's Trophy champions will be played today at the CR and FC grounds Longden place. The kick off is at 4.30 pm
The tournament will be played for the late Major Ifthikar Yoonus Memorial Trophy. This match which is organised by the Zahira Group of 90 is being played to honour the late Major Ifthikar Yoonus, who was one of the most outstanding rugby captains produced by Zahira College. The late Major recently sacrificed his life for the country in operation Jaya Sikurui.

The family members and the late Major's wife will grace the occasion along with the famous Hamdoon brothers who will be guests of honour.
The old boys team are led by Mohammed Nazim and will have players of the calibre of 1997 Captain and CR player M.J.M Mushtaq, Azad Junkeer and T.R.Boorah. The Present team who became President's Trophy champions after they beat Thurstan in the final, is captained by T.R.Hanis.
The President and members of the Zahira Group of 90 invite all Present and Past Zahirians to grace the match which is sure to produce dazzling rugby.
---
Let's bind together for a better future
By Bernie Wijesekera
Newly elected Chairman of the Gymkhana Club, Sunil Peiris, has the vision and determination to make his mission a reality during his tenure to make the club to be one of the best sports and social clubs in Sri Lanka by year 1999.
Peiris, believes that sports and studies go hand-in-hand for a better future. He had achieved both. He played cricket for S. Thomas' under Ranil Abeynaike. Off the field, he has an excellent track record, serving as the Director of Finance and Administration in the world-renowned Trans Asia Hotel. With this background, Peiris has the acumen to make his objective a reality, but he needs the wholehearted support from all, which is a bane, even in some of the governing bodies, due to craving for power at all costs, at the expense of the game.
Mild-mannered Peiris, was interviewed by The Sunday Times.
Q: What are your plans for further development of the century old club, which was earlier only meant for the white sahibs during the colonial era ?
A: It's a good question. Today, the doors are open to everyone sans caste, race or colour. But the membership has to abide by the rules of the club. No one is above the law. They have the freedom to air their views, thereby improving the understanding between the rank and file. Constructive criticism, is vital in a democratic set-up, which in turn go to help improve and promote the activities in any institution, let alone sports, he added.
All members are invited to record their views and suggestions, in a register set aside calling for continuous improvements.
This is part of the discipline programme. Once you are elected to office, let's serve everyone alike and bind together. I don't believe in camps.
My committee is taking measures to upgrade the facilities in more areas to cater to better facilities to the membership. There are quite a number of outdoor activities where the club has excelled - rugby, cricket and hockey, doing proud for the club in respective sports. Gymkhana Club has won many major tournaments in the respective disciplines.
Q: What about the most important area - finance which is a vital ingredient for its development programmes which you have planned for the future?
A: The financial position of the club needs special attention. Rugby has taken a heavy toll, far exceeding the sponsorship package.
Those in charge of rugby have been advised to improve the situation both financially and performance-wise. To put the finances on the track, all convenors are expected to submit a budgeted income / expenditure for their respective sport and abide by it as stated. With Sunil Peiris's financial knowhow, the club is sure to cruise to safer waters .
This is what late Lalith Athulathmudali did at the NCC when he was its president, when there was recurring outstanding debtors. He told this scribe, I told my committee; "I am not going to sit with you all at the next meeting if any member has not settled the outstanding dues to the club." It was no surprise, all the committee members settled their outstanding bills. Mr. Athulathmudali, a man of few words, had the quality to put things right in whatever walks of life.
As a result, NCC finances were put on the track. Peiris could do likewise. He has already taken steps to put things right by bringing to the notice of the membership. Failing to do so, the club will take the remedial measures governed by its rules.
There may be deficits which cannot be overruled, but I am not going to make it a recurring deficit budget during my tenure.