It's not plain sailing at all
Bronze medal winning hero describes the rough path to his Asian Games glory in the little known sport
By Channaka de Silva
Many Sri Lankans were amazed when the country won a medal at the Asian Games in yachting, a virtually unknown sport in the island nation but there had been one who was least surprised. It was Lalin Jeerasinghe, the man who won that coveted bronze medal together with his partner W.P. Krishan Janaka. The reason was simple. After all those years of struggle with the water, he knew best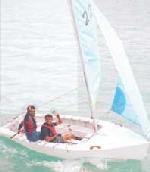 that his chances were never better.
The short but strongly-built, bearded 40-year old who counts 23 years of experience in sailing knew exactly where he stood and with the spirit and the determination, pursued the dream of his own and his nation.
His magnificent, bronze-medal-winning performance in the Enterprise Class in the most hotly contested event of the whole Asian Games sailing competition which featured 11 types of races, was just the tonic needed by the country. It would have had undoubtedly injected new purpose to the other sports than cricket and athletics which were so far rather reluctant to believe in themselves to match up to the international competition.
It was unfortunate that the honour brought by the two J's, Jeerasinghe and Janaka, had to fade into insignificance in the euphoria of the country winning golds at the Games after a 24-year lapse, because in every sense of evaluation the yachting medal could not be measured by using the same yardstick as athletics.
Why ? The hero himself would explain: "In Yachting you can't win a medal just because you are good. There are five basic requirements which in harmony would decide who the winner is. Those elements are the wind, water (or waves), current (or tide), boat and ourselves. All these have to be in perfect condition for us to win. So, you can see that a lot depends on the environment as well. The element of luck is also vital. We can make sure that we are the world's best, but that alone is not going to make us winners" Jeerasinghe reasoned.
Reflecting back on the historic occasion when he, together with Janaka, became the only medal winners in the sport after Ray Wijewardene clinched a silver at the 1970 Asian Games with Ekendra Edirisinghe as his partner, Jeerasinghe was ecstatic. He described it easily as the most excitingly fought-out event of the whole sailing programme.
"In all other events, the winners were known from the early rounds as those events were dominated by some competitors. But in our event, all the rounds were fiercely competed and the gold medal winners were decided only in the ninth and penultimate round while the silver and bronze medallists were decided only in the final 100 metres of the tenth and final round. It was a nail biting struggle right throughout," Jeerasinghe confessed.
In yachting, all competitions are contested over ten rounds with two rounds being completed for a day. The Korean team which won the Enterprise event took an unbeatable lead only in the ninth round while in the final round Sri Lanka and Pakistan waged an all-out battle for the silver. "We traded the lead several times with the Pakistanis. But unfortunately in the final few metres they managed to sneak ahead," Jeerasinghe said.
Though it all went smoothly on the surface and the high and mighty like to easily forget it all after congratulating the two sailors, it was a one big struggle for Jeerasinghe. He brought down two Englishmen, the world number one last year who is the world number two this year in the Enterprise Class event to Sri Lanka to coach himself and Janaka.
The two champs from England, Richard Estaugh and his partner Pete Rowley, also brought their boats with them and in fact it was in their boat that the Sri Lankan pair won the bronze for Sri Lanka.
The two English coaches also went to Thailand with them to ensure they performed well. The four had been there two weeks prior to the actual competition began, to get used to the conditions at the competition venue Sattahip, some 230 kilometrea away from the main arena in Bangkok.
The costly experience was entirely privately financed except for the passage and stay for the two competitors.
For Jeerasinghe, who acted as the helmsman of the two member team, no effort went futile because what he has sweated and dreamed for 23 years finally came true. Helmsman is the person who drives the boat by handling the big sail and the rudder while Janaka who handled the small sail did the job of "crew".
Jeerasinghe's crew Janaka is a Petty Officer in the Sri Lanka Navy and is a member of the Naval Sailing Club and comes from a less affluent background in Kalutara. But the youngster had a determination second to none and had enough strength to pick up courage and control emotions for he sake of country's honour when his father passed away suddenly a week before his scheduled departure to Bangkok. His skilled assistance was a blessing to Jeerasinghe who is a highly impressed man having chosen the best partner out of a whole lot of aspirants when he went scouting for a new crew last year by scrutinising the talents of all possible sailors in the island.
Lalin Rakshitha Jeerasinghe who is an old boy of S. Thomas' College, Mount Lavinia took up to sailing while still being in school when his father Lionel, a yachting fanatic, introduced him to the exciting challenge of the sport.
Lionel Jeerasinghe, a successful businessman is the only Sri Lankan ever to receive the honour of being an internationally licenced judge when he was certified by the international body - the International Sailing Federation (ISAF). He passed away early this year having had the contentment of seeing his son turn a high class sailor but just failed to see him clinch the first international victory at the Asian Games.
Having inherited the business of his father, Jeerasinghe is today the director of the famous Security Firm "Field Services" which began business in 1970 as one of the pioneering firms into the business of security.
Having first taken up the sport in 1975, Jeerasinghe gradually grasped the basic mastery of the finer points and started concentrating more on it after leaving school when he had more free time to indulge in it.
Improving his standard with an astonishing rapidity, Jeerasinghe had his first international experience as early as in 1978 when he was selected to represent the country at the Asian Games in Bangkok. Since then, he represented the country at 1982, 86, and 90 Asian Games and at several world sailing championships in 1996, 97 and this year. On many occasions, he came close to winning a medal but somehow at least one of the five vital factors he mentioned had gone against him.
At the 1982 Asian Games, he emerged fourth in the Enterprise class which was the best finishing by a Sri Lankan in any sport there and he was selected to represent the country at the 1984 Los Angeles Olympics where he gained valuable international experience.
Sailing is a highly popular sport around the world, but types of competition vary in different parts of the globe. As Jeerasinghe explained there are over 50 types of sailing competitions and boats around the world.
The Enterprise Class event in which Jeerasinghe won the medal is a British invented event and it is popular only in the commonwealth countries. It is not recognised at the Olympics and on a wider perspective, only a few countries still pursue it keenly. Even at Asian level only a few countries take part in it and Jeerasinghe said countries like Singapore who do not have the event in their championships, are lobbying to get it out of the Asian Games. At the Asian Games there are 11 types of sailing events.
Jeerasinghe put Windsurfing as the most popular among all sailing events while he put Laser Class as another very popular event.
According to him there are two categories of boats used in sailing. One is the type with a fixed keel while the other type called Dinghies have a movable keel. All the over-50 boat types belong to either of these categories.
None of these races have a definitely fixed distance and the timing is also not counted which means there are no records or comparison of two different performances. According to Jeerasinghe it is impossible to compare two races because the factors could contrast dramatically from one place to another. In competition, all the boats take off together and the winner is decided only on the order they finish.
Sri Lanka has a rich history in sailing dating back to a hundred years and one other significant factor about Jeerasinghe's victory is that it come in the centenary year of Sri Lankan sailing.
Indians started sailing after Sri Lanka while Pakistan who only took up to real competition sailing as late as in 1978 stand much ahead of the century old tradition of Sri Lankan sailing by winning medals at Asian Games with an impressive regularity.
Why is Sri Lanka behind them ? as Jeerasinghe puts it, the notion that it is a "rich man's sport" is a myth. He said that any mother's son wishing to learn the sport could do so simply by joining a club at a rate which is affordable to many.
There are four main clubs in Sri Lanka namely Royal Colombo Yachting Club which was inaugurated in 1898, Naval Sailing Club, Ceylon Motor Yacht Club at Bolgoda lake, Windsurfing and board sailing club all of which are controlled by the governing body Yachting Association of Sri Lanka.
Jeerasinghe blamed the attitude of most Sri Lankans to the absence of required popularity in Sri Lanka for the sport. "Our elders are adopting a negative attitude towards water. If a mother sees the son going near water she would shout 'don't go! it is water or don't go! it is the sea'. So a fear psychosis about water is automatically built in the child. First we must set our priorities right. All Lankan kids must be taught to swim. Only then could we at least dream of improving aquatic sports." Jeerasinghe said.
A boat however could be beyond the buying power of many Sri Lankans. For instance Jeerasinghe put the price of the boat he used in winning the medal (which belonged to his coach Richard Estaugh) at £ 5000. But considering the money spent on other sports in Sri Lanka, this is not by any means an exorbitant sum to pay at the national level.
During his 23 years of sailing, Jeerasinghe has seen many revolutionary inventions entirely change the whole face of competition and in fact the whole sport. For instance, When he began in 1975, they used heavy wooden boats and cloth sails which are now dinosaurs of the sport, presently competed on state of the art fiberglass or tough plastic boats built with the computer age technology assisted architecture, ultra light aluminum or graphite masts which could bend to the shape of the sail.
But remarkably he has been able to stay in touch and improve his skills as well. despite his busy schedule Jeerasinghe makes sure that he indulged in his favourite pastime at least once a week, but he knows it is getting tougher and tougher for him to face the international competitors who are full time sailors practicing right throughout the day, all round the year.
Having achieved his dream of a lifetime, Jeerasinghe has another dream to fulfill. That is to bring world fame to his motherland in sailing.

---
Sri Lanka offered assistance by AFC
The Football Association of Sri Lanka has been promised assistance by the Asian Football Confederation for year 1999 after the discussions were held in Bangkok during the 13th Asian Games.
The emergency meeting of the AFC was held also to discuss the AFC's protest to the FIFA regarding the increase of countries for the next World Cup.
The FFSL was represented by J.S.N. Anandarajah and V. Mannilal Fernando, the Vice President and President at this emergency meeting.
Picture shows Anandarajah with Sultan Ahmed Shah, the President of the Asian Football Confederation (AFC), Mannilal Fernando and Peter Velappan, the General Secratary of the AFC.

---
Arrogance will be your annihilation
By Brother Baptist Croos F.S.C.
Hearty congratulations to Damayanthi Darsha who won gold medals (400m and 200m) Sugath Tillakeratne, who won a gold medal in the 400 metres and a bronze medal in the 200m, Sriyani Kulawanse, Lalin Jeerasinghe and W.P.Janaka who won bronze medals and all the others who took part, keeping aloft the spirit of sports, thus heaping honour and praise on our beloved motherland. Damayanthi Darsha and Sugath Tillakeratne did it in admirable style, winning the hearts of the spectators by their simplicity and unassuming ways. They taught us a profound lesson on humility and about the eminence of this remarkable virtue.
"Pride hath a fall," so says the proverb and unmistakingly proverbs are mostly true to life. What is a proverb? Well, a proverb is centuries of wisdom condensed in just one line. Take this one for instance, "The tallest tree has the greatest fall". Hence centuries of wisdom cannot go wrong. No wonder Shakespeare wrote in "Measure for measure,"
But man, proud man
Drest in a little brief authority
Most ignorant of
What he is most assured.
His glassy essence, like an angry ape,
Plays such fantastic tricks before high heaven
As make the angels weep."
The famous English dramatist T.S Eliot in his thought-provoking book, "The hollow man" put it differently,
"We are the hollow men
We are the stuffed men
Leaning together.
Alas! Headpiece filled with straw.
Shape without form,
Shade without colour,
Paralyzed force,
Gesture without motion."
History shows that the proud and arrogant have had disastrous endings and were never able to lift their heads. We have to learn lessons from history. Kings, queens, presidents, prime ministers and powerful politicians have vanished thus from memories of men and women. Such was their fate. They were doomed to fail and flop.
It is the same thing in the field of sports. Super-stars have faded away. Boasters and braggarts who utter nonsense, unwarranted and uncalled for statements and compare themselves to be invincible, soon find themselves in the list of those most despised and hated. They slide down or even crash faster than they expect and go into oblivion. "Empty vessel makes the most noise." Such is the law of nature. The proud shall be humbled and the humble exalted. In scriptural terms, "Every mountain shall be brought low and every valley filled." "BE HUMBLE IN VICTORY, BUT DETERMINED IN VICTORY," should be the guiding principle of all sportsmen and sportswomen.
There is another scriptural saying, "When I am weak, then I am strong." What a meaningful saying that is! If a person considers himself or herself the strongest or the greatest, there is no more room for improvement. He or she has reached the pinnacle of progress. Once a mountaineer conquers Mt. Everest, he has nothing more to conquer. He can't be sitting on the summit forever either. He has to come down.
On the contrary, when a person in all humility considers himself or herself weak, he or she will have plenty of opportunities to do wonders and hit the headlines. That's what the new Asian ace sprint queen and record-breaker Damayanthi Darsha has done and established a name for herself in the history of athletics, in particular the Asian Games. Still she seems to be serene and modest.
Well folks! It is not necessary that we win medals in any game or athletics. The most important thing is to take part in a decent and sportive manner, and win the hearts of spectators and sport-lovers. There lies our glory and hope.

---
An Indo-Pakistan Treaty
By Ramachandra Guha
Ayesha Jalal is a little lady with a large and well-deserved reputation. She is the foremost historian of Pakistan, author of exemplary studies of the political career of Mohammed Ali Jinnah and her country's "political economy of defense". This much is known in Cambridge (where she studied) and New York (where she teaches). But in her native Lahore, she has another and prior and possibly more consequential reputation - as a student of cricket and a scholar of its history. She grew up with the game, watching and keeping score at club matches. Her friends include Imran Khan, who always refers to her when the conversation turns to matches of the past.
Years in exile have not dimmed Jalal's interest in cricket. At an academic conference we both attended some years ago, she suggested that, following the example of the West Indies, where several sovereign nations have come together to field a single cricket team, India and Pakistan should field a joint 11 for Test matches. I recalled that conversation when reading about the post-Pokhran meetings between Indian and Pakistan officials. These discussions have ranged widely, from the release of errant fishermen to the removal of trade barriers, from the joint control of drug smuggling to the inauguration of a bus service from Delhi to Lahore. The most serious business of both India and Pakistan, the game of cricket, has not yet figured on the agenda.
Unlike Ayesha Jalal then, the politicians of both countries consider it premature to discuss the possibilities of trans-border cricketing co-operation. Their minds will not allow the possibility of a composite eleven that would take on allcomers, a united front against the World. In the spirit of Jalal's original suggestion, however, and in deference to our shared profession of history, I wish now to offer for debate and discussion an all time "Indo-Pak Eleven". For obvious reasons, I have restricted myself to players who have graced the game after 1947.
There can be no question about the openers. In the last months of 1978, India toured Pakistan, the first time the teams had played each other in 17 years, their countries having fought two wars in between on landing in Karachi Sunil Gavaskar immediately sought an appointment with a long-retired Pakistani cricketer. It was granted with pleasure, and next day's newspapers had a photograph of Sunil shaking hands with the original Little Master, Hanif Mohammed. The admiration was mutual and, on the Indian's part, of very long standing. For Gavaskar had been told of Hanif's consummate skills by his first coach, Vasu Paranjype, who had watched him bat in the Bombay Tests on November 1952 and December 1960. "When Hanif played forward in the Brabourne Stadium," remarked Paranjype to his ward, exhortatively.,"you could hear the sound of bat blocking ball in the Churchgate Station."
In a mythical Test match against Anglo-Australia, Gavaskar and Hanif might bat together all day and all of the following day too. The next two batsmen, were they to get in, would have to be Sachin Tendulkar and Javed Miandad. Both had (or have) a Bhima-like appetite for runs, yet the contrast of character and style is striking. Sachin is the blaster, hitting hard in front of the wicket, his bat doing all the talking. Miandad is the manipulator, working the ball away for ones and twos, running his runs fast, pausing only to ask the bowler if his parents have a valid marriage certificate.
For the final batting place we have a host of contenders. Think of the Lahore stylists Majid Khan and Zaheer Abbas, or of Asif Iqbal and Mushtaq Mohammed. Come this side of the border, and I offer you the names of the two Vijays, Manjrekar and Hazare, as well as a nawab and commoner from the city of Hyderabad, Mansur Ali Khan Pataudi and Mohammed Azharuddin. It is not a decision to be made in haste, but let me settle in the end for Dilip Vengsarkar. His batsmanship blended solidity with style, and he preferred to get going when the going got tough - against the West Indian quicks, for example, or on wet and seaming tracks in England.
Five bowlers are now needed, of which one should ideally be able to bat a bit too. Two pairs offer themselves, conclusively: the fast-bowling duo of Wasim Akram and Waqar Younis and the spin combination of B. S. Chandrasekhar and Bishen Singh Bedi. When their side lost at home to Pakistan, in 1992, the English press and English umpires hinted darkly at sharp practice. But God knows that in their pomp, the two 'W's' could work their magic with any ball, and in any shape whatsoever. (It was Geoff Boycott who memorably remarked that "Waqar and Wasim would bowl out the England batsmen with an orange").
Bedi and Chandra, in their time, worked together with equal destructiveness, substituting speed and swing with subtlety and spin. I count among the happiest days of my life those spent watching them bowl together for India in Tests against England, or on opposite sides when Delhi played Karnataka in the Ranji Trophy. All that I saw then I can, sadly, only pass on orally to my son, for the television technology of the Seventies was not good enough to capture it for posterity.
The fifth bowler, also the all-rounder, must be Imran Khan. This will doubtless hurt the admirers of his great rival, Kapil Dev, who took more wickets in Test cricket than the Pathan and hit more sixes too. Kapil was also, and this by some distance, the better fielder. However, Imran was the more consistent batsman and, on his day (which came often) the more devastating bowler, his inswing arriving 10 miles an hour quicker than Kapil's outswing.
We have chosen five Indians, and five Pakistanis. One place remains. It is that of the wicket-keeper. This is, in my opinion, a dead-heat between Wasim Bari and Syed Krimani. Both were exceptional wicket-keepers, as near as one (and the record books) can tell, equally so. Who then does one choose? The problem is made more complicated by the fact that this is the final place, indeed the 11th place.
Eleven, alas, is a number that does not easily lend itself to bilateral agreement. Ten would be more convenient, so would six, the number that make up a volleyball team. But that is not our game. One sees now why Ayesha Jalal's brilliantly inspired suggestion will have few takers. The difficulty, the near insurmountable difficulty, is that in any composite cricket team one nationality shall be better represented.
Now Indians were not best pleased when Pakistan exploded six nuclear bombs to their five. How would they respond to an eleven which contains six Pakistani players and a mere five of their own?
The road to a negotiated solution lies perhaps in the example of the only Indo-Pak team that has actually taken the field. This was the Eleven that played the "Friendship" match against Sri Lanka in Colombo in 1996, a substitute for the World Cup game which the Australians refused to play. In that side were six Pakistanis and five Indians, but, as compensation, Mohammed Azharuddin was made captain.
On that model, I suggest that for our own historical dream team: 1. Hanif Mohammed 2. S. M. Gavaskar 3. S. R. Tendulkar 4. Javed Miandad 5. D. B. Vengsarkar 6. Imran Khan 7. Wasim Bari/ S.M.H. Kirmani 8. Wasim Akram 9. Waqar Younis 10. B. S. Bedi 11. B. S. Chandrasekhar.
Courtesy The Hindu

---
Miscellany
Chess double for Royal Royal
College won a double - the boys under 15 and 20 Independence Trophy Chess Championships, conducted by the Anatoly Karpov Chess Club held at the Russian Centre in Colombo.
Colombo Chess Club took the second place in the under 15 tourney with Mahanama winning the third place, while Colombo Knights' Chess Club took the second place in the under 20 event with Trinity bagging the third place.
Visakha Vidyalaya Chess Club won the girls' under 15 tittle with Anula Vidyalaya Nugegoda winning the under 20 crown.
The individual Board prize winners in the boys under 20 category were:
Romesh Weerawardhana (Maroon & Gold Chess Club Board 1); H. W. K. Premaratne (Royal) Board 2; Marlon Fernando (Colombo Knights Chess Club) and G. S. B. Konara (Trinity) Board 3; A. D. Munasinghe (Royal) and Manjula Srinath (St Annes Chess Club) Board 4; Samin de Morayas (Colombo); M. F. Hussun (C. W. W. Kannangara Chess Club); Shamil Thantirimudalige (Blues & White Chess Club) Board 5.
The Under 15 Board prize winners: Kausika de Silva (President's College); Tharini Gunawardena (Musaeus), C. A. Munasinghe (Dharmaraja), P. Sunthara Kumar (Anatoly Karpov Chess Club) Board 1, Sanka Nannetti (Isipatana); W. L. C. Chandralathna (Maliyadeva); A. M. T. P. Sandaruwan (Southern Chess Club) Board 2., Himasha Wanniarachchi (Mahanama); D. S. Munasinghe (Southern Chess Club); P. R. Dissanayake (Royal) Board 3; Kasun Thanthrimudalige (Colombo Chess Club) Board 4; Thilan Jayatilleka (Royal); Anushka Athauda (Anula Vidyalaya) Board 5.

Tri-Star netball
The finals of the Tri-Star Sports Club inter-district, inter-factory netball tournament will be played at the Sports Ministry Complex at Reid Avenue today (January 3) at 3 pm.
The winners of the respective inter-district tourneys are: Colombo - Champions Main Factory, runners-up: Attidiya, Gampaha - Champions Chilaw, runners-up Malwatta; Kurunegala Champions Dambadeniya, runners-up Karandagolla; Kandy Champions Welimada, runners-up Badulla; Galle Champions: Kekandura, runners-up Ambalangoda;
An exhibition match between the Sri Lanka 'golds' team and the Sri Lanka 'maroons' consisting of Sri Lanka senior and junior players will also be played on January 3rd Sunday.

Proposal to scrap five-Test series
Five-Test series could be a thing of past if International Cricket Council (ICC) recommendations are accepted by the world's cricket playing nations.
The ICC has commissioned the New Zealand Cricket Board to come up with a proposal for a Test match world championship run over a four or five-year period.
lt involves each of the nine Test playing nations competing in four series, two at home and two overseas, each year. Each series would be no shorter than two Tests and all countries would play each other over the four or five-year period, the paper says.
If Australia complies, for example, it would have to reduce its traditional five Test series against the West Indies and England to four and play two Tests against a lower ranked nation such as Zimbabwe or Sri Lanka.
Australia and England have been playing five or six Tests series since 1897, but England's poor form has seen them drop to seventh in the ranking order of Test playing nations in the past decade.
The proposal will be discussed at length at an ICC meeting in Christchurch in January. - AFP

Leading fielders in Test Cricket
List of leading fielders in test cricket history: Allan Border (Aus.) 156 catches, 156 matches; Mark Taylor (Aus.) 154 catches, 102 matches; Greg Chappell (Aus.) 122 catches, 88 matches; Viv Richards (West Indies) 122 catches, 121 matches; Ian Botham (Eng.) 120 catches, 102 matches; Colin Cowdrey (Eng.) 120 catches, 115 matches; Bob Simpson (Aus.) 110 catches, 62 matches; Wally Hammond (Eng.) 110 catches, 85 matches; Gary Sobers (West Indies) 109 catches, 93 matches; Sunil Gavaskar (India) 108 catches, 125 matches; Ian Chappell (Aus.) 105 catches, 76 matches; Graham Gooch (Eng.) 103 catches, 118 matches; Mohammad Azharuddin (India) 101 catches, 91 matches.

Lightning Chess Champs
The lightning Chess Championships conducted by the Colombo Chess Club saw its team emerge champions in the sports extravaganza named "Counter Attack" solely meant for chess players at the Sports Complex of S. Thomas' College, Mount Lavinia.
Twenty three teams including leading schools such as Ananda, Wesley, Isipatana, Royal, Devi Balika, Anula Vidyalaya, Moratuwa University participated in the Counter Attack. Five other contests were also conducted. Champions of these events were:
Carrom champions - Moratuwa University; Carrom mixed doubles champions - Moratuwa University and Anula Vidyalaya; Volleyball boys champions - Siyane Chess Club; Volleyball girls champions - Anula Vidyalaya; Badminton doubles champions - Siyane Chess Club; Badminton mixed doubles champions - Siyane Chess Club and Devi Balika; Cricket girls champions - Anula Vidyalaya.
The Counter Attack was sponsored by Lanka Leisure Travel Consultants (Private) Limited. (AF)

Close finishes in Ashes Tests
Narrow margins of victory in Ashes cricket tests between Australia and England: 1 wicket - England beat Australia, The Oval 1902 1 wicket - England beat Australia, Melbourne 1907-08 2 wickets - England beat Australia - The Oval 1890 2 wickets - Australia beat England, Sydney 1907-08 3 runs - Australia beat England, Manchester, 1902 3 runs - England beat Australia, Melbourne 1982-83 6 runs - Australia beat England, Sydney 1884-85 7 runs - Australia beat England, The Oval 1882 10 runs - England beat Australia, Sydney 1884-85 12 runs- England beat Australia, Melbourne 1998-99
---
When Wesley Hall played cricket in the Cable Office
By Bruce Maurice
Wesley Winfield Hall was born on September 12, 1937 in the Barbados. He was the youngest of two boys. Llewelly his elder brother never took to cricket as he decided that one maniac in the family was enough. But really there were two. Because they had even trained their dog Bobby to field for them and this brought a heap of trouble into the Hall residence as Bobby would come home every night with a chewed up ball in his mouth and an angry neighbour on his tail.
Hall had two superstitions. One was to wear his mother's wedding ring and the other was to finger the gold cross that hung from a chain round his neck when walking back to his bowling mark. In the Melbourne Test in 1961 a local thought that Hall was working a spell while he was bowling to Ken Mackay, because Mackay was giving a great performance of a man who was under a spell. This went on for sometime as Mackay met every ball with a dead bat and not even strirring a blade of grass.
Finally, unable to bear it any longer, he got up and bellowed, ''Mackay, you will never die of a bloody stroke''. But Hall and Mackay were to become very firm friends when both played for Queensland. One evening the two of them were in Adelaide where they had come down to play South Australia. As the two of them were at a loose end, they decided to go for the races.
For one particular race Hall had put his money on a horse by the name of Young Pedro, when along came the South Australia batsman Neil Dansie and asked Hall, what he had backed for that particular race. "Young Pedro. It is a certainty,'' replied Hall. "Come off it Wes. The winner is going to be "The Drum'', said Dansie. At first Hall refused to be swayed. But Dansie kept at him, until he finally took his money off Young Pedro and put it on The Drum who was Dansie's hot tip. And Young Pedro skated home. That night Hall did not have a wink of sleep. All he did was to keep muttering: ''That Dansie fellow mucked me up.'' The next day Queensland were fielding and after his opening spell Hall was cooling his heels in the outfield, when a wicket fell and in walked Neil Dansie.
Mackay promptly threw the ball to Hall and said, "Hey Wes, here's that joker who cost you that packet last night." Hall took one look at Dansie and said, "Yeah"!! His first three deliveries sent Dansie running and ducking in all directions as they went whistling round his head. If one of them had connected, it would have killed Dansie or sent him for plastic surgery. After the third delivery Hall stomped down the wicket, looked Dansie straight in the eye and said, "and that is for Young Pedro." And the man who enjoyed it most was Queensland captain Ken Mackay who was fielding at mid-off, doubled up with laughter.
Hall was educated at Combermere School, where he was the opening bat and wicket keeper. After leaving school he obtained employment at the Cable and Wireless office in Bridgetown. One afternoon Hall found himself with nothing to do, when he suddenly remembered seeing another chap having a cricket ball in his desk a few days before. Hall using his persuasive powers got that chap to get it out and weilding a stick, he started playing strokes all round the office. Everything was going fine until Hall decided to hit a six into the overhead controls. That stopped all the cables coming in from the other capitals round the world as the thing was out of order for hours and Hall got the blasting of his life from his boss, with the assurance that the very next time the exercise was repeated, he would get the "Order Of The Boot."
When Hall joined the Cable office he was still an opening batsman and, keeper and played for the Cable office in those positions. One day they were to play against the Wanderers Club and Hall was padding up getting ready to open if they won the toss or keep wicket if they had to field. All of a sudden Sonny Giles who was leading the side came up to him and said, "Wes, so and so is not here today so you will have to open the attack." Hall was dumfounded."Who me? I've never bowled in all my life," said Hall. But Giles had watched him in the nets and had decided that Hall was the ideal mug to keep one end going. Hall went onto bag 6 wickets and from that day he always trundled up that 26 yard run.
This was in 1956 and the following year they were to tour England. The Board of Control arranged two trials in Trinidad and Hall was picked for trials. After the second trial the names of the seventeen were put on the scoreboard in alphabetical order. Alexander, Asgarali, Atkinson - as each name went up he got a sinking feeling in the pit of the stomach. Dewdney, Ganteaume, Gilchrist, Goddard. Then it went up W.W. Hall. The impossible had happened. He gulped and blinked unable to believe it as a host of grinning faces crowded round him.
But the tour was a disaster for both Hall and the West Indies. In fact Hall was picked only for a handful of games and captured only 27 wickets on the whole tour. But 22 of his victims had scored first- class hundreds. In the run up to the first Test at Edgbaston, they played Yorkshire and for the first time he met that unforgettable character Fred Trueman. Six days later they bumped into each other again at Edgbaston and Trueman came roaring into the West Indian dressing room. Putting his arm round Hall he said, "Hello Wes, why are you not changing?" Changing for what?" Asked Hall a bit puzzled. "Aren't you playing?" Asked Trueman. And Hall replied "no." "Why, are you sick?" Asked Trueman.
Trueman was shocked that Hall was not in the side. But his confidence did a lot to make Hall believe that he could make it to the top.
Early the following year Pakistan were to make their first tour to the Caribbean and come hell or high water Hall was determined to make it into the Test side. He would be up at the crack of dawn, do a frantic morning session at work, dash off to the ground with hardly a morsel to eat, bowl all afternoon and back again to do another four hour shift. Or if that could not be arranged, he would work from 3 p.m. on Friday evening to 7 a.m. the following morning to get the Saturday off. But Hall's efforts were all in vain because he was not even considered for any of the Tests.
During the final Test against Pakistan, the West Indian selectors picked 16 players to tour India and Pakistan at the end of that year, and Frank Worrell was picked as captain of the side. But Worrell had to pull out of the side as he could not obtain leave from Manchester University where he was doing his degree in Sociology.
The selectors then decided to fill Worrell's shoes with two players and increase the party to 17. So two trials were held in Jamaica between Jamaica, Barbados and the Leeward Islands to fill the two vacancies. Barbados had to play Jamaica and Hall went into the game breathing fire. Everything clicked - his run up, pace, direction and Jamaica were skittled out for 136, with Hall taking 4 for 36. In the second game he gave another satisfactory performance while Seymour Nurse, Cammie Smith and John Holt made hundreds.
Before the team was finalised Hall and Cammie Smith left on a tour to the United States. The trip was organised by the journalist Brunell Jones, and Hall felt confident that he and Smith would get the two places. But as the days wore on Smith hardly spoke a word. One morning Hall was attacking a real home made breakfast, when Smith came in with an open letter in his hand. Before Hall could ask the usual question, "What news?" Smith said, "Wes, you are going boy. I've been left out." The letter was from his wife Phyllis. Holt had been picked and given the vice captain's job.
Then in 1960 the West Indies toured Australia and Hall received his first dose of Aussie hospitality. In the first Test at the Gabba he made his first Test 50. But the biggest thrill that Hall got on that tour was when he sang on the Dickie Wolfe T.V. show with Seymour Nurse, Conrad Hunte, Cammie Smith and Alf Valentine. As he walked out of the studio after the show, a sweet looking Australian "Sheila" came rushing upto him and said breathlessly, "your autograph please Wes." Hall took the book and was quite happy to be recognised from the Test arena, but almost dropped when he found himself signing his name along side Bobby Ridel and Cliff Richard. It was Hall the vocalist that the "flapper" wanted. He felt like a Hollywood movie star as he finished his name with an extra flourish, drew back his shoulders and strode off into the Sydney sunshine.
To this day the others have never believed it. But Hall will always swear it Holy Writ.

---
'No ref. could be tagged a cheat'
By Bernie Wijesekera
Brigadier Jupana Jayawardena, a former Trinity 'Lion' and one of Sri Lanka's ace scrum-halves was elected President of the Sri Lanka's Referee's Society after a contest.
Brig. Jayawardena takes over the reins from Metha Abeygunawardena.
The new president when interviewed by The Sunday Times had this to say: "I am not interested in personalities or petty politics. All must rally around to improve the game which has a great following here.
"Referees have to play a vital role for the game to go places. To achieve this the Referees have to improve their standards. Unlike cricket umpires they have to keep on running with the ball and keep an eye on it as well as the players, concerned.
"There will no doubt be human errors. No Referee could be tagged as a cheat. They must strive at all times to hold the scales even.
"During my tenure, I will do my best to give further exposure to the membership. Regular seminars will be held here with competent officials from abroad to conduct them".
Brig. Jayawardena, a glutton for work said that he will continue the good work of his predecessor and everyone must put the game before self.

---
23 swimmers in Nepal SAF Games poo
The National Amateur Aquatic Sports Union of Sri Lanka, learning from their mistakes, have picked a pool of 23 swimmers in preparation for the South Asian Federation Games (SAF) in Nepal from September 21 to October 4, 1999 in Kathmandu, Nepal.
The 23-member pool comprises 14 men and 9 women.
The NAASU executive committee approved the 23-member pool at a meeting held on December 22.
One wonders as to why the NAASU has not picked the pool of divers for the SAF Games. Could it be an oversight?
The pool comprises:
Men - Gheffari Dulapandan, Gihan Ranatunga, Jayamal, Wijeratne, Marlon S. Delano, Conrad Francis, Anuradha Perera, Eranga Fernando, Upul Shantha, Duleeka Nanayakkara, H.E. Nishantha, Asela Pradeep, Shevantha de Silva, Ajith Weerakkody and Sean Lee.
Women - Natasha Kodituwakku, Theekshana Ratnasekera, Radeesha Daluwatta, Asangi Wijesundera, Tahire Edirisinghe, Chami Wickremasinghe, Chandri Haputhanthri, Ruchira Money.
Manager - Michael Anthonisz, Co-ordinator - J.A.S. Somachandra.
(AF)

---
Bookmaker menace
With the dawn of the New Year it should be the fervent hope of all citizens, be it in Sri Lanka or in any part of the world that this 'Bookmaker Menace' be completely eradicated from Sports.
Never before has this scandal of participating Sportsmen or women getting mixed up with Bookmaker for financial gains have reached such frightening heights.
The recent scandalous saga that has come to light regarding cricketers being accused of match fixing is most disgusting. It is even more disgusting when you pause to consider that all these dirty business deals between Bookmakers and cricketers had in the main taken place on Sri Lanka soil.
The Australian Cricketers have said so in 1992 and 1994. In the light of this one cannot be blamed for wondering whether the Test match played between Sri Lanka and Australia in 1994, where we lost unaccountably when being well poised to gain a comfortable victory.
The other important factor that quickly comes to ones mind is how could an overseas Bookmaker, said to be from India had come to Sri Lanka during the period these matches were played and carried out brazenly his nefarious activities?
Here again one cannot be blamed if he thinks that such activities in another country could not be carried out, without the help of an individual or an organisation in that country.
The question of Bookmaker's involvement with sports participants is not only confined to cricketers.
It is reliably understood that the Olympic Movement is also taking urgent and meaningful steps to eradicate this meance of bookmakers getting involved with participating athletes, footballers etc., and thereby bringing total disrepute to sports.
Last week in one of the weekend newspapers, there appeared an article which had been written by an Englishman and published in a Karachi newspaper, that Pakistan, India along with Sri Lanka are calling upon the other full members of ICC to ban Mark Waugh and Shane Warne for having taken monies from an Indian Bookmaker in Sri Lanka in 1994, in return for disclosure of certain material facts regarding the run of play.
As a true citizen of Sri Lanka, I am proud of the strong view taken by the Sri Lankan Cricket Board on this matter, and they have to be lauded.
Yes, stringent punishment must be given to those players who were the ugly beneficiaries of this racket.
Likewise, Sri Lanka Cricket Board and our nation itself, while taking cognisance of this fact, must also ensure that no person who indulges himself in the Bookmaking trade, be it a foreigner or a local, be permitted to come anywhere near the perimeters of Maitland Place, where the Cricket Board is located.
It is now left to the people at the highest echelon who govern the country, to take immediately, positive and meaningful steps so that the Sports Law must be extended that, no person who is a Bookmaker, past or present be permitted to hold any office in the Cricket Board or to that matter in any sports body coming under the aegis of the Sports Minister.
Let us pray that the people who matter will see the truth of this New Year wish and that it becomes a reality soon.
Over to the energatic and dynamic, Sports Minister under whose guardianship this scared game of cricket and all other sports are vested. Anthony de Silva, Ratmalana.