Ceylinco Life appoints new COO and Deputy COO to strengthen leadership pipeline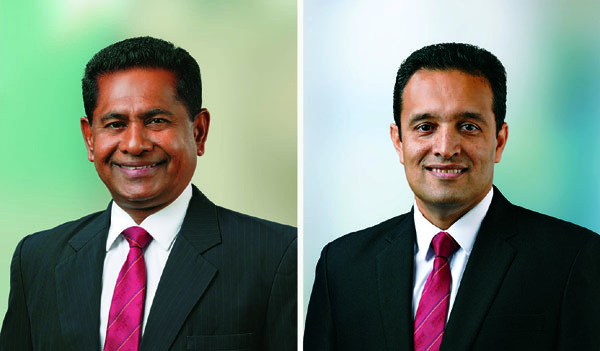 Photo caption:
Ceylinco Life's COO Mr Ranga Abeynayake (left) and Deputy COO Mr Samitha Hemachandra.
Ceylinco Life has announced the appointments of Messrs Ranga Abeynayake and Samitha Hemachandra as Chief Operating Officer and Deputy Chief Operating Officer respectively, following the creation of the two positions as part of the company's leadership pipeline for the next decade and beyond.
Mr. Abeynayake has been with Ceylinco Life for 25 years and is an Executive Director and the company's Deputy Chief Financial Officer, while Mr. Hemachandra has been with the company for 23 years and is the General Manager – Marketing, the company said in an announcement.
"These appointments add further strength and depth to the management structure and look at our leadership requirements for the next 10 to 15 years," Ceylinco Life Chairman R. Renganathan said. "Transparent and long-term succession planning is extremely important in the financial services sector, ensuring seamless continuity and consistency for all stakeholders."
Ceylinco Life Managing Director and CEO Thushara Ranasinghe added: "Ranga Abeynayake and Samitha Hemachandra have been part of the management team that achieved market leadership for Ceylinco Life in 2004 and maintained that leadership to this date, unbroken for 19 years. They represent the core values and the vision and mission of the company, and will be fully supported by the Board of Directors and the management team as they are groomed for key leadership positions."
A Fellow Member of the Institute of Chartered Accountants of Sri Lanka and of the Institute of Certified Management Accountants of Sri Lanka, Mr. Abeynayake counts over 25 years of experience in handling key management positions in the areas of Finance, Risk Management, Strategic Planning, Treasury Management and Project Planning. He holds a Master of Business Administration (MBA) from the Postgraduate Institute of Management (PIM) of the University of Sri Jayewardenepura. Mr. Abeynayake previously served as Chairman/Non-Executive Director of Citizens Development Business Finance PLC and currently serves as a Non-executive Director of Ceylinco Insurance PLC and as a Director of Serene Resorts Limited.
A Fellow (FCIM) and Chartered Marketer of the Chartered Institute of Marketing (CIM) – UK, and of the Certified Management Accountants (CMA) – Australia, Mr. Hemachandra counts over 20 years of work experience in Brand Management, Customer Relationship Management, Marketing Management and Strategic Planning. He has been directly involved in designing, developing and implementing many integrated marketing campaigns for Ceylinco Life. Mr. Hemachandra holds a Master of Business Administration (MBA) from the University of Western Sydney - Australia. He is a past Chairman of the Marketing and Sales Forum of the Insurance Association of Sri Lanka (IASL) and has been a member of the judging panel of the SLIM Brand Excellence awards for many years.
He is currently a Director of Ceylinco Healthcare Services Ltd., and a Non-executive Director of Citizens Development Business Finance PLC (CDB), which are subsidiary and associate companies of Ceylinco Life.
Comments
Still No Comments Posted.