I planned an impromptu, romantic getaway; Sri Lanka spiced it up
It all started to make sense; this island looked just like a pearl from up above! A few months back I was introduced to Sri Lanka by a work colleague, I distinctly remember her excitement as she swiped through memories of her trip to the island to celebrate her wedding anniversary. Her excitement rubbed off on me and I decided right then I was going to drag my fiancé on a little pre-honeymoon.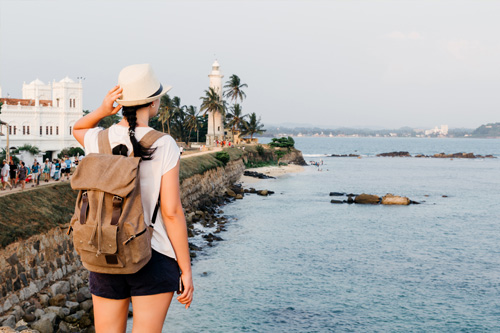 Sri Lanka was nothing like I had pictured it to be, the internet hadn't done justice either, this island was gorgeous from up above, I didn't know green could have these many shades. We began our gentle descent, I was relaxed yet tingling with excitement, this pearl shaped island was going to be home for the next week. I looked over at my partner, squeezed his hand and breathed a deep sigh of happiness.
Immigrations and customs were a breeze, all we could see as we walked through the airport were smiles and friendly vibes, not forgetting to mention the warmth of the country, both literally and physically! Back in the UK all we had was a big serving of either freezing cold or rainy cold, and this island just warmed me right up.
We had selected Galle as our destination of choice, located at the bottom end of the country and a few hours away from the airport. Our accommodation had very kindly offered to sort out our transport during our stay, and efficiently whisked us away from the airport, onto the highway, and on the way to Galle.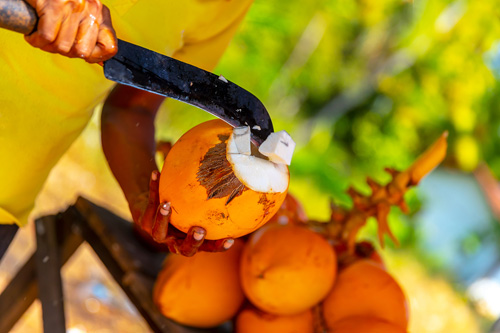 We arrived at the city a few hours later, stopping only for a refreshing drink of thambili (King Coconut) mixed with a hint of tangy lime. The city was both majestic and welcoming, ancient constructions stood strong and commanding across the city, our guide promised us we would be back to spend lots of time in Galle but for now we were headed away from the hustle and bustle of the city to the quiet village of Talpe.
We arrived at our villa, Ishq Talpe, an exquisite villa right on the shore, only separated by a beautiful garden. We had agreed to spoil ourselves and not spare any expense, and Ishq Talpe thankfully caught our attention after scouring the internet for possible places to stay in.
Again, smiles all over, this was contagious! The staff guided us through check-in, showed us the entire villa, spoke about the beautiful architecture, and told us how the villa was birthed by Australian architect, Bruce Fell-Smith, in the 1990s before it was carefully renovated and upgraded by local architect, Philip Weeraratne.
Our stay at the villa was just what we needed. Our lives are hectic, both of us being highly ambitious we rarely had time for each other recently, and my pre-honeymoon idea had been spiced up by Sri Lanka. Ishq Talpe is beautiful as it is exotic, it's an entire five-bedroom suite villa, that is only elevated by the personalized service of the staff. Spoilt by choice we decided the Master Suite would be our home for the entirety of our stay. I should mention though the villa would be ideal for large families and business outings as well.
Galle is fascinating, it is an ensemble of cultures, foods, entertainment, and fun activities, the days just rushed by. Thankfully our villa fit right into our expectations, if not exceeding them. My partner being a software engineer, needed to be online for certain parts of the day and our accommodation had us all sorted. The Wi-Fi was excellent and available throughout the villa, the food was divine! We had private chefs on call, the food was fresh, healthy, and accompanied by organic, tropical fruit juices.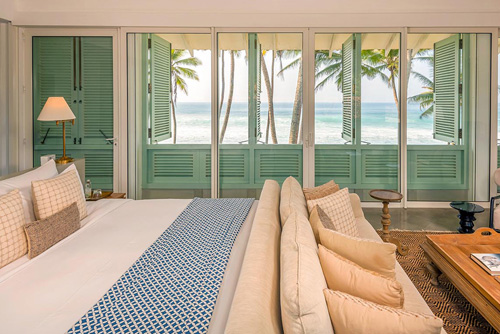 We had a celebratory barbecue organised to celebrate a recent promotion I had received, and although alcohol is not served at the premises, they were more than helpful to store and serve the beverages we had brought along to spoil ourselves. We had a wonderful stay at Ishq Villa and we wish to express our gratitude to the staff for making our stay so memorable. You can find out more about Ishq Villa in Galle by visiting https://ishqvillas.com/ishq-talpe/
We managed to fit in a lot of activities for seven days that included visits and walks around the Dutch Galle Fort from the 16th century and a UNESCO World Heritage Site, we managed to catch the sunset on one beautiful evening and the experience was extremely captivating!
If we were not doing something on the beach, we were scouring the beautiful alleys of the city, bustling with shops, cafes, and restaurants. A visit to the Maritime Archeology Museum showcased models of boats, ships and century-old items retrieved from shipwrecks alongside several maps and artilleries.
A session of meditation at the Unawatuna Peace Pagoda and a silent spiritual session at the Stroll Dutch Reformed Church left my soul yearning for more spirituality and a vibe that continues to cease to exist in western societies.
Mountain biking, surfing, scuba diving, fishing, visits to tea estates, elephants, turtles, whales, dolphins, ayurvedic spa sessions, exotic massages, and candlelit dinners, I could go on and on, Sri Lanka truly spiced up my romantic getaway. I knew I was going to leave a bit of myself back in this pearl as we headed back to the UK, healed, refreshed and ready for new challenges. It was only a matter of time before we would see this island again.
Comments
Still No Comments Posted.