Yureni Noshika comes onboard as brand ambassador for amanté's freshly dropped athleisure collection
amanté, Sri Lanka's leading intimate apparel brand, has announced its latest collaboration with Yureni Noshika, having now signed up the celebrated actress and media personality as brand ambassador for its newly launched athleisure range. Unveiled just earlier this year, this affordable function-meets-fashion collection is the brand's first foray into outerwear, designed in response to key international trends as well as to the Sri Lankan woman's fast-changing needs.
Known for her acting finesse, on-trend sartorial choices, and as a champion for wellbeing, Yureni will now be seen representing amanté through a series of brand campaigns across the country. "Yureni, revered for her youthful personality and athletic lifestyle, is the perfect fit for our versatile, high-quality, and affordable athleisure collection," said Gayani Gunawardena, General Manager at amanté. "We hope to harness her massive fan following to promote a way of life that is both healthy and stylish, and through this collaboration convey the message that a celebrity lifestyle is in fact not too far out of reach."
amanté's athleisure range in particular is designed to suit a wide range of sizes and body shapes, and with the flexibility to fit into any lifestyle – everyday wear that is both durable and aesthetically pleasing. Be it for that morning workout, a quick coffee date, running errands, or even just lounging at home, this collection features a fashionable selection of t-shirts, tank tops, tights, capris, and sports bras made of top-notch breathable and lightweight fabrics. What makes amanté's athleisure collection all the more accessible however, is its affordable price tag, with pieces starting from just Rs.2,295.
"I'm extremely excited to be partnering with a trusted homegrown brand that has been consistently providing Sri Lankan women with high-quality and beautifully designed products for years," commented Yureni on the new partnership. "amanté also embodies many of the core values I resonate with as well, and with this exciting new athleisure collection, we get to work more closely together in promoting designs that blend both style and comfort."
amanté's athleisure collection -and more- is now available at its independent boutiques in Racecourse Mall in Colombo 07, Marino Mall in Colombo 03, Kandy City Centre, and at the brand's newest outlet in Cool Planet Shopping Centre in Nugegoda. Customers can also shop amanté's looks at leading retailers across the country, or online at www.amante.lk.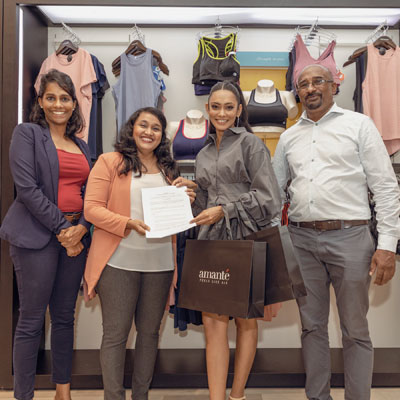 amanté Senior Manager Operations Natali Ratwatte, Manager Marketing Eshara Samuel, amanté's new brand ambassador Yureni Noshika and amanté Deputy Manager Sales Sivananthan Anand
Yureni Noshika signs contract as amanté's brand ambassador for the label's athleisure collection.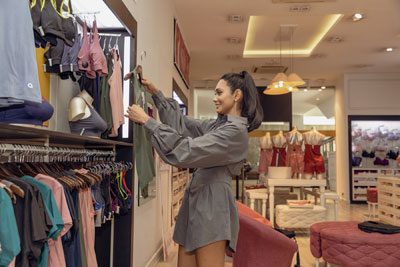 Yureni Noshika exploring amanté's extensive athleisure collection at the Racecourse Mall brand outlet
Yureni Noshika outside amanté's boutique Racecourse Mall
Comments
Still No Comments Posted.