''Unveiling HR Brilliance: DPHRM Certificate Awarding Ceremony 2023, hosted by CIPM, Shines Bright at BMICH, Colombo!''
The Chartered Institute of Personnel Management - Sri Lanka (CIPM) hosted a grand event, the Diploma in Professional Human Resource Management (DPHRM) Certificate Awarding Ceremony 2023, on Wednesday, 22nd July 2023, at the prestigious BMICH in Colombo. This momentous occasion witnessed the graduation of 500 diligent diplomates who successfully completed the DPHRM programme, along with the recognition of the Best Performer of the Diploma in Professional HRM award for 2022.
Distinguished guests filled the venue, with the Chief Guest being none other than Mr. Ken Vijayakumar, the President of CIPM Sri Lanka. The Guest of Honour, Mr. Shameer Rasooldeen, Director/CEO of A.F. Jones Exporters Ceylon, graced the event with his presence. At the Head Table were several prominent dignitaries, including Mr. Priyantha Ranasinghe, Vice President of CIPM Sri Lanka, Col. Saman Jayawickrama, Hony Treasurer CIPM Sri Lanka , Dr. Neil Bogahalande Chairman of the Board of Examinations CIPM Sri Lanka, Mr. U A C Obeyesekere Chief Executive Officer, CIPM Sri Lanka, and Mr. G. Weerathunga Director, Professional & Academic Affairs CIPM Sri Lanka.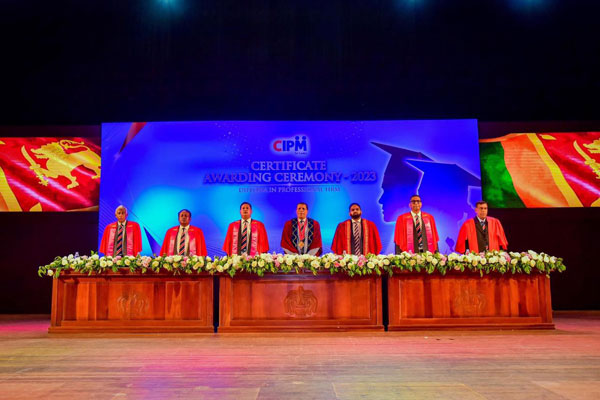 The ceremony was inaugurated with the customary ceremonial lighting of the oil lamp, and this was then succeeded by the dignified rendition of the National Anthem and the stirring performance of the CIPM Theme Song, inspiring all present with its resonating melodies.
Mr. Ken Vijayakumar delivered a warm welcome address, expressing his appreciation for the hard work and dedication of the graduates and the efforts of CIPM Sri Lanka in nurturing HR professionals. The Guest of Honour, Mr. Shameer Rasooldeen, inspired the gathering with his insightful words, sharing his experiences and wisdom in the field of Human Resource Management.
Mr. Anushka Earskin, the esteemed Head of the Business School, presented the CQHRM (Chartered Qualification in HR Management) Programme, emphasising its pivotal role in nurturing the next generation of HR leaders.
A notable highlight of the event was the presentation of the book on Preventing and Handling Sexual Harassment authored by Dr. Arosha Adhikaram, a Chartered Member of CIPM. The book was ceremoniously handed over to Mr. Ken Vijayakumar, Mr. Shameer Rasooldeen, and Dr. Neil Bogahalande, emphasising the institute's commitment to promoting a safe and respectful work environment.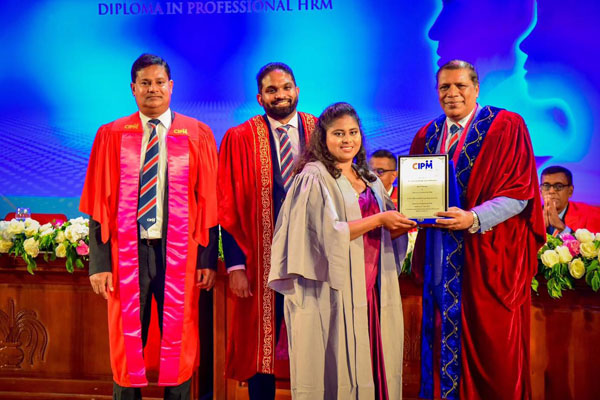 Mr. U A C Obeyesekere, the CEO of CIPM Sri Lanka, delivered a heartfelt Vote of Thanks, expressing gratitude to all the attendees, sponsors, and individuals involved in organising the successful event.
The DPHRM Certificate Awarding Ceremony 2023 was truly a remarkable event, recognising and celebrating the achievements of emerging HR professionals. The CIPM Sri Lanka's commitment to fostering excellence in Human Resource Management was evident throughout the ceremony, making it a memorable occasion for all those present. As the graduates embark on their HR journey, they carry the core values and wisdom imparted by CIPM, poised to create a meaningful and constructive influence in field of HR management.
Comments
Still No Comments Posted.