Blast at mosque in Pakistan's Peshawar kills at least 28
(Al Jazeera) More than two dozen people have been killed and about 150 others wounded in an explosion at a mosque in the northwestern Pakistani city of Peshawar, according to officials.
Muhammed Asim, Lady Reading Hospital spokesperson in Peshawar told Al Jazeera at least 28 people were confirmed dead with more than 70 injured brought in for treatment.
The blast took place at the mosque where a large number of people had gathered for prayer, police official Sikandar Khan told Reuters news agency on Monday.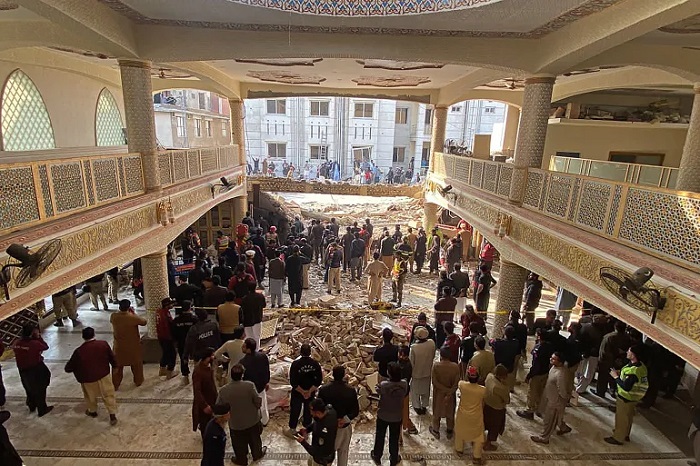 "A portion of the building collapsed and several people are believed to be under it," Khan added.
No one immediately claimed responsibility for the bombing.
Peshawar's police chief, Muhammad Ijaz Khan, later said in a statement on television that the capacity of the main hall of the mosque was nearly 300 and it was "nearly full" at the time of the explosion.
"We cannot at the moment confirm there was a suicide attacker but we need to conduct more investigations," he said. "However, there is a possibility of there being a suicide bomber."
Al Jazeera's Kamal Hyder, reporting from Islamabad, said emerging details suggested that the attack was carried out by a suicide bomber.
"The [bomber was reportedly] sitting in the front row of the congregational prayers inside the mosque," he added.
Prime Minister Shehbaz Sharif condemned the bombing in a statement, and ordered authorities to ensure the best possible medical treatment for the victims. He promised "stern action" against those behind the attack.
Former Pakistan Prime Minister Imran Khan took to Twitter to condemn the attack.
"Strongly condemn the terrorist suicide attack in police lines mosque Peshawar during prayers," he tweeted.
"It is imperative we improve our intelligence gathering and properly equip our police forces to combat the growing threat of terrorism."
Peshawar, the capital of the Khyber Pakhtunkhwa province bordering Afghanistan, has experienced frequent attacks.
Last March, a suicide bomber attacked a mosque in Peshawar, killing 64 in Pakistan's deadliest terror attack since 2018. (Al Jazeera)
Comments
Still No Comments Posted.