There was a stream of callers from morning, Tuesday, April 5. Calm and composed as always, the 'birthday boy' was ready for visitors at his Dickman's Road (now Dr. Lester James Peries Mawatha) home, as he turned 92. Clad in a deep purplish long sleeved shirt and a sarong, he was at the dining table with his wife Sumitra on his left.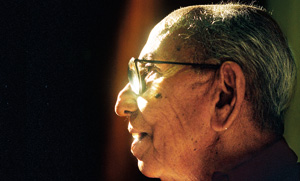 I was one of the early callers. Popular star Sanath Gunatilleka was already there. I reminded Lester of the first time we met – also at the same house – over 40 years ago. I had come to interview him for the Observer Magazine Edition (as the popular Sunday edition was then called following the shift-over to the Poya holidays), and recalled how he gently told me that I should know the proper spelling of his name –'Peries' and not spell it any other way. "My entire clan – my father, uncles and everybody else used to spell the name this way. I don't know why," he elaborated this time. "I believe it originated as a Portuguese name around Negombo." Sumitra joined in saying that she had always spelled her name as 'Gunawardena' although there were so many other versions. Sanath was quick to say that he never made it an issue and is used to spelling his name in several ways.
The talk moved inevitably to films and we persuaded Lester to talk about the 'Rekawa' days which he said was a big challenge. 'Documentarykaarayo koheda ova hadanne' was the general talk when word got round that he was going to make a feature film. In the Government Film Unit he had done several documentaries which were well received.
It was filmed over 55 years ago, yet Lester could remember every detail of how the film was made, the tough time they had on location, who played which role and above all, interesting incidents and anecdotes.
How did he pick the actors? "It was a mix of new and old. There were several seasoned players like D. R. Nanayakkara, N. R. Dias, Romulus de Silva who was the finest and most celebrated Tower Hall actor, Winston Serasinghe from the English theatre. I was impressed by Ananda Weerakoon's acting in 'Podi Putha'. He was handsome," Lester said. Weerakoon and Mallika Pilapitiya formed the romantic duo. It was Iranganie Serasinghe's (a seasoned actress in the English theatre) maiden appearance in a Sinhala film.
"Romulus (he played the role of village headman) always liked to be seated on his little cart (it was what was popularly known as the 'race karatte') as though he was king because all his life he had played every single Sinhala king at the Tower Hall," Lester reminisced. "N.R. Dias with his physique was also a dominant character. Then there was the thin and tall D.R. Nanayakkara." (Lester had once compared the two who were villains in the film, to the comic characters Laurel and Hardy and had said the contrast helped visually.) Nanayakkara had a marvellous ear for colloquial dialogue.
"While we were all roughing out in a remote village off Alawwa, Sesha Palihakkara (Miguel, the soothsayer) wanted all the comforts including a shot of brandy in the evening. The well known dancer had acted in 'Mathalan' and found it quite difficult to move away from that role."
The two key characters of Sena and Anula were played by Somapala Dharmapriya, a student at Prince of Wales, Moratuwa and Myrtle Fernando who had done a role in 'Ahankara Stree'. She acted as if "she knew all about acting". Lester found the boy to be an extremely talented actor even though it took him a while to settle down.
Lester remembered how his school mates treated young Dharmapriya after the film was made. "He virtually became a star overnight. Girls from nearby Princess of Wales came over to his school to get autographs. " It was rather tragic that both of them died of cancer – the girl at the age of 12 and the boy when he was in his forties having become a cameraman shooting films.
I was keen to know about the music score and the songs which turned out to be very popular, particularly about how he picked on Sunil Shantha to do the score. Lester recalled that he had heard Sunil Shantha's songs when he was in London. "Hubert Rajapakse used to sing them. Then I made up my mind that any day I decide to do a film, I would get Sunil Shantha to do the music. So when we decided to shoot 'Rekawa' I started looking for him. I went to see him along with a person who knew him. We were literally chased away because Sunil Shantha just hated Sinhala film music. I was disappointed but didn't give up. I failed several times but in the end I managed to get Father Marcelline Jayakody to convince him."
"Sunil Shantha soon realised it was not 'just another Sinhala film'. It was different. He made a great effort and produced a fine score coupled with some of the most popular film songs to this day. And the lyrics by Father Jayakody were so soothing.
"Sisira Senaratne and Indrani Vijayabandara did the playback singing and ended up getting married," Lester remembered. "There were other romances which really did not succeed."
Sunil Shantha was quite happy about the outcome. Lester had no problem in getting him to do the music in 'Sandesaya' four years later.
As we chatted, the stream of visitors began to increase. Lester quietly got up and went inside, changed and came back. The Amarasenas – Arthur and Sriyani walked in with a bouquet of flowers. The handsome undergrad in 'Delovak Atara', Tony Ranasinghe followed. Our conversation ended.
Observing Lester as he reaches 92, he is fortunate in maintaining sound health for his age. He is careful about his meals and avoids chillies. Speaking to Kumar de Silva on a TV show aired the night before his birthday he said that he has been pretty lucky in being able to lead a very happy family life. Sumitra – "my companion in the industry (film) as well as at home" - has kept him company since 1964. He admits his has been what he would like to call "an ideal life".
Lester looks back on his career as "professionally fulfilling". He spent the late 1940s and early '50s in London as a journalist (he was the Times of Ceylon London correspondent) which was "very fulfilling and extremely interesting". To this day he writes beautifully, expressing himself so perfectly. His handwriting is also beautiful. I treasure the comments he has made whenever I went to get a book on him autographed.
After he moved over to films, in addition to the documentary films, he has directed 19 feature films over exactly half a century. In 'Lester by Lester' (2007) he talks about these films in detail providing valuable material to students of cinema.
No other artiste in Sri Lanka has had so much written about him. Apart from regular articles in newspapers, film journals and other publications, there have been many books about Lester starting with 'The Lonely Artist' (1970) written by one time Observer journalist Philip Coorey. Among the more academic ones are 'LJP' by A.J. Gunawardene with Lester and Prasad Pereira contributing additional material, published by the Asian Film Centre – Sri Lanka (2005) and 'Lester by Lester as told to Kumar de Silva' (2007) . Sunil Ariyaratne's 'Lester – a pictorial biography' was released in 2004 as an elegant coffee table book and is the best publication in Sinhala to date.
Ever charming and a most interesting conversationalist, Lester is a vastly knowledgeable artiste and fine human being. It was no different when I met him on Tuesday. After yet another rewarding meeting I left after gifting him a copy of Ajahn Brahmavamso's 'Open the door to your heart' and wishing him long life. Pic by Sarath Perera