The Sun festival: May it bring eternal peace to our motherland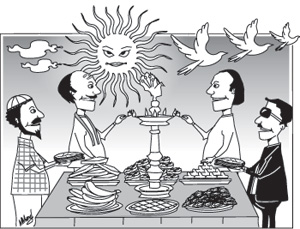 The 'Sun Festival' or the
National New Year'
Has dawned
Renewing good morals.
The Sun shines on every face alike
Whether black, brown or white.
This unique festival
Should be celebrated
By all beings under the sun.
Started as Sinhala-Tamil New Year
Now it's a National Festival
Enjoyed by all communities
The extended families get together
There's no other joy
Than seeing one another
More than material gifts
Custom and tradition
Must go on unbroken
For the sake of future generations.
A whole nation
Dining at the same moment
Is unique to Sri Lanka!
How fine!
Different communities get together
Dine and play together
Promoting unity in diversity.
Not grand pageants and risky contests
But activities in every day life
Can be highlighted and rewarded.
All this celebration can be done
Because of our security forces
Who deserve our gratitude and honour
On this festive day!
Those who laid down their lives
Deserve our gratitude and honour
Thousands and thousands of times!
May they attain Nibbana!
May the April golden sun
Bring eternal peace to our mother land!
Malini Hettige
---
Southern Expressway at Makumbura: Missing link or forgotten stretch?
At a recent seminar, Road Development Authority Chairman R.W.R. Pemasiri, highlighting the major projects that were being completed, indicated that the Southern Expressway from Makumbura to Matara would be inaugurated this year.
Mr. Pemasiri will find it interesting and revealing if he can drive from Colombo Fort to Makumbura on any working day at peak traffic time. It sends a chill down my spine even to think about the Matara bound heavy traffic on the A-4 road (I resist calling it a highway) entering the Southern Expressway at the Makumbura interchange.
I drive daily from Godagama to Dehiwala and return via Boralesgamuwa, Maharagama, Kottawa, Makumbura and Homagama. My journey is just 23 km and I take more than one hour to complete it.
The A 4 Road (the Colombo-Badulla road) is just a single lane road from Maharagama onwards. Even during non-peak hours, it is almost impossible to overtake a vehicle. The motorists' road discipline is poor except on days when traffic police officers are present on the road. Private and public buses stop at any place to pick up or drop passengers, causing a heavy traffic build-up. Even the Colombo-Maharagama stretch on the A 4 road remains highly congested on any working day.
I fail to see any alternative access road from or to Colombo to enter or leave the Southern Expressway.
Considering the unique significance of the Southern Expressway, it would be highly unprofessional to leave out this passage between Makumbura and Colombo. This 18 km stretch too should have been widened on par with the newly constructed expressway. One cannot justify anything more than 15 minutes for the drive from Colombo to Makumbura.
At 100 km per hour, it would be two hours from Makumbura to Matara, but it may take more than four hours if one begins one's journey from Colombo.
Lakshman Wanniatchi
Via email
---
No project to reduce CoL
While thanking our President and the Government for launching massive development projects, it is sad to note that little or no steps are being taken to ease the cost-of-living burden on the poor citizens who have been pushed to a state of despondency. Although the Heads of State and the affluent are not affected by the high prices, the people in the middle and the lower classes are.
It's high time that the Government considered the pitiful plight of the average citizen and brought down the cost of living. At least now, it must act to bring relief to the people.
Disgusted citizen
Mawanella
---
No lord, call him Gautama Buddha
The British during the colonial era, probably by way of respect, addressed the Buddha as Lord Buddha, but most learned foreign and local authors in their books have addressed the Enlightened One as the Buddha, Gautama, or Gautama Buddha.
Sometimes even Sri Lankans in articles or in letters published in the newspapers address Gautama Buddha as Lord Buddha. Gautama Buddha is, in my view, the most respectful and dignified form of address.
I have since referred to a few books and the reference stands as, Buddha or Gautama Buddha or Gautama. These are some of the reference books: Discovery of India by Jawaharlal Nehru; Buddhism by T.W. Rhys Davids; Mind Unshaken by John Walters; Gautama The Buddha by Dr. S. Radhakrishnan; Ambedkar and Buddhism by Sangharakshita; Why l am not a Christian by Bertrand Russel; With Gandhi in Ceylon by Mahadev Desai; The Footprint of the Buddha by E.F.C. Ludowyke; Small is Beautiful by E.F. Schumacher; Buddha:
The Healer Incomparable by Alec Robertson; Buddhism In Modern Life by Dr. Ananda Guruge; Buddhism A Living Message by Bhikkhu Piyadassi; What The Buddha Taught by Bhikkhu Dr. Walpola Rahula; Discovering Ceylon by R.L. Brohier; Abhidhamma for the Beginner by Edgerton C Baptist and 101 Questions and Answers on Buddhism by John Bernard.
I wish to request editors to delete the word 'Lord', in letters and articles they publish, subject to their editorial discretion.
Kasi Silva
---
Mattaya Mafia ruins manpower business
Sri Lanka's manpower recruitment business is being ruined by the so-called "Mattayas" from Batticaloa and their henchmen from the Northern and Eastern provinces. Maintaining two offices, one in Colombo and the other in their native east, they fleece thousands of job-seekers.
Though they have licences to run the job agencies, they hardly get any direct orders from foreign principals. They, however, stay in the business by acting as sub agents to big-time recruitment agencies. They print leaflets with their own job agencies' names, advertising a number of jobs available overseas, as if the job opportunities had come direct to them. Unsuspecting job seekers pay high amounts to these racketeers for jobs with paltry salaries.
With the money thus earned, these racketeers have built palatial houses in Colombo and drive about in posh vehicles. They also operate lodges which are notorious for nefarious activities in Colombo.
The authorities should take steps to weed out these racketeers who bring disrepute to the foreign manpower recruitment business, which plays a key role in swelling Sri Lanka's foreign reserves.
A victim
Colombo 9