Medicine is no doubt the most sought after stream of study among students who are desirous of pursuing higher studies after completion of their secondary education. Nonetheless only a fraction of them get the opportunity to study medicine in local universities-due to limited intake- and thus the bulk of them are left with no option but to look for options of study abroad.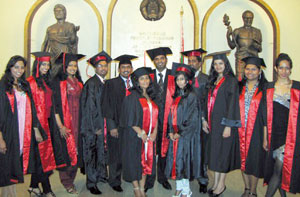 Pathe Academy, the leading Provider of Medical Education Abroad (www.patheacademy.org) offers such students an option of the highest standard at a comparatively low cost in the Philippines, in South East Asia. Under the proposed offer the aspirants could enter the Angeles University Foundation where they would follow an 18-20 month preliminary BS Biology programme and thereafter proceed with the main programme of General Medicine - MD of 4 years duration. They have the option to transfer to Ramon Magsaysay College of Medicine or Virgen Milagrosa University Foundation to do the 4 year MD programme at a lower cost, if they so desire.
The medical programmes that PATHE Academy offer are economically affordable and with hassle free admissions. The admission confirmation takes around 5 working days after application and Visas are arranged within 7-10 working days.
Contact details of past and present students are available for reference, school wise as well as district wise. Programmes are conducted exclusively in English Medium, 0% interest FREE loans for one year by major credit cards, Special educational bank loans, and instalment scheme available for paying course fees semester wise. Contact Director-International medical student placements on:
WHY STUDY IN PHILIPPINES
Because Philippines has an advanced and affordable higher education system.
High quality curriculum and updated training and infrastructure facilities.
Programmes are conducted entirely in the English medium.
" Training provided for exams like USMLE, PLAB, Australian MC etc. for those who wish to practice Medicine in USA / UK / Australia / New Zealand.
Best chances to network with past graduates globally for job placements after completion of their courses.
The degree of MD - Doctor of Medicine, awarded by these universities are recognized by the Sri Lanka Medical Council, General Medical Council (UK) the WHO, ECFMG of USA and many others.