The University has three campuses, each with modern teaching and learning facilities, including libraries, computers and laboratories, in beautiful historic buildings. Wherever you study, you will find dedicated teaching staff and support services to help you achieve your goals. These 'Questions & Answers' will help solve many of your queries in regard to your future at the University of Greenwich. Many of our programmes are work-related, with a strong professional and vocational focus. All of them will help you develop the skills you will need to get a good job. We have strong links with employers and offer support in finding work placements and part-time work while you study, as well as good career opportunities once you graduate.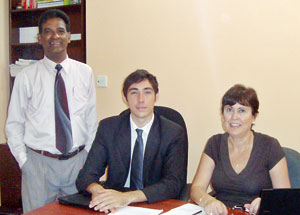 We do hope you will consider coming to study at the University of Greenwich.
Where is the University of Greenwich located and what can it offer me?
The University of Greenwich offers the best of both worlds - City and Country. You are on the doorstep of London, but with the cream of Kent - rolling hills, seaside resorts and historic sites - not far away.
Education is about breadth as well as depth. It is about places and people, sights and heritage, as well as books and keyboards. So let us tell you a little about how we were born and how we have grown.
How is UoG rated among other UK universities?
It is rated pretty highly and is constantly among the top universities in popularity, student satisfaction and quality of education polls.
The University of Greenwich has been consistently awarded with the following recognitions in countless number of polls and ranking systems.
Highest student satisfaction rate in London
National top five university for student satisfaction in Business and Management
Top quarter of all UK universities when it comes to highest graduate starting salaries
The Sunday Times League Table October 2009
During the 2012 Olympics, a number of events will be taking place in Greenwich, and the university will be working with the London Borough of Greenwich, which takes the lead on "Skills for the Olympics" in the five Olympic boroughs.
Why is the University of Greenwich popular among Sri Lankan students?
Some of the features which have contributed towards the popularity of the University among Sri Lankan students in the past are as follows:
Quality of teaching and facilities offered to international students.
Location of the university and the truly international learning environment offered.
The international reputation for excellence enjoyed by the university.
The competitive fees structure offered by the university.
Easy payment terms.
Nationality Scholarship offered to all Sri Lankan students.
Does the University of Greenwich offer any exemptions and direct entry options?
Yes, they do. Exemptions are offered to partly and professionally qualified applicants with the opportunity to enter directly into the relevant year of study.
Students following the NCUK foundation programme at ANC are offered acceptance to the undergraduate degree programmes
Students following the APIIT Foundation Programme are offered an unconditional acceptance to the Undergraduate programmes in the respective disciplines
Students following the ACBT Foundation Programme are offered unconditional acceptance to the undergraduate degree programmes
Students who have completed the University Transfer diploma at the American College for Higher Studies would be offered an unconditional acceptance to the Undergraduate degree programme
Direct entry to the School of Computing
Singapore Informatics Advanced Diploma students will be offered direct entry to the final year of the BSc Hons Degree in Computer systems and Networking
Students from SLIIT will be offered direct entry to the Master's programme in Information Technology The International Recruitment Manager Ms. Joanne Wall who would be in Sri Lanka on June 28 and 29 at the British Council as well as on July 1 at the representatives office would be happy to meet students with professional qualifications in different disciplines so that she could assess and see what further exemptions could be offered to study at the University of Greenwich.
What are the programmes offered at UoG?
The university offers a wide range of Undergraduate as well as Postgraduate programmes in the following areas of study;
Accounting & Finance / Agriculture and Food Science / Architecture & Constructions/Art/&Design/Business /Computing /Criminology/Drama & performing arts/Earth & Environmental Science/Economic/Education/Engineering/English/Events Management/Health/History/Horticulture/Law/Marketing/Mathematics & Statistics/Multi-Media/NutritionalSciences/Pharmacy/Philosophy/Politics/Physycology & Counselling/Public relations/Science/Sociology/Sports/Tourism,
Are there any agents for UoG in Sri Lanka?
Yes, there is only ONE authorized agent for the University of Greenwich for Sri Lanka WHO IS AUTHORISED TO RECRUIT STUDENTS FROM Sri Lanka. They are the International Placewell Consultants (IPC - Sri Lanka) who have been the sole representatives since 2003. The university advices all students who have even applied directly to the University or through UCAS, to contact the local representative in order to complete the visa documentation and ensure a 100% success rate which is offered free of charge on behalf of the University of Greenwich.
Authorised representation in Sri Lanka
The University of Greenwich which is solely represented by INTERNATIONAL PLACEWELL CONSULTANTS the only authorized official representative in Sri Lanka is headed by the Managing Director Mr. Rohan Wijesooriya, who has successfully guided and assisted over 800 students for the last 7 years in the area of Career Guidance, Counselling, and visa documentation, which are offered complimentary to all applicants.
Mr. Wijesooriya would be pleased to offer his guidance to all interested students to join the University of Greenwich if they could e-mail their request to ipclanka@yahoo.com or contact him on 0773060841/0713-266202/2593266 and visit their local office at 93, Thimbirigasyaya Road, Colombo 5.