As the year of 2012 has dawned, the new year has also brought new milestones and new goals to the forefront. A milestone of success is the cause for celebration this year for Gateway College, which marks 15 years of presence in the education industry as Gateway College as well as the Gateway Information Technology schools. The unique factor is that Gateway, throughout this decade and a half has been solely dedicated to the mission of education.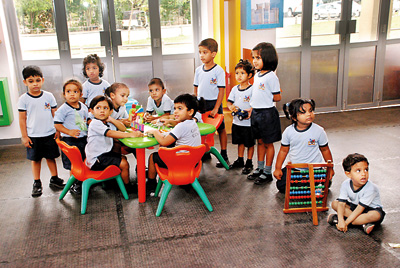 Gateway was founded by renowned Sri-Lankan educationist, Mr. R.I.T. Alles. Mr. Alles has been the founder principal of D.S.Senanayake College and has also served as the State Secretary of Education overlooking schools island-wide. Gateway is now headed, by his son, Dr. Harsha Alles.
Gateway initially began operations with the secondary school and then further developed to include the primary school section as well. The school had a humble beginning with just thirty-three students and seven teachers enrolled at their school in a converted house in Borella. However, over the years the school has now grown to include four campuses, namely in Kandy, Negombo, and Bambalapitiya with the main campus moving in 2006 to a 4-acre expanse in Rajagiriya. The Rajagirya campus is currently home to 1700 students, and 1100 in Kandy, over 300 in Negombo and 200 students in Bambalapitiya, which is currently a primary school. "Care is taken to ensure that the same standard is maintained at all four Gateway Colleges" said Dr.Harsha Alles, Director of Gateway.
Gateway Center for Information Technology has also grown to include over 30 centers island-wide. The speciality is that the Information Technology training was designed and developed in Sri-Lanka and it is now used in over twelve countries in three continents. Gateway Language Centers and Gateway School of Speech and Drama too caters to a significant student-group through their island-wide network.
In the last two years, Gateway has also begun to work in the United Kingdom with a group of kindergartens. Three-years ago, Gateway also entered the tertiary education sector, with the launch of Gateway Graduate School.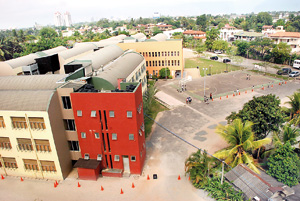 These achievements speak for themselves in conveying the message of the success of Gateway. Dr.Alles, had this to say about the success of Gateway; "we believe that we are successful due to a blend of systems that has resulted in an international school in a Sri-Lankan environment. We strongly believe in Sri-Lankan values, culture and religion. From day one we have had a multicultural environment in our school, where the staff all works as one family and there are no barriers. This is a good example of how different people can work together". Dr. Alles further added "While maintaining our local values, we do believe in achieving the highest levels of education as per international standards".
It is important to keep up with global educational trends and provide the right tools of education to the teachers, the students' first point of contact. Teachers gain a significant exposure through the teacher training exchange programmes with the United Kingdom.
"In Sri-Lanka, we are the youngest international school in comparison to other established international schools, but we have always looked at what is happening around the world in terms of educational developments" said Dr. Alles.
As a school Gateway "has always tried to cater to middle and upper-middle class. Even our fee structure is medium in comparison to other international schools" said Dr. Alles. Gateway has also shown consistency in their class sizes; "Right from day one we have maintained only 25 students per class, this is because we want to maintain the quality of education, so managing numbers is very important" said Dr. Alles, "we offer moneys worth because we offer good facilities for the fees that we charge, we are truly proud to be able to do this".
Speaking of the success of Gateway in terms of its expansion and success through the last fifteen years, Dr, Alles said "Right from day one we reinvest in the education." Dr. Alles attributes this as the reason that Gateway has been successful in having ownership of the land and buildings housing all four schools.
"As a family we have always had a passion for education, some people look at education as a good business, but I do not think this is the right approach. Those who have looked at it that way have not really succeeded" said Dr.Alles, defining the distinguishing factor of Gateway.
Speaking about the venture of Gateway in to the tertiary education sector, Dr.Alles said "We entered the higher education sector because we were sure that we were strong in our primary and secondary education". The Gateway Graduate School now offers bachelor's degrees, the most recent partnership being with the University of Canterbury in New Zealand. "We make links that emphasize the values of Gateway, New Zealand particularly reflects our kind of thinking and our kind of values. They offer reasonable fees, and believe a lot in quality" said Dr. Alles on the choice of the University of Canterbury. Students wishing to obtain degrees in information technology, engineering, science, or art – can commence the degree in Sri-Lanka and graduate in New Zealand.
The fifteen-year celebrations of Gateway are particularly significant and Dr.Alles had this to say "our 15 th anniversary is very important because now we see the results, the batch that started in grade one graduated from school and entered university recently". Student achievements are effectively a reflection of the quality of education provided by the school. Last year Gateway College received the best A/L results in Sri-Lanka with 5A* as well as the best IGCSE results in Sri-Lanka with 12 A*, which was from a student of Gateway College Kandy, the previous year Gateway attained the 2nd best A/L results , and the best IGCSE results, many students have also won world prizes, and "academically a lot of our students are doing very well" said Dr. Alles.
Gateway also supports sports activities, which is a concern many parents have when it comes to international schools. Olympic prospect Shehan Ambepitiya is a product of gateway, as are a number of national level athletes. Currently there are 16 national colours-men in Gateway schools. Gateway offers its students eleven sports including, basketball, athletics, swimming and, in the near future, squash. Extracurricular activities offered include scouting, bharat-natyam, scouting, girl-guides and ballet amongst others.
The past has been very successful for Gateway but of greater importance are the future plans, "we are looking at moving in to a consolidation stage, and the school may expand more. But at the same time we are looking at quality enhancement and development of higher education sector. As we believe that we are now stable in the primary and secondary education sector".
Though the Gateway College reaches a specific sector of students, Gateway has an island-wide presence through the Gateway Center for Information Technology as well as the Gateway Kids School of Computing. "through these we are able to reach out to children from all areas of the country. The Gateway Language Center also caters to a large sector of students from various local schools, and we are happy to have reached this diverse group of students"
Corporate Social Responsibility is another arm through which an institute can reach out to the community around it. After the 2004 tsunami devastation, Gateway undertook the development of the C.W.W. Kannangara school in Galle, where the school was rebuilt and handed over to the government within a year. More recently Gateway has also taken over Achievers, a centre that provides education for students with learning disabilities, as a part of their CSR initiative.
In addition, Mr. R.I.T. Alles had this to say regarding the Gateway College "People look at international schools as a place that cannot be afforded by all, a place only for rich students. But we have a beautiful blend. A certain percentage of students, who cannot afford the fees but are talented and can contribute to the future of the country get their education free."
Mr. R.I.T. Alles further added "we have really seen these students develop and showcase their talents". Mr. R. I. T. Alles also had this to say about the personality development of the students, "We are very particular that students safeguard their identity, we want to encourage our students to be down-to-earth. This is achieved through a good blending of students working together for a common cause."
This is the message to the students and parents from Dr.Harsha Alles "What we can assure is quality education, good values and discipline and we will try our best to make it more affordable to everyone. We would also like them to see us as a proactive organisation always looking for improvement and we want the kids who leave our schools to be good citizens with a balanced education". He further added that "We like to have parents who get involved with children in their day-to-day lives, parents too have to be actively involved".
Whilst congratulating Gateway College on all its achievements thus far, we also wish them success in their future endeavours.