Young Anjana Herath of Maliyadeva College Kurunegala has all signs of becoming a future chess grandmaster. Anjana who is approaching 11 years of age recently won the Under-11 Boy's Championship both at the All-Island Youth Rapid Tournament conducted by the Chess Federation of Sri Lanka (CFSL) and the National Junior Championship conducted by the Sri Lanka Schools Chess Association (SLSCA).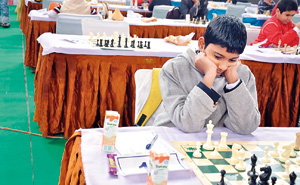 Winning is turning out to be a casual occurrence for Anjana
Winning is turning out to be a casual occurrence for Anjana who is a brilliant and much loved student at Maliyadeva Kurunegala. While continuing his interest at chess, a brain taxing, Anjana still maintains his form in studies. Last term he was ranked first in his class.
His achievements at chess are somewhat extraordinary. He has so far dominated all four major tournaments conducted by the SLSCA and CFSL for his age. Anjana is a studious character and he has many visualized things. He emerged runner-up in Under-12 boy's category at the All-Island Youth Chess Championship organized by SLCF. This triumph has qualified him to represent Sri Lanka in Asian Youth Championships to held in the Philippines and at the World Youth Tournament in Brazil.
Anjana's recent success where he won the Under-11 boy's championship, organized by the SLSCA helped him to achieve a slot in the Sri Lanka team that represented the Asian Schools Chess Championship in Delhi, India between December 16 and 23. He went on to win a silver medal in the Under-11 age category at that contest.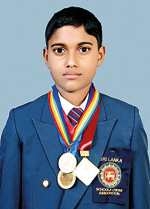 Anjana Herath
The points accumulated from that tournament helped Anjana to collect1706 points in the world circuit where he has a earned ranking in the Under-11 age category. Apart from chess, where he practically unbeatable, Anjana is also a keen badminton, table tennis and tennis player at Maliyadeva. He has been representing the school at three sports at All-Island level during past few years. In addition Anjana has the rare distinction of representing Sri Lanka at the Mathematics Olympiad held in Bali, Indonesia in 2010. He was one of the ten participants who represented Sri Lanka in that contest.

Anjana, a late starter, took up chess seriously in 2008 when he was around nine years of age. So far he has taken part in over 50 tournaments held here and abroad. As in badminton and tennis Anjana attends chess practices at school under the guidance of experienced Nuwan Liyanage as coach and Dayani Padeniya who is the teacher-in-charge for chess at Maliyadeva.
His dedication towards the sport earned him the Under-9 championship in 2009 and the Under-11 championship in 2011 conducted by the SLSCA. In 2010 he emerged the Under-10 champion at the nationals conducted by the CFSL. In addition Anjana was placed third consecutively in 2009 and 2010 at the rapid chess tournament while this year he claimed the Under-11 championship. His recent achievements brought Anjana the rare honour of winning district colours in 2010 given away annually by Wayamba District sports officials.
While Anjana makes a gradual move towards the pinnacle of chess in Sri Lanka, he has the ardent support of his family. Having a twin brother equally talented within his reach is a great boost for Anjana. He and his twin Anjula, who is also an international ranked chess player with 1575 points, often practice together at home while perfecting their skills. Both twins were members when their school Maliyadeva emerged best schools chess team last season in Under-12 Division A division. The secret behind Anjana's success is the focus towards the game. He keeps away from the computer where most youngsters nowadays are more attached to. His intelligence has been evident both at sports and studies. Anjana practices hard daily with the intention of becoming champion at all age categories before reaching the national level. His ultimate goal is to become a chess grandmaster and bring glory to the country.