A strict rule had been drawn up by those governing umpires because of the cost incurred in sending officials to far away games because the chief body is cash strapped. However for a game in Colombo two officials were brought in from Matara. It is said that this move had been made to help out one of these umpires who had fallen on hard times. Charity is good they say and the man in charge of this move had wanted to help one umpire in particular as he was a bosom pal of his.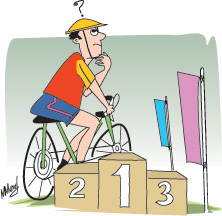 Waiting for prizes
Cyclists paddled hard from Jaffna to Tangalle for a big cycle race where big cash prizes were on offer. The organizers had said that this particular race is being held to mark two years of the Big Man in office. Cyclists from all parts of the island came for the event. This event has ended about two months ago and still the winners are waiting for their prizes.
Leaping like a frog
This is the story of a certain umpire who has been jumping from one camp to another. The said group has broken into three factions because of differences. The reason for this frog like leaps from one body to another is because schools Big Matches are around the corner and this guy wants to be in the group that gets a lion's share of these big ones.
Living in fear
A certain lady is living in fear as she had worked hard and in the open for the candidate of her preference at a big sports body. But somehow the person she worked for did not contest for reasons best known to the candidate. She is now living in fear in case some of the winning party members want to take revenge on her.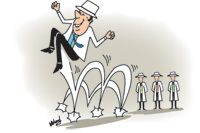 Do not interfere
The Big Man had said not to interfere in a big sports meeting to a certain individual. Jokingly he had said: If you do you will occupy a cell in a certain jail where some well known individuals are languishing.
Desperate
Before the much talked about elections a certain individual had been working for both camps. The reason is that whoever wins the elections this particular individual will be in favour.
In the mornings he has been at a certain individual's home and n the nights he had been at the other candidate's house. Insiders say that he had been desperate before the elections.
'Podi Sir' is back
Podi Sir, that well known sports promoter was backing the scene when the popular elections were on. He had even spoken to media men and had said that he hopes to be back in the fray again.