Isipathana's rugby bigwigs gathered at the Roof Top at Sunset Wing, Trillium Residencies, Elvitigala Mawatha last week to greet Randy Pietersz, their first rugby player to play for the Sri Lanka national team.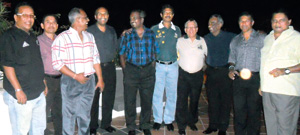 From Left: Hassan Sinhawansa, M. D. Ifthikar, Senaka Karunathilake, Group Capt. Nalin De Silva, Commander H. K Sisira, Hisham Abdeen, Randy Pietersz, Ana Saranapala, Dilroy Fernando and DIG Nihal Samarakoon.
Randy was on a whirlwind visit to Sri Lanka from Melbourne, Australia with his wife Marie. He took time to meet his old rugby friends. Present at the Old Isipathana gathering were M.D. Ifthikar, Ana Saranapala, Nalin de Silva, Dilroy Fernando, Hisham Abdeen and Anura Serasinghe, Senior Vice President of the Isipathana College OBA and a host of Isipathana rugby stalwarts.
Randy broke into big time rugby when he partnered Glen Vanlangenberg at the base of the scrum for Havelocks. Before that he languished in the Havelock 'Bambaras' team as the all-Trinity combination of Japana Jayawardena and Glen Vanlangenberg were virtually unbeatable at the Park Club in the 60s.
It was when Japana Jayawardena joined the Army that Randy got his break to be the 'link man' for Havelocks. A couple of games for the Park Club and he hit it of like a spark. In no time his exploits won him a permanent place in the Havelocks and ultimately in the national team.
Isipathana ranks Randy as a demigod in rugby as he was the first Pathanian to play in national colours.
Rugby continued to prosper at Isipathana after that with rugby players being produced like wild flowers. Hisham Abdeen stands out as a beacon as it was under his captaincy that Sri Lanka won the Bowl at the Hong Kong Sevens. A feat never repeated after that. Nalin de Silva, the former Sri Lanka and Air Force skipper is another. Nalin was at one time Secretary of the SLRFU as well.
Randy Pietersz joined Isipathana College (then Greendlands College) in 1955 from Royal College Primary when excess from Royal Primary was transferred to the newly formed school founded in 1952. He was an extremely talented sportsman. He excelled in both soccer and rugby. Even as a young schoolboy he used to be actively associated with the neighbouring Rugby Club - Havelocks SC, playing in his pet position as scrum-half for Havelocks 'Bambaras' in the 1962 B Division tournament.
He was closely associated with Havelocks Sports Club until their family migrated to Australia in 1972. Some the great stalwarts of Havelocks who were contemporaries that comes to mind are: Flamer Caldera, Frankie David, Noel Brohier, Gamini Fernando, Ken de Joodt, Maurice Fairweather, Maurice De Silva, Nimal Maralanda, Morris Fairwether, Quintin Israel, Raja Sumanasekara, Erick De Silva, Jeyer Rodriguez, Raj Rodriguez, Jupana Jayawardena, Glen Vanlangenberg, Ratnam brothers Jeff and Dan. During that era Havelocks was coached by Dr Larry Foenander.
Randy was happy to remind that Maurice De Silva, Y.C Chang and Frankie David also coached Isipathana in the early years, to build a strong foundation for Isipathana Rugby. When Isipathana played their first official tournament match against St. Anthony's in Kandy in 1963 the 1st XV team consisted of Brian Ingram, Brian Vanculenberg, Kusum Dissanayake, Ana Saranapala, Randy Pietersz, Wijaya Yapa, Dayalu Perera, Tony Mantara, P.C. Gunawardena, Nihal Jayathilake, Tony Samat, Tuwan Osman, D. A Gunasekara, Leslie Karunaratne, Chuck Pauluz and Randy Keller.
In 1971 Randy had the distinction of representing the Sri Lanka Rugby Team. Fifty three Isipathanians have represented the country so far. In Randy's honour the Isipathana College OBA arranged to award the 'Randy Pietersz Challenge Cup' for the Most Outstanding Rugby Player annually at the College Colours Awards Ceremony, established in 2007. The proud recipients of the Randy Pietersz Challenge Cup, are Sajith Saranga (2007), Dinesh Chathuranga (2008), Niroshan Fernando (Sri Lanka Youth Captain – 2009), Tharindu Siriwardena Captain 2010 who also obtained 2A & 1 B in the same year to join the Management Faculty in the University.
Randy's wife Marie, a former netball player, is the daughter of the late Clarence Jansz. They have two children, daughter Cany (38) and son Sean (34). Randy's younger brother Geoffrey Pietersz is a brilliant Scientist who was selected to join the Medical College Colombo from Isipathana in 1973 but migrated to Australia then, and performed well in Academics to reach the position as Professor of the Bio Chemistry Dept of the University of Melbourne. He is highly honoured world wide for his valuable contributions in Cancer Research.
Randy has also done extremely well in his 40 years Professional carrier in Insurance in Australia, to reach the position of the National Development Manager of a leading Insurance company namely Associated Marine Insurers Agents P/L.
Among the many who attended the dinner hosted by Anura Serasingha, were Ana Saranapala, Group Capt. Nalin De Silva, Dilroy Fernando, Hisham Abdeen, Sriyantha Rajakaurna, Commander H. K Sisira, M. D Ifthikar, Nimal Luxshman, Nihal Mendis, Senaka Karunathilake, two former Rugby Chairmen of Rugby Committee of Isipathana OBA Hassan Sinhawansa and Saman Manchanayake and the present Principal of Isipathana Mr. A.C. Perera.