As Sajeewa Salgado, the Thurstan 1st XI skipper enjoys a one-horse-race lead in the Bata-the Sunday Times Most Popular Schoolboy Cricketer of the Year 2012 competition his closest rival, Angelo Jayasinghe has been quite consistent in the All-Island category. While Salgado added a further 1758 votes for his vote tally, Jayasinghe received just 483 votes in the concluded week to still hang on at second place.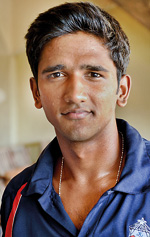 Angelo Jayasinghe
Jayasinghe, the skipper of Maris Stella College, Negombo quite contrasting to his progress in the contest, is a gifted all-rounder with inborn leadership skills. As a right-hand batsman Jayasinghe has topped 602 runs from 11 matches of the first XI cricket season with the best of 106 runs coming against S. Thomas' College, Mt. Lavinia. In addition to his solitary century, Jayasinghe made four half centuries which was scored against Lumbini, St. Servatius Matara, Thurstan and St. Peter's. As a right-arm off-spinner Jayasinghe has captured 32 scalps to his account.
The fifth-year player from Maris Stella is also the skipper of the Sri Lanka Under-19 team being one of the few players who were left from the team that represented the Youth World Cup in 2010. Leading the Sri Lanka Under-19s in a triangular series last year, Jayasinghe scored a hundred against West Indies.
Last season Jayasinghe could not contribute much to his school team as he was highly engaged with the Sri Lanka Youths. But Jayasinghe has been constantly successful during the previous seasons by scoring 940 runs in 2010 and 700 runs in 2009. Last season he represented SSC in the Sri Lanka Cricket Inter-Club Under-23 cricket tournament and will continue to represent the club from Colombo. His coaches describe Jayasinghe as a highly skilled leader who makes maximum use of the talents available within a team.
Coming again into the main subject, Shiran Anuruddhika of De Mazenod gained 900 votes last week and is on the verge of threatening Jayasinghe's stability. The difference between Jayasinghe and Anuruddhika has trimmed down to 161 votes, which means the latter has all the chances to pressurise the former. Others in the All-Island category remain in their respective places as last week.
As predicted last week, the Emerging Schools category is set to face a drastic change in positions. While St. John's Panadura skipper and all-rounder Sasindu Perera still holds on to the leadership in the category, Tharindu Guruge of President's College Kotte is just 32 votes away from grabbing the top spot. Lakshan Kodagoda of Gateway still leads the International Schools category while his closest competitor Nishan Perera of Lyceum Nugegoda showed very little progress from last week. To make the competition more interesting readers can send in as many coupons as they wish until May 23.
All-Island Schools
Player Team
Sajeewa Salgado Thurstan College 13788
Angelo Jayasinghe Maris Stella College 5131
Shiran Anuruddhika De Mazenod College 4970
Charith Ruchiranga Royal College Panadura 3174
Madhawa Fernando Royal College Panadura 2651
Lakshan Edirisinghe Zahira College 847
Kavindu Ashan Royal College Panadura 593
Dishan Dissanayake St. Joseph's College 376
Thanusha Jayawardane St. Peter's College 348
Sachin Peiris S. Thomas' College 275
Jason Perera St. Benedict's College 126
Shehan Dilasri Maris Stella College 116
Emerging Schools
Sasindu Perera St. John's College Panadura 1201
Tharindu Guruge Presidents College Kotte 1169
Shenal Deelaka Piliyandala Central 779
Mohamed Shilmy St. Anthony's Panadura 319
Aruna Dharmasena Sri Sumangala Panadura 13
Samitha Ratnasuriya Seethawaka National School 11
Anas Mohamed Azhar College Kandy 3
International Schools
Lakshan Kodagoda Gateway International 25977
Nishan Perera Lyceum Nugegoda 20195
Shehan Hettiarachchi Royal Institute 4172
Amjad Ifthikar Leighton Park 3347
Readers' prizes go to: 1. D.A.C. Batepola, 520, Pulluhena, Pamunugama. 2. Manuka Peiris, 231, Welabada Road, Katunayake. 3. Regina Nalini de Livera, 390/42, Katuwapitiya Estate, Negombo. 4. Pelham Juriansz, 417/A, Old Kottawa Road, Udahamulla, Nugegoda.