Last year, on April 17, the occasion of George Keyt's 110th birth anniversary, I wrote on the rediscovery in Montreal of George Keyt's brilliant, and only, stained glass installation 'Lanka Matha' and its present home in the Bibliotheque (Library) Marie-Uguay in Montreal, Quebec. There have been a few further developments since then.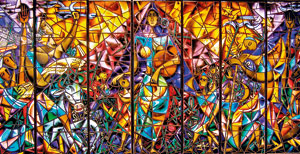 Lanka Matha in all its glory

The black and white photo enlargement of 'Lanka Matha' at New York's Corning Museum (courtesy Museum authorities)
First is the serendipitous meeting with L.S.D. Pieris, Trustee of the Sapumal Gallery. He had read my article and was pleased to inform me that one of Keyt's preliminary versions of 'Lanka Matha' was on display at Sapumal Gallery. I lost no time in visiting the Gallery with my friend Mahinda Pathmasiri from Montreal – who had done wonders to locate the installation in the Montreal Library. We admired the painting and it was duly photographed.
Second, Patrick Hogan, who roams the canals of England in his barge, became interested in this project as his father had been a craftsman in Studio Stained Glass at Whitefriars which transformed Keyt's painting into this medium. Patrick also located the existence of a black and white photographic enlargement, double the size of the Keyt original from which Alfred Fisher [another correspondent] the craftsman did the transformation.
This photograph, which is the actual size of the installation, was discovered by Patrick to be in the Corning Museum of New York, whose authorities have been gracious enough to send a photograph [seen above]. How it ended up there is yet another mystery.
Alfred says that the original Keyt oil painting seems to have been "lost in the wash".Finally, the Bibliotheque authorities, Mahinda and the Sri Lankans in Montreal invited the Mayor to visit the Library and admire Keyt's magnificent stained glass installation gracing the foyer. He accepted the invitation and spent time learning about Keyt and Sri Lanka from those present. Keyt has thus a honoured place in Montreal.