Art for the 'differently abled'
By Jodie Jenkins
Does everyone enjoy school?" asked Dammika, the lady showing me around, from the group of little boys she had been teaching. I waited for the unenthusiastic response that always came in reply to this question when I was at school but was pleasantly surprised by the smiles, the laughter and cheers of "yes" that came in unison from the children.

Watching them as they sang, rehearsed their plays or just tried to converse in English with me, it was heart warming to see their faces so full of joy.

But it is not just that these are happy children that make them so special. It is how they manage to maintain their optimism despite the extreme challenges and struggles they are faced with in their young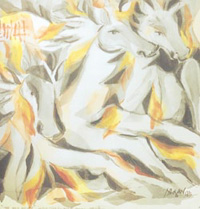 lives. These children are all either blind or partially sighted.
The Ceylon School for the Deaf and Blind was founded in 1912 by a Buddhist missionary. Today the three schools, two in Ratmalana and one in Jaffna are run as residential institutions and cater to nearly 500 children from all over the country.
The schools act as their "home" during term time, providing not only general education but also accommodation, welfare, food, health care and vocational training all free of charge.
To meet their ever spiralling costs, fund raising events are arranged by the school. This year an art exhibition and sale has been organized by the managerial team and will be open to the public on July 24 and 25 at the Lionel Wendt gallery.
Many well known artists have donated their paintings to help raise the much needed funds. There will be over a 100 paintings on sale priced from Rs 2000 upwards so art lovers are bound to find some painting to their liking.
The school is hoping to raise in excess of Rs 300,000 from this project. The funds will be spent on the long overdue refurbishment of the school grounds and the senior boys' dormitory and improving the present 'makeshift' primary school. There is also a need for specialist equipment such as Braille typewriters, slates and group hearing facilities.
The artists who have contributed paintings for exhibition and sale include, Marie Alles Fernando, Melville Assauw, Reggie Candappa, Nadine David, Nirmala de Alwis, Sita de Saram, Vishi Dharmasiriwardena, , Channa Ekanayake, Richard Gabriel, Manoranjana Herath, Swanee Jayawardena, , Ouida Keuneman, Buddhi Kirthisena, , Sanjiv Mendis, Raja Segar, S.H. Sarath, Jayasiri Semage, Laki Senanayake and Iromie Wijewardena.
---
Young sounds bloom in harmony
Symphony Orchestra of Sri Lanka Young Performers Concert on July 14 at the Ladies College Hall, conducted by Ananda Dabare. Reviewed by Nalini Jayasuriya

Some years ago, some of the greatest musicians of the world were invited by Israel to perform, so that the Hebrew University in Jerusalem could set up what is today a faculty of music.

I was there at the time, invited by the government to teach, and had the extraordinary opportunity and privilege of hearing and meeting several of these exceptional people.

Yehudi Menuhin, a child prodigy, and a legend in his time, performed and spoke to rapt audiences, about the power and unremitting influence of music from the prehistoric drum beat to the orchestra of today.

As a historian, a creative writer and one of the world's great violinists, he spoke of music with authority and a rare passion, that Confucius described as a "Pleasure that human nature cannot do without".

Of his instrument he said, "In my love of the violin which is the greatest and most mysterious achievement of the instrument maker's art, it is second only to the human voice. The keyboard brought about a perfection of harmony, but the violin is at the core of what we know as classical music".

The voice of the stringed instrument, particularly the violin, is individual and complex, vibrating and responding to the slightest touch of the player.

And music as a whole like religion, is too diverse, emotional, devotional and ethical to be described in simple, rational terms.

Some of these elements were certainly in the Symphony Orchestra's performance, and both the young performers had their faithful support. After some years it was almost a wonder to hear this body of musicians play with precision as a deeply expressive and committed assembly, many of them young and good players.

None of the untidiness of yesteryear was there, and both Lalanath de Silva and Ananda Dabare must be congratulated for the new life and sense of purpose they have infused into our orchestra. They have with missionary zeal and attention to the intention of each composer, made this large mixed group of instrumentalists, an orchestra Sri Lanka can be proud of.

The concert began with the suite by Bizet, best known for his popular opera "Carmen". In four movements, full of surprising entries, the orchestra under Ananda Dabare's baton, played a haunting minuetto, and with delicate woodwind voices made the Adagietto, beautiful.

Rashika Perera was the first young performer in Lalo's cello concerto in D. Minor. She was skilful and competent and gave of her best, but the deep rich intimacy and resonance of the violincello did not always appear. With her forthcoming studies in the United States she will no doubt arrive later as a good player.

Glinka's overture, Ruslan and Lyudmila, a spirited work of dance and folksong rhythms began the second half of the concert, followed by the violin concerto in G. Minor by Bruch, played by Thushari Jayawardane, who gave unmistakable evidence of a promising young performer, with a mature and inspired understanding of the music, she played with emotion and confidence.

I had the rare experience a long time ago of hearing, while they were very young, the world renowned violinists, Ishztak Perlmann, Pinhaus Zukerman and pianist Mindru Katz. They communicated as Thushari did, the fiery power and lyrical grace of beautiful music.

One hopes that Thushari Jayawardane may have the opportunity of learning and experiencing the might of music in the western world, and there is no doubt that Ananda Dabare is proud of his brilliant pupil.

She is rare and most certainly deserves to be given the opportunity to study abroad.

The Symphony Orchestra of Sri Lanka has come a very long way under the guidance of Lalanath and Ananda: It has still a long way to go, given the standards these two fine musicians are aspiring to.

We must be truly grateful to all those who have inspired and supported the orchestra over the years, and chiefly to the public for their appreciative and admirable support.

---
Her beauty beckons him
With eyes full of expression and a smile so natural it became contagious, Tilake Abeysinghe spoke of his philosophy of life. "I've always believed that the two most important things are creating and sharing," he said.

Born in a small village close to Matara, Tilake was brought up to value the importance of leading a simple life. His view is that life is to be enjoyed rather than endured.

His art reflects this philosophy perfectly. The charming style and use of colours succeed in illustrating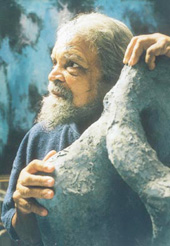 the simplicity and harmony of his work.
However it was not through leading a trouble free and easy life that this man gained his philosophical outlook. He has only recently regained his health after suffering a stroke that left him temporarily paralyzed on his right side and having a pace maker fitted as a result of a heart attack.
Commendably these medical problems do not seem to worry this extraordinary man. "I feel better now than ever," he said.
He went on to describe how the stroke had left him paralyzed down his right side and unable to paint. Unwilling to give up his passion he quickly learnt to use his left hand. Today he uses both hands when sculpting and painting.
In the 30 years of his professional career Tilake has represented Sri Lanka at many international exhibitions. His works have been shown at San Paolo, Montreal, New Delhi, Bangladesh, Fukuoka, Pakistan, Paris, Hamburg and London.
His forthcoming exhibition, at the Central Bank building at Rajagriya, from July 27 to August 4, is set to be the largest in Sri Lanka's art history. It will include 200 paintings and 40 sculptures some so recent they are still in the process of completion.
Asked if there was a specific style to his current work he commented "I do not wish to classify myself but I do have a framework that cannot be missed, a stamp to my work that I am very proud of."
The main focus of Tilake's paintings is the female form. Believing that to "ignore its beauty is to be a hypocrite" the artist pays close attention to the curves, and contours of the female body.
"I am a humble man who is just honouring what should be honoured," he says, describing why he paints what to him is the most beautiful object in the world.
In Tilake's opinion the only way to describe his work is as a "celebration of life".