The writer and artist Christine Spittel-Wilson passed away on Friday. Her cremation took place yesterday at the General Cemetery, Kanatte. She was 97.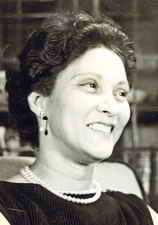 Christine Spittel-Wilson
Coming from a family of doctors, artists and writers, she was active as a writer and an artist until comparatively recently. She published her autobiography, "Christine", in 2007, and gave an exhibition of her paintings and ceramic art in 2009.
She was the author of three novels ("The Bitter Berry", "The Mountain Road", and "I Am The Wings"), a biography of her father, Dr. R. L. Spittel, ("Surgeon of the Wilderness"), a cookery book ("Secrets of Eastern Cooking"), and a number of travel and assorted articles. She was a Fellow of the Royal Geographical Society.
As a young woman, she accompanied her father into the jungles of Sri Lanka, to gain an understanding of the ancient ways of the Veddhas. In 2008, a delegation of Veddhas made a special trip to Colombo to pay tribute to her. The visit was covered by both TV and print media.
Mrs. Spittel-Wilson spent her childhood and early adult years at Wycherley, the family home on Old Buller's Road, and studied at the private girls' school Roedean, in England. Her husband, Major Alistair McNeil-Wilson, passed away in June 2007.