Sri Lanka's largest National Park - Wilpattu is once again in the spotlight. This time due to an illegal road built across it. A group of eminent environmentalists pointed out the construction of the road endangered the wildlife at Wilpattu aa well as its ecosystems.
The 35 km long road, with three bridges, runs from the Kala Oya at Eluvankulam (on the southern boundary of the park) to the Uppu Aru at Pukulam (at the northern boundary of the Park). The road was opened to the public on 24th January. Construction of this road commenced without any consultation with the Department of Wildlife Conservation (DWC).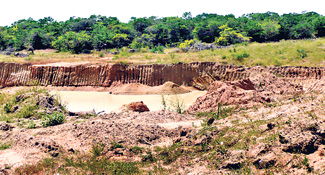 Excavations pose a death-trap for elephants
Environmental lawyer Jagath Gunarwadane pointed out, no permission what-so-ever was sought or advice obtained prior to the construction of this road either from the Department of Wildlife Conservation or the Archaeological Department, hence the construction was illegal.
Sajeewa Chamikara of the Sri Lanka Nature Forum – n eye-witness to the destruction, also questioned as to what happened to the large trees felled during the construction of these roads. He also showed photos of areas of the Wilpattu National Park that had been fenced out for other construction.
A large area of forest land with the unique villus of Wilpattu have been destroyed and damaged during the construction of the road.
Such sites can also be a direct danger to wildlife --for example-- the excavation of earth may well become death traps to elephants. The road-kills –speeding vehicles hitting animals-- have become a common occurrence along this road.
It was also revealed that presently another wide road is being constructed from Mannar to Puttalam inside the Park along its coast by the Navy.
Sections of this new road are already approaching completion according to the eyewitness.
Wilpattu is also an archaeologically important site with ruins of ancient civilization that date back to Vijaya/Kuweni era.
Douglas Ranasinghe --the president of WNPS - the oldest conservation society of Sri Lanka said they had come together as this trend was not good for wildlife conservation in the country.
Thilo Hoffmann who fought many battles to protect Sri Lanka's environment for 60 years said he was surprised at the manner the destruction was carried out inside a protected area like Wilpattu.