Standing on the bow of a Navy Water Jet, a kind of motorboat, riding the waves a mile out in the seas off Galle, feeling giddy and hazy with my insides threatening to come out any second, I couldn't help but wonder how the boys (and girls) in blue do it day in and day out, every single day.
The seasickness was starting to get to me, so I had my eyes closed for the remainder of the journey. When I opened them again, however, the squeamish feeling notwithstanding, the sight in front of me was mind-blowing. Moored a few metres from our metallic, modern day contraption was a truly magnificent ship of somewhat small yet undoubtedly epic proportions; an ancient looking ship made of wood, with huge palm-leaf sails and two tall masts to boot.
It was the Jewel of Muscat: the much-hyped sailing ship that set off from the Sultanate of Oman, tracing an ancient trade route past India and Sri Lanka all the way to Singapore.
The Foreign Ministry along with the Sri Lanka Navy had prepared a warm welcome for the Jewel of Muscat and her international crew when they arrived at the Galle Port last Monday for a two-week stop. The exhausted seafarers were clearly more than happy to be received so warmly – and also to have finally set foot on solid ground, no doubt.
The Jewel of Muscat (JoM) was constructed as an almost exact replica of a shipwreck discovered off Indonesia in 1998. This Ninth Century wreck is of Arabian, possibly Omani origin and is believed to have set sail from Oman along the maritime silk-route after which she struck a reef near Indonesia and met her doom. The discovery led to the JoM project aimed at giving modern day Omani youth an opportunity to train in navigation and gain a deeper understanding their maritime heritage and their traditional links with the Indian Ocean region and the Far East.
According to her crew, The JoM is hand sewn with nearly 70,000 stitches using over 100 kilometres of hand-laid rope and without a single nail or screw. She has no engine, and sails by the power of the wind alone. The crew navigates her traditionally using the stars, the sun and an ancient navigation device known as a Kamal. It also smells, as I discover when we get on board for a quick inspection – what with all the goat fat used as a sort of glue to keep some of the wooden parts held together.
Lankan among the crew
On board the JoM, unbeknown to many here, was Sri Lankan boatbuilder cum sailor from Kandy, Tuanie Ismail.
| | |
| --- | --- |
| | |
| Captain Saleh Said Al Jabri gets a traditional welcome from a schoolboy | A greeting from our very own Tuanie |
An experienced boatbuilder and expert carpenter who taught himself wood carving in his younger days Tuanie is the proud owner of the Avondster, a 1:10 scale model ship he built based on the blueprints of a Dutch ship that sank in 1659. How did he get into this fascinating pursuit of boatbuilding?
"I love wood as a medium to work in. The availability of exotic timber in Sri Lanka and the environment I lived in Kandy had a great influence on my taking to woodcraft and related woodwork. And of course the apprenticeship I followed in boatbuilding at the Taos Yacht Company soon after my schooling also helped," he says.
He became involved with the JoM project when Commander Somasiri Devendra put him in touch with JoM Project Manager Tom Vosmer, he tells me. He had, of course, prior experience, having sailed from Galle to Villanura in Portugal and also around Sri Lanka during his apprenticeship in Taos.
"Sailing is simple when you learn the ropes, but it's what you know to do in an emergency that makes you a better sailor," he says.
Asked what gave him the travel or specifically the boat bug, he says, "I always think I am a world citizen. We all belong to this world but we have demarcated borders and have stopped the free movement of people. I want to see the whole world, or as much of it as I can, during this short life span. Sailing and boatbuilding has given me an opportunity to clock greater mileage," he says.
And how has he coped with the seasickness and, especially, the lack of proper facilities onboard the JoM – a wooden ship with just a cramped cabin area on the deck below.
"We have to cope with the facilities we have; there is no other option. We are all men on board," he says.
Tuanie's supportive wife Nalini has long put up with her beloved husband's risky hobby. "I have got used to his being away at sea, and after 32 years of marriage, I accept that his first love will always be sailing. Yes, I do feel worried sometimes about his being on the high seas, but I believe in God, and trust that he will be safe," she says.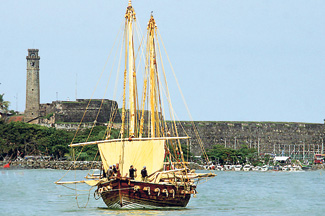 The Jewel of Muscut sails into Galle harbour.
Tuanie intends to sail all the way to Singapore with the rest of the crew. As for the next adventure? Let's finish this one first," he says.
The Captain of the Jewel of Muscat Saleh Said Al Jabri, an Omani, is a charming man who, at first glance, didn't look anything like he had just led what was probably one of the toughest expeditions in recent times. However, as the former second in command of the Omani sailing ship Shabab Oman and as an instructor with Oman Sail, it was clear that Mr. Al Jabri was certainly more than up to the task. "I was in Colombo as far back as 1977. Sri Lanka feels like home," he says with a smile.
Describing the voyage, he says the JoM ran into a storm two days after setting sail during which the ship hit an incredible speed of 43 knots. Thankfully, it soon subsided and the ship remained intact.
"The smell is unbearable some times. There is so much fish oil and goat fat on board. And then there's the heat," he said.
During their two-week stay in Sri Lanka, the crew will make some much needed repairs on the JoM, he says, adding that they were hoping to replace the main mast of the ship with a 60 foot teak tree trunk.
"We hope not to repeat the mistakes that the crew of the original ship made," he says laughing.