In one night a schoolgirl rocketed to fame. She sang so melodiously. Her singing partner Ananda Weerasiri was equally good. Words by Bandara Eheliyagoda captured the feelings of youth.
Rohana Weerasinghe's tune and music was pleasing. No wonder 'Aaju tapara lahila' in Vijaya Dharmasiri's teledrama 'Bhagya' was an instant hit. Deepika Priyadarshini came into the limelight.
"She is now at her peak. Her mellifluous voice has been exquisitely honed. Her intonation is pitch perfect. The clarity of her diction is soothingly pellucid. Her phrasing is syntactically flawless. These are the attributes that make her, in my judgment, perhaps the last link in the golden chain of female singers in the history of Sinhala music."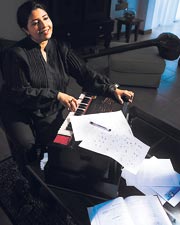 That is Professor Carlo Fonseka's assessment. He also says that Deepika's claim to fame is as a superb exponent of the art song. Contributing an article to an exquisite publication on Deepika, Carlo states that the first female singer who deeply touched and bewitched modern Sinhalese people was Rukmani Devi. He elaborates that though she was an ethnic Tamil who had the name Daisy Rasamma Daniels, she was worshipped as a singing goddess by millions of Sinhalese. (This, Carlo says, is further evidence that there is no ethnic conflict in Sri Lanka; there is only an internecine fight for scarce resources.) Nanda Malini naturally filled the position created by Rukmani Devi's tragic death.
"She is the reigning queen in the world of Sinhala music. In the same tradition, but to a succeeding generation belongs Neela Wickremasinghe, whose appeal has endured over decades. To the question: After Neela's generation who? My definitive answer would be: Deepika Priyadarshani", is Carlo's verdict.Deepika's is a multi-faceted career. She is a highly qualified singer; an experienced music teacher; an 'A' grade radio singer - both classical and light; winner of a scholarship to tour Japan; a post-graduate degree holder in mass media from the Kelaniya University; winner of a host of awards for playback singing in films and teledramas and a regular overseas performer.
Contributors to the publication talk about numerous aspects of her impressive musical career. They dissect the songs she sings. They analyse the way she sings them. They discuss her talents as a composer. They introduce her lyric writers. They laud her for her social consciousness by singing to make people aware of the plight of the distressed and the deprived.
Professor D. P. M. Weerakkody reminds us about her first musical success - the ever-popular 'Aaju tapara' she sang to promote the Mahapola scholarship fund. That was in 1987. According to him, since then she has continued to offer her services, often free of charge, performing at concerts organised by universities to collect funds for scholarships.
Just as much as the articles are interesting, the quality of the publication is of a high standard. The editing by Buddhadasa Galappatty is inspiring. Photography by ace cameraman Sarath Perera is classy. Overall designing by Wijayabandara is exceptional. To cap it all printing by Imashi Printing is admirable-- all in all an elegant production rarely seen in publications of this type.
A great effort by the dedicated team setting an example to others as to how to pay tribute to deserving artistes. Introducing Deepika as "a voice that illuminates the world" editor Buddhi has picked lyric writers, academics, fellow musicians and media veterans to assess her performance to date. To Pandit Amaradeva, she is "a pleasant singer". Nanda Malini calls her "a singer of the new generation with a very special voice". Victor Ratnayake finds her "a singer with a Sinhala voice". Calling her "a memorable singer", Professor Lakshman Jayatilleka says her singing comes from her heart, with feeling. Musician Rohana Weerasinghe finds her devotion and attention to detail as exceptional qualities. The list goes on….
Her songs are included in the book thus providing the researcher material for a serious study. Some of them carry the musical notations as well.
Photographer Sarath Perera has captured some poignant moments with Deepika's mother, her teachers and her students in addition to projecting her personality most effectively in different situations.
Designer Wijayabandara has taken great care in laying out the pages artistically blending colours to suit the situations to make it a memorable publication.
The release of the book has coincided with the launch of Deepika's latest CD titled 'Sudu Hansini'. She is extremely choosy about CD releases. The latest had been in the making for five years. Over the past two decades he had released just four CDs - 'Sina Podakvi' (1990), 'Saroja' (1996), 'Malvarusa' (2000) & 'Numbata inne mang vitarada' (2003).
Deepika undoubtedly has a lot of talent. As Professor Carlo predicts, she has miles to go and musical promises to keep. Her creative best is yet to come.